Mayor of Kathmandu Metropolitan City Bidhya Sundar Shakya inaugurated the Exhibition-Fair "Heart of Eurasia – Orenburg Region of Russia exhibition by lighting the traditional Nepali Lamp.
Russian Centre of Science and Culture, Orenburg Regional Museum of Fine Arts (OOMIZO) in cooperation with Nepal-Russia Art Club (NRAC) jointly organized an exhibition "Heart of Eurasia – Orenburg Region of Russia" on 5th March 2018 at the Russian Centre of Science and Culture.
Russian delegation Yuri Komlev Director of OOMIZO and Elena Komleva Member of delegation of OOMIZO came to Nepal to organize this exhibition. K.K. Karmacharya Senior Artist and former member secretary of Nepal Academy of Fine arts and advisor of Nepal-Russia Art Club was the special guest of the program.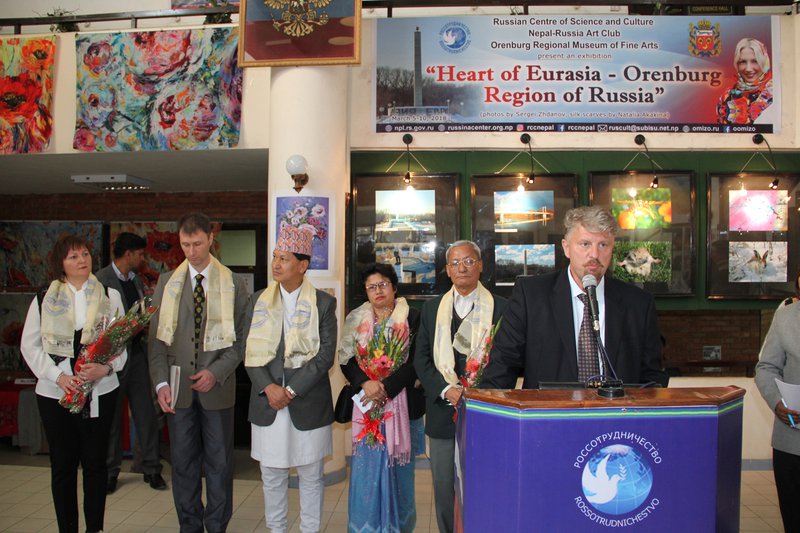 The exhibition showcased "Orenburg non-downy shawl" by the popular Russian Artist and Designer Natalia Akalina. She brings her own oil-color paintings to the silk scarves. This is a kind of recognition of love from the Orenburg region. The aim of this exhibition is to show pictures and pleasing landscapes of Orenburg places, boundless expanses of steppe and its inhabitants – birds and animals, flowers and grass.
The director of Russian Center of Science and Culture Stanislav Simakov welcomed all the guests and said that this exhibition shows the beauty of the Orenburg region, its nature and the rich flora and fauna world as well as its traditional beautiful silk scarves.
This exhibition is open for visitors till 10th March 2018.