Unable to hold tears, men choke with a loss of words in remembering their relatives lost in the devastating earthquake in 2015. Out of 600 inhabitants of Langtang, 175 had died in the devastation. Many tourists, foreign and domestic, lost their lives as well. Those who survived have been left with wounds, which will take decades to heal. Almost every household has lost someone. Some have lost their newly married wives, while others have lost beloved husbands and still others have lost their dear children and parents. The wound is fresh. People in Langtang might have accepted their relatives' fate but haven't been able to overcome the wound that the 2015 earthquake has left.

Advocate Phurpa Tamang (Dai) is from Thulo Bharkhu, Rasuwa. He planned a literary visit to Langtang to recite poems in memory of those who perished in Langtang on that fateful day of April 25, 2015. Several Nepalese and foreigners had lost their lives on that day. The stories told by Ghyalbu Dai still sends a shiver down my spine. His daughters were playing in the house. Two of the daughters were locked inside the kitchen during the play. Suddenly the earth shook and the 'snow' came and hit the house. The girls were smart enough to conceal themselves under tables, as they had learnt in the school. They survived. This was in Kyanjin. His sister in Langtang couldn't survive the fury of nature. Her legs were chopped by the tin sheet that is used as roof in these areas. His other sister is bereaved of her husband leaving three surviving daughters. I listened to him helpless. I cannot undo what had happened on that day but I only wish it was undone. It was a war declared and concluded by nature mercilessly on those who were helpless.
On 26th of Baishak (May 9, 2018) I left home and reached Dhunche. Phurpa Dai hosted me at his brother Lakpa Dai's place. On 27th of Baishak (May 10, 2018) eleven of us gathered at Shyaphrubesi -- Shiva Pudasaini (Dai) from Jiling, Nuwakot, Phurpa Tamang (Dai) from Thulo Bharkhu, Rasuwa, Bishwash Sunuwar (Dai) from Okhaldhunga, Dipendra Singh Thapa (Dai) from Dhading, Sashi Kumar Dangol (Dai) from Betrawati, Rasuwa, Bhimshen Pandey from Devighat, Nuwakot, Sanjok Dangol from Betrawati, Rasuwa, Buddhi Lal Chitrakar from Devighat, Nuwakot, Sujina Lawat from Uttargaya, Rasuwa and Bijaya Tiwari from Laharepauwa, Rasuwa.
From Shyaphrubesi we started our trek in the afternoon after quickly grabbing some snacks. Our destination for that day was Pahiro. We didn't have problems reaching there. On the second day we reached Ghoda Tabela. Some of us decided to try Yak milk in Tenzing Dai's cowshed. It was rich in taste and nourishment. I am glad we had it in the evening. It wasn't easy to digest and my stomach was grumbling that evening without affecting my health though. Tenzing Dai herds sixteen Yaks.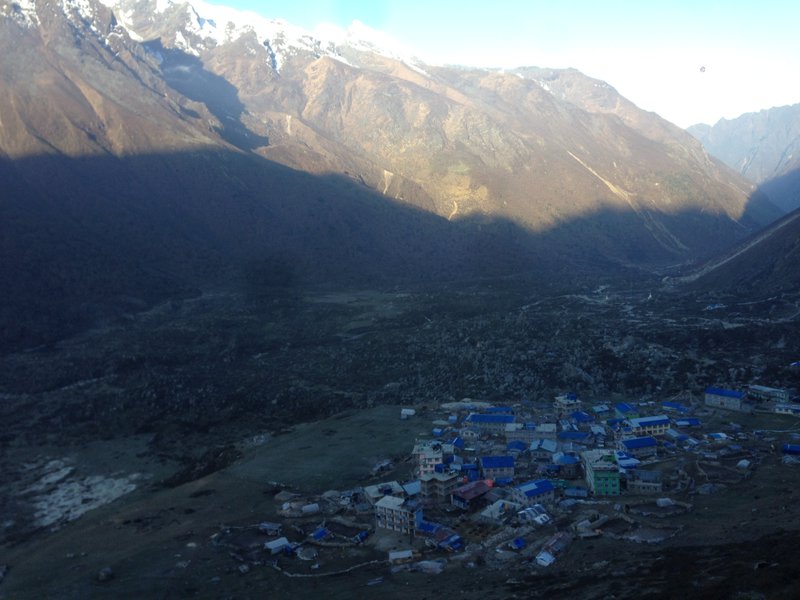 On the third day we reached Kyanjin. On our way we stopped by Langtang to have lunch and to recite poems in memory of those who perished on that fateful day of earthquake that devastated Nepal. We were less organized than I had thought. We had few local witnesses to the recitation. We recited poems on the trail right in front of the rock on which Sashi Dangol (Dai), also an artist, painted our trek objectives. Tears flowed and voices choked as Phurpa Dai recited poems. From Langtang it's two and half hour trek to Kyanjin. When we were about to reach Kyanjin my breath became heavy and short. I struggled to walk every step. Kyanjin is at a height of 3870 meters.
On the fourth day we rested in Kyanjin. We took a walk around the valley. Some of us hiked to the nearest view point, Kyanjin Ri. I accompanied Phurpa Dai and met his relatives. That's when I realized tears being contained and voices being uttered with pain and difficulty. On the fifth day fortunately there was snowfall. Everyone had wanted to experience snowfall. In fact trekking to Kyanjin would have been incomplete without the feel of the snow. After playing with snow we descended and reached Shepra Gaun on the same day. It was a long walk. It was easy because it was downhill and none of us had the knee problem. Shepra Gaun is an alternative trail. It took us one hour and forty minutes to reach Sherpa Gaun from Lama Hotel. I saw two mountain goats (Ghorel) on the way. I admire their sense of balance. After I made my appearance suddenly on that trail the mountain goat jumped right into that steep slope from a cliff. I felt bad for having spoilt its peace but that was a sight worth seeing. Sherpa Gaun is four to five hours short of Shyaphurbesi. We spent the night at Kancha Dai's (Tara Shrestha's) guest house. Tara Dai had lost his left limb to frost bite eleven years ago. The hardships people suffer in these mountains are unbelievable. Yet their sense of humor is unparalleled. Phurpa Dai humorously told that all the bubbly and life giving girls which make Langtang come alive perished. The pun was intended. Ghyalbu Dai seconded his thought. That's true. I could see few young women there. Those young people who had come in search of jobs were from Okhaldhunga, Solukhumbu and other districts.
The weather didn't play spoilsport for us throughout our trek. I had been a little worried when I had looked at the weather forecast for the week before we started our journey. There was plenty of rain in the forecast. But for four days it didn't rain during day time and the sky was clear. On the fifth day as we were trekking downhill from Kyanjin to Sherpa Gaun it drizzled a bit throughout the day and kept the weather pleasant. On the sixth day again the weather cleared up and it was a comfortable trek from Shepra Gaun to Shyaphrubesi.
We climbed up and down the trail. The weather was pristine. The birds were chirpy. The animals active. There were plenty of rhododendrons, pink, white and crimson. The hills were lush green, the mountains were snow-clad and the sky was azure.