Speakers from different walks of life gathered at Kathmandu have expressed the hope that denuclearization of Korean Peninsula will pave the way for peaceful reunification.
As the hope of peace and reunification of Korea is appearing in the horizon following summit meeting between President of The Republic of Korea Moon Jae-in and North Korean supreme leader Kim Jong-un follllowed by summit between U.S. President Donald Trump and noth Korean leader Jong-un , Embassy of Republic of Korea in Kathmandu and Center for Diplomacy and Development a talk program on Emergence of Enduring Peace, Stability and Progress in the Korean Peninsula.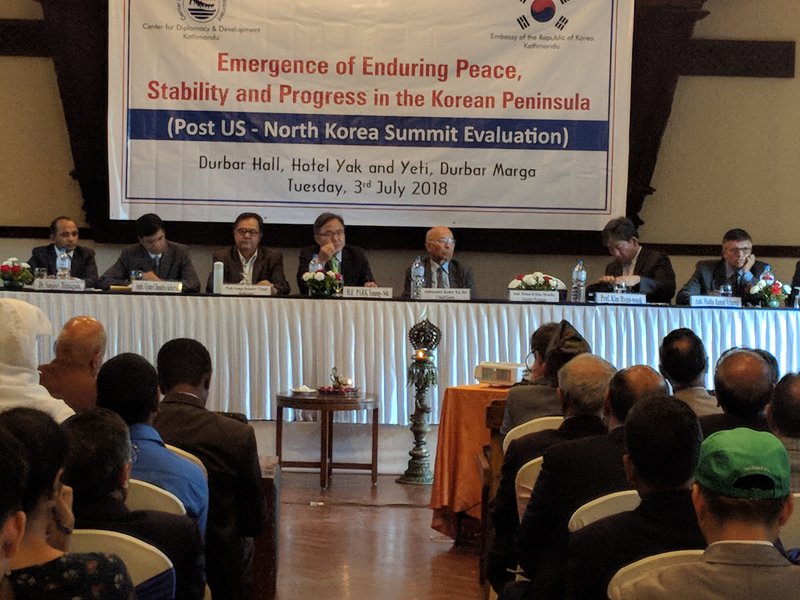 Given the success of recent summit between President Trump and North Korean leader Kim Jong-un, the participants also evaluated the post North Korea and U.S. Summit in achieving peace in the region.
Addressing the talk program, ambassador of Republic of Korea Park Young-sik said that enduring the peace in Korean Peninsula is the need of the hour to world. He highlighted the recent high level summits in the Korean Peninsula in this context.
Delivering the opening remark Mohan Krishna Shrestha, founder President and CEO of Center for Diplomacy and Development said that the recent events generated the hope the possibility enduring peace and reunification of Korean Peninsula.
Guest speaker Dr. Kim Hynn-wook of Institute of Foreign Affairs and National Security, South Korea highlighted the recent historically importance events took place in Korean peninsula.
Former foreigner foreign secretaries Madhuraman Acharya and Gyan Chandra Acharya also presented their views in the program. Attended by large numbers of people from different walks of life, former ambassador to France Keshab Raj Jha inaugurated the program.