As torrential rain continues for almost 10 hours, Department of Hydrology and Meteorology issued flood warning in various areas of central and eastern region. Water level of Bagmati River at Karmaiya has increased above the danger level.
Bhaktapur and Madhyapur areas have become waterlogged due to the flooding caused by the swollen Hanumante khola rivulet following torrential rain last night.
Settlements including the temporary camp sheltering the earthquake victims at local Jagati and Barahisthan have been inundated. Similarly, settlements at Radhe Radhe and the Kamerotar land pooling project in Madhyapur Thimi have also become waterlogged. Local residents have not been able to come out of their houses as hundreds of houses have been inundated since midnight on Wednesday.
The entire stretch from Radhe Radhe to Nikosera has been inundated, a local Purushottam Karki said. Water has accumulated up to four feet from the land surface. The water has entered the ground floor in several houses in the area. The shops and stores are all closed due to the inundation.
Likewise, areas on both sides of the Araniko highway from Chardobato to the way leading to Balkot are waterlogged in Madhyapur Thimi. The low-lying areas in Gaththaghar are also facing inundation. The Madhyapur hospital and surrounding areas have also been inundated.
The landless squatters' settlement at Jadibuti is completely inundated due to the flooding caused by the swollen Manohara river. "We are in such situation that neither we can go out of the house nor we can stay inside the house," expressed Amar Thapa, a local, explaining the predicament the residents of these areas are in after their houses became inundated reports RSS.
Similarly, water level in Sunkosi river has also increased. The water level in Mahakali River has increased due to torrential rainfall since early Wednesday morning, posing threat to the residents living along the riverbank. According to the Area Police Office in Gaddachowki, Kanchanpur, the water flow in the river was measured at 215,000 cusec.
The local administration has prohibited movement of four-wheelers across the Banbasa bridge. Last week, the water flow in Mahakali was recorded at 145,000 cusec.
A total of 53 individuals died, nine have gone missing and 22 were injured in various monsoon-related incidents across the country in the last nine days.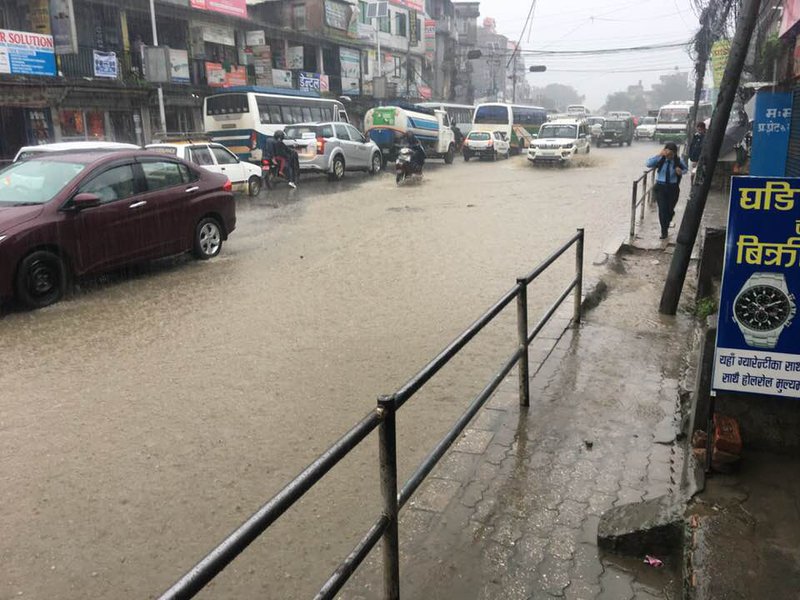 According to the data compiled by the Ministry of Home Affairs, 53 people in over 40 districts lost their lives in disasters like landslides, flooding, lightning and other incidents triggered by rainfall in the past nine days. Similarly, nine individuals in Tanahun, Sarlahi, Kavrepalanchowk, Nuwakot, Kaski, Manang, Kanchanpur, Dhading and Dhankuta have gone missing. Likewise, 22 others have sustained injuries in monsoon-related incidents.
The ministry's data shows that drowning was the cause of most of the deaths, which occurred as people attempted to cross swollen rivers. In Sarlahi alone, five individuals drowned. Similarly, four individuals in Banke, three in Sindhuli and another three in Parsa drowned in the past nine days. In hill districts including Makawanpur and Rolpa, five individuals lost their lives in landslides.
Officials at the Ministry of Home Affairs said that the local bodies have been carrying out search operation to find out those who have gone missing in floods and landslides.
Flash floods and landslides have killed at least 68 people in Nepal in the past three days and another 15 are missing, local authorities said.
Rescue teams of soldiers and police personnel used rubber boats and helicopters to rescue people from rooftops and trees, Yadav Koirala, spokesman for Nepal's home ministry, said. Some waded through waist-deep water with women and children, police said.
In the western town of Butwal, 170 km (110 miles) from Kathmandu, local TV stations showed the Tinau river washing away a huge suspension bridge.