Minister for Foreign Affairs Pradeep Kumar Gyawali distributed specially designed wheelchairs to children with disability of Nepal amid a function today organize to celebrate 70 years of Independence and 60 years of the Establishment of MASHAV.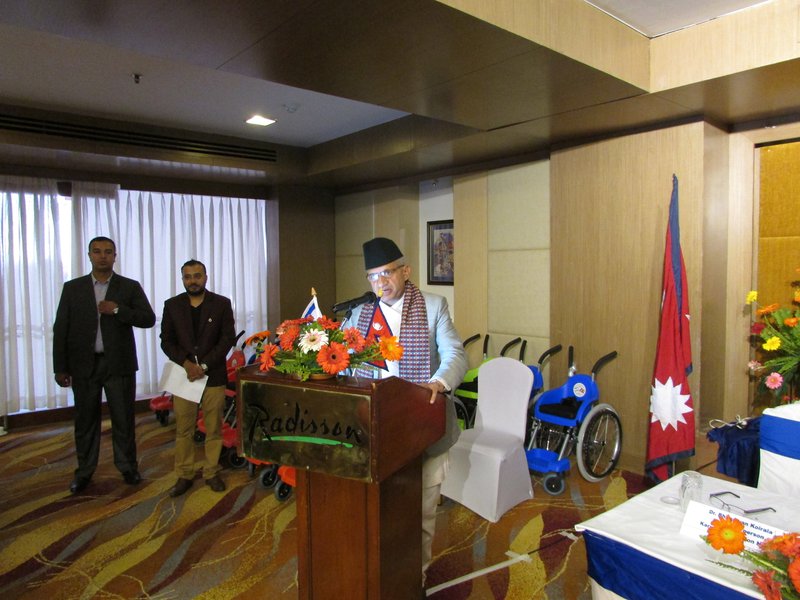 Addressing the function minister Gyawali thanked Israel government for providing the wheelchair to Nepalese children with disability. "The wheelchair will greatly enhance the mobility of the children with disability in Nepal. Since the establishment of relations between the two countries, Israel has been providing very meaningful support to Nepal. The newly developed wheelchair is another milestone," said Gywali.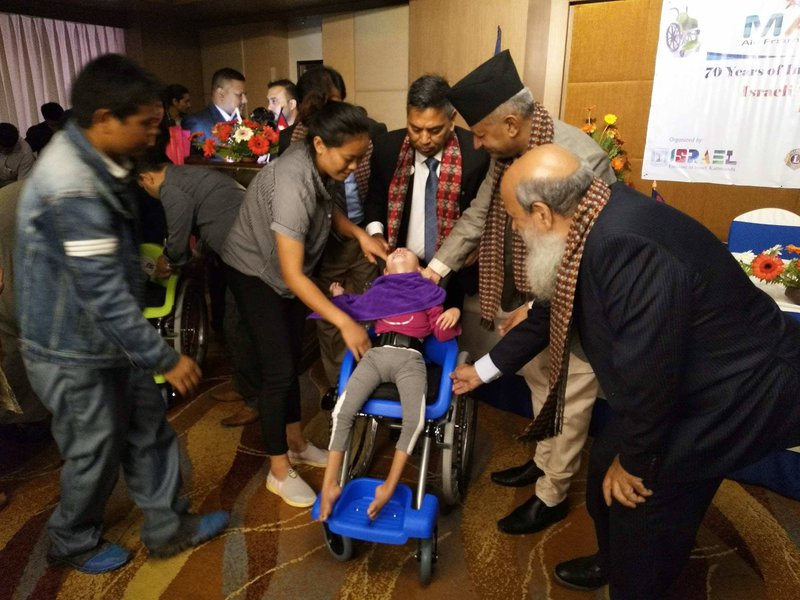 Attended by people from various walks of life and parents and children with disability, Minister for Foreign Affairs distributed 40 'Wheelchairs of Hope' from Israel.
Speaking during the program Benny Omer, Ambassador of Israel, expressed his satisfaction for the Embassy's contribution to this humanitarian cause and hoped that these children would benefit from the specially designed, light and comfortable wheelchairs for the freedom of their movement and expressed his commitment for more of such activities in the future.
District Governor of Lions Clubs International, District 325-A2, Lion Sudarshandhar Pradhananga said that the Association of Lions Clubs International was established in 1917 with the motto "We Serve". He also informed that Lions Clubs are humanitarian organizations working for prevention of diabetes, low vision, and childhood cancer; environment protection, hunger relief distribution, etc.
Prof. Dr. Bhagawan Koirala, Vice Chairperson of Karuna Foundation Nepal, highlighted on the activities of Karuna Foundation Nepal in the areas of prevention of childhood disabilities and improvement of quality of lives of the children/adults with disabilities and their families. He further mentioned that environmental and attitudinal barriers are the major challenges for the people with disabilities in Nepal and further stressed that the time has come to break all barriers and myths to include this population into the mainstream.
Chief Guest for the ceremony, Foreign Minister Gyawali and other speakers appreciated the Embassy's noble deed of providing wheelchairs to the children with physical disabilities, which not only make them accessible, it rather opens the avenues of life to grow at full potential and thanked Ambassador Omer for making people's diplomacy functioning.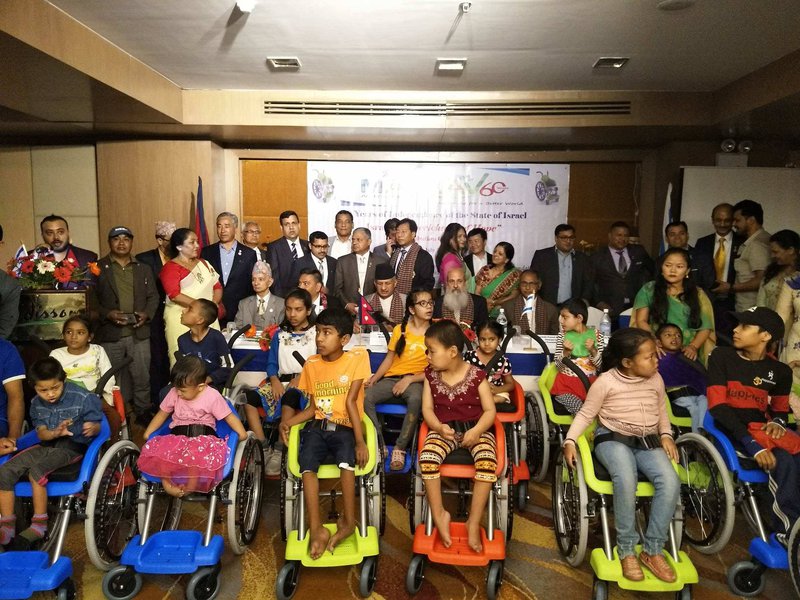 The Embassy hopes that it is able to contribute to such social causes in the future as well to support needy people and make their life comfortable. The Embassy in 2010 too had used its budget allocated for Independence Day celebration to conduct an Eye Camp by a famous group of Israeli eye doctors from 'Eye from Zion' at Manekharka village in Kavrepalanchwok district. During that camp, 55 people including elderly, youth and children with cataract and other sight related problems had benefitted from the free treatments including cataract operation.
The Organizers believe that such humanitarian activities would further strengthen the bilateral relations between Nepal and Israel, not only at Government level but also at grassroots level and between people to people, which is a very important component in the development of friendship.
"All men are born equally free and independent. They have certain inherent natural rights …. Among which are the enjoyment of life and liberty" – John Locke
This year the State of Israel celebrates its 70 years of Independence and 60 Years of the Establishment of MASHAV (Israel's agency for International Development Cooperation, Ministry of Foreign Affairs, and Jerusalem). MASHAV is assisting Nepal since the establishment of diplomatic relations in 1960, through development cooperation, particularly in the capacity building of the human resources and humanitarian activities.
To celebrate this special occasion, the Embassy of Israel in Kathmandu has decided to use the budget allocated for its Independence Day celebration for a special cause, to give the way forward in the lives of children with disabilities by making their mobility accessible and increase independence. The Lions Club of Kathmandu Capital District 325-A2 and Karuna Foundation Nepal have collaborated with the Embassy for this noble cause.
Mobility & Independence
Wheelchair provision is not only about the wheelchair, which is just a product. Rather, it is about enabling people with disabilities to become mobile, remain healthy and participate fully in community life. A wheelchair is the catalyst to increased independence and social integration… (From Guidelines on the provision of Manual Wheelchairs in less resourced settings- World Health Organization 2008). 65,000,000 people need wheelchairs worldwide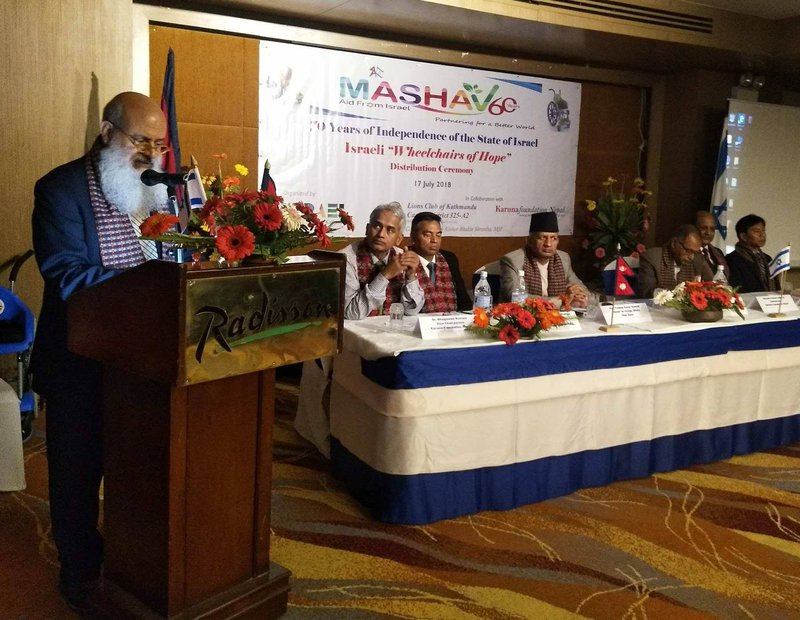 It is estimated that about 1% of the total population or 10% of the disabled population need wheelchairs.
About 20 million of those requiring a wheelchair for mobility do not have access to them. Out of which, 25% are CHILDREN around the world, which are mostly from less developed environments. Most of them will not attend schools or have access to formal education
Karuna Foundation Nepal
Karuna Foundation Nepal is a Nepali Non-Governmental Organization established in the year 2015. It aims to prevent avoidable disabilities among children and improve quality of lives of children and adults with disabilities and bring progressive changes in the lives of families at risk, developing evidence based scalable community models. More: www.karunanepal.org
Lions Club Kathmandu Capital District 325-A2
Lions Clubs of Kathmandu Capital was founded in year 1992 and it is one of the most active Lions Clubs in Nepal. Its major area of service are education and scholarship funds, support to disable people, health service and environment. Since last eight year, this club has been helping numbers of differently able people by providing wheelchairs, artificial limbs and other needed accessories and physiotherapy services and training to needy people in cooperation with National Disability Support Fund.
" Nepal highly regards the humanitarian support and solidarity extended by the Government and people of the State of Israel"
By Pradeep Kumar Gyawali
I am really delighted to attend this ceremony on the handover of the Israeli "Wheel Chairs of Hope"being organised by the Embassy of Israel in Kathmandu together with Lions Club of Kathmandu Capital District 325-A2 and Karuna Foundation Nepal to mark the 70 Years of Independence of the State of Israel. On this occasion, on behalf of the Government of Nepal, Ministry of Foreign Affairs, as well as on my own, I would like to extend by heartiest congratulations to the Government and the people of the State of Israel and wish for continued peace and progress of the people of the State of Israel.
The six-decades of partnership and cooperation between Nepal and Israel have been immensely fruitful and productive in the development efforts of Nepal. I feel glad to note that Nepal was the first country in South Asia to have the diplomatic relations with the State of Israel. Over the years, our bilateral engagements and cooperation have been growing incessantly with renewed strength every year which ultimately is in the interest of our two countries and people. The exchange of high level visits between the two countries beginning from 1960s and mutually beneficial cooperative relations in the diverse fields including agriculture and irrigation, human resource development, science and technology, tourism and civil aviation and foreign employment have brought our two countries and people closer to each other.
Let me take this opportunity to restate that Government and the people of Nepal highly regard the humanitarian support and solidarity extended by the Government and people of the State of Israel during the devastating earthquakes in April 2015. We had received a humanitarian mission of over 250 Doctors, much needed for rescue and relief operations, sent immediately after the earthquake by the Government of Israel.
After my assumption of office as the Minister of Foreign Affairs of Nepal, we made an arrangement for hosting the First meeting of the Bilateral Consultation Mechanism (BCM) between the Ministry of Foreign Affairs of the two friendly countries in Kathmandu in March 2018 at the senior officer's level. Matters of bilateral and mutual interests were thoroughly discussed on that occasion. Following the BCM meeting in Nepal, there has also been a ministerial level visit to Israel in the recent past.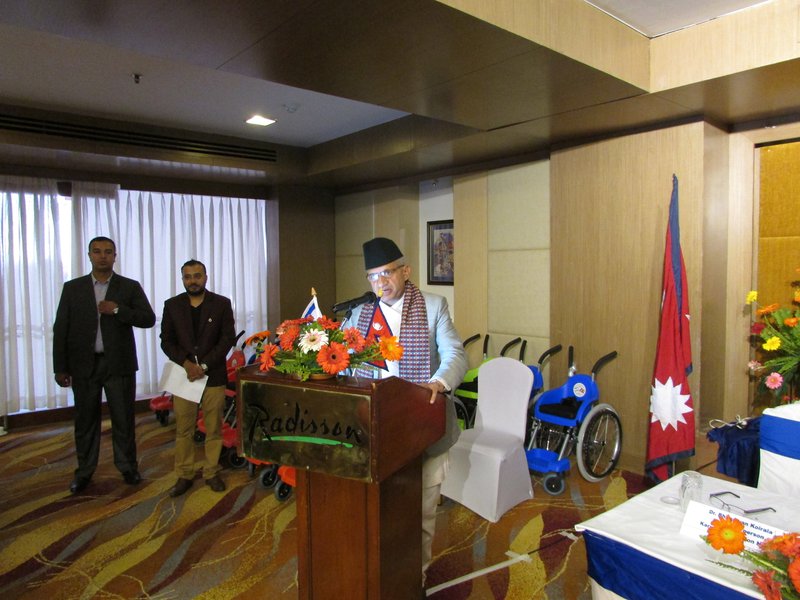 I would like to appreciate Your Excellency the Ambassador and the Embassy of Israel in Kathmandu for coming up with this idea of supporting the children with disabilities in Nepal and co- organizing this event to that effect. I take this event as a symbolic gesture of empathy and support to our children. I would also like to congratulate the other two co- organisers- the Lions Club of Kathmandu Capital District 325-A and the Karuna Foundation Nepal for the initiatives you have taken for addressing the concerns of the children with disabilities in Nepal. I am sure the ''Wheelchairs of Hope" will bring about a new ray of hope and aspiration to our young children with disabilities for realizing their full potential in the society they are living in. The philanthropic activities of this kind do matter significantly when it comes to changing the future of our children who need additional support. In that sense this is an exemplary initiative on the part of the organisers.
I have a firm belief that everyone is born with a unique and special ability. Physical disability cannot and should not be a permanent obstacle to the progress and development of our children in their lives. It is essential that the government agencies, private sector, civil society, academia and all other segments of society work hand in hand to change solid attitude towards disability and ensure favourable environment for all round development of our children with disabilities. We need to create conditions in which they are entitled special opportunities and facilities so that they can reach their full potential. Their voices need to be heard and their rights need to be ensured in the society.
It goes without saying that our future rests on the hands of our children. The government of Nepal, realising this fact, is fully committed to increase the access of our children with disabilities to education, medical services and skill development activities. Decade-long conflict, inadequate physical infrastructure causing serious accidents and lack of enough health facility is contributing to add on the problem. Our objective is to make sure that disability stops being perennial source of pain and suffering. There are ample examples in which children with disabilities through their persistent efforts, hard work, and perseverance have brought remarkable changes to their societies by the time they reached their adulthood. Children, however, need support and protection to set such examples. I am confident that our policies and programmes, our strong desire and commitment coupled with revolutionary changes brought about by science and technology would herald a new dawn in the lives of the children with disabilities in the time to come.
The Constitution of Nepal 2015 has enshrined the right to equality and non-discrimination as fundamental rights of all citizens. The Government of Nepal adopted various schemes and programmes that include social security allowance, Community Based Rehabilitation (CBR), and reservation quotas to enable persons with disability live with dignity and honour in community. The Government has been making efforts to increase enrolment of children with disabilities in school with the provision of different types of scholarships and incentives. The Coordination efforts by government, civil societies community and the concerning family are extremely important.
At the moment near about 77000 children with disabilities have been enrolled in school education system out of which about 65000 children with disability are in basic education school (Grade 1 to 8).
Before I conclude, I would once again like to extend my sincere thanks to the Embassy of Israel in Kathmandu for materialising this event today and providing me this opportunity to be part of a noble cause as the Chief Guest. Being a father of the daughter with physical and mental disability, I feel emotionally attached to such programmes and community. Let me reiterate that the event today is the reflection of the subsisting strong bond of friendship, understanding and cooperation between Nepal and the State of Israel which have been growing steadily towards the mutual satisfaction of our two countries. My sincere appreciation also goes to two other organisers- the Lions Club of Kathmandu Capital District 325 -A2 and Karuna Foundation Nepal.
Finally, let me express my hope that this is not the end of journey of philanthropic activities that benefit our children with disabilities. I look forward to be part of many more initiatives like this in the future.
Gyawali is Minister for Foreign Affairs. Excerpts of the statement delivered at "Wheelchairs of Hope" ceremony organised by the Embassy of Israel in Kathmandu together with Lions Club of Kathmandu Capital District 325-A2 and Karuna Foundation Nepal.