After violent protest and disputes, finally Dr. Govinda KC has agreed to come to Kathmandu and now he admitted at Tribhuwan University Teaching Hospital (TUTH) in Maharajgunj. A Nepal Army chopper carrying Dr Govinda KC, medical and army personnel, has landed at Kathmandu.
In a clashes in Jumla number of students and police personal injured. A police personnel who suffered injuries during the protests that ensued between Dr Govinda KC supporters and the administration, is currently undergoing treatment.
Assistant Police Inspector Kamal Upadhyay is receiving treatment at the Karnali Academy of Health science where Dr KC was staging his strike, according to Jumla District Police Office. The clash erupted at the same premises.
ASI Upadhyay sustained an injury after wood splinters thrown by protestors hit his chest. Over a dozen protestors were injured in the clash.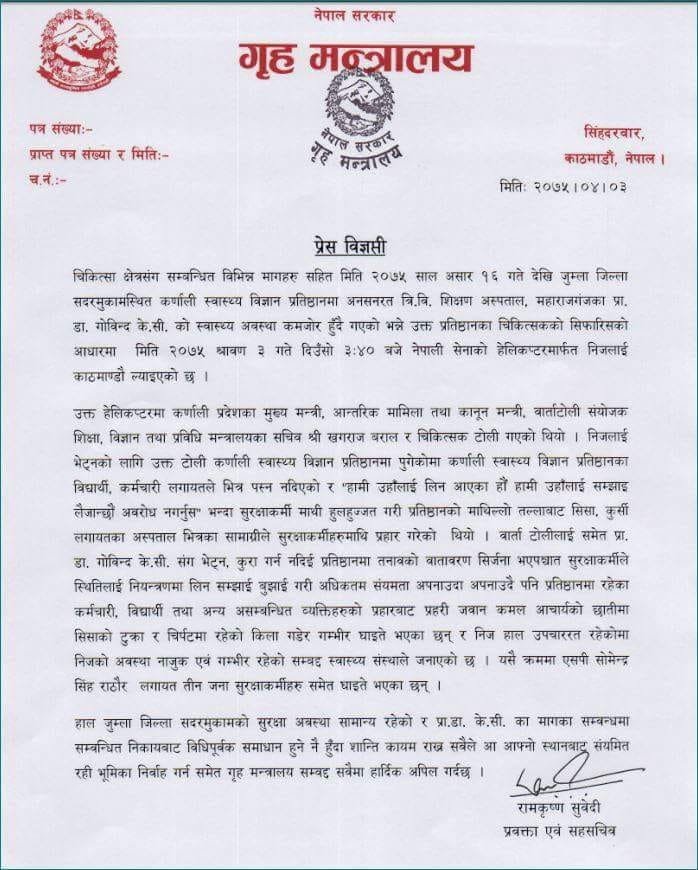 After violent clashes erupted in Jumla y over the government's decision to airlift medical activist Dr Govinda KC, who has been on a fast-unto-death for the last 20 days, Dr KC agrees to fly to Kathmandu after clashes erupt in Jumla to prevent further damages.
Many have been injured following protests against the government team forcefully entering the premises where Dr KC is staging protest.
Dr KC got very emotional when he heard about the clashes and people getting hurt, Dr Bishad Dahal, KC's aide said. Dr KC, however, denied flying in the helicopter provided by government for his arrival to Kathmandu.
According to Deshsanchar and The Himalyan Times, the Police Administration, in the meantime, has issued a warning asking Dr KC to obligingly board the aircraft sent by the government within ten minutes. The administration has further stated that they will be compelled to use force otherwise.
Minister for Education Giriraj Mani Pokhrel informed press that the doctor will be flown in to the capital and receive treatment here.
The Education Minister also stated that the Medical Education Bill will not be 'taken back' by the government at any cost. However, a few provisions can be discussed upon, said Pokhrel.
Thousands of people including medical practitioners joined the protest program today. After taking the march, the demonstrators assembled at Maitighar Mandela accusing the Oli government in collaborating with mafia. They also declared that this authoritarian government will be thrown out from the power.