Doctors from the Yamalo-Nenets Autonomous Okrug arrived in Kathmandu to provide medical care to the population and to exchange experience with local specialists.
This is the first "Mission Dobro" to Nepal. At the beginning of 2023, the organizers of the Program received a request for assistance from the Kathmandu Medical College (KMC). It is important for specialists to constantly improve their skills and knowledge in the field of modern methods of diagnosing and treating patients.
The goal of the volunteer mission is to conduct master classes and practical training for local specialists, consulting patients with disabilities, and exchange of professional experience with Nepalese colleagues.
The Mission participants are volunteer doctors from the State Budgetary Healthcare Institution of Yamalo-Nenets Autonomous District " Salekhard District Clinical Hospital". On the first day of the Mission, volunteers held a number of meetings with local doctors, became familiar with the administrative and clinical structure of the KMC, and provided consulting support during a surgical operation.
Head of the traumatology department of the Salekhard District Clinical Hospital, orthopedist and traumatologist Evgeniy Zabara, having learned from a Nepalese colleague about the upcoming operation, volunteered to consider the case together.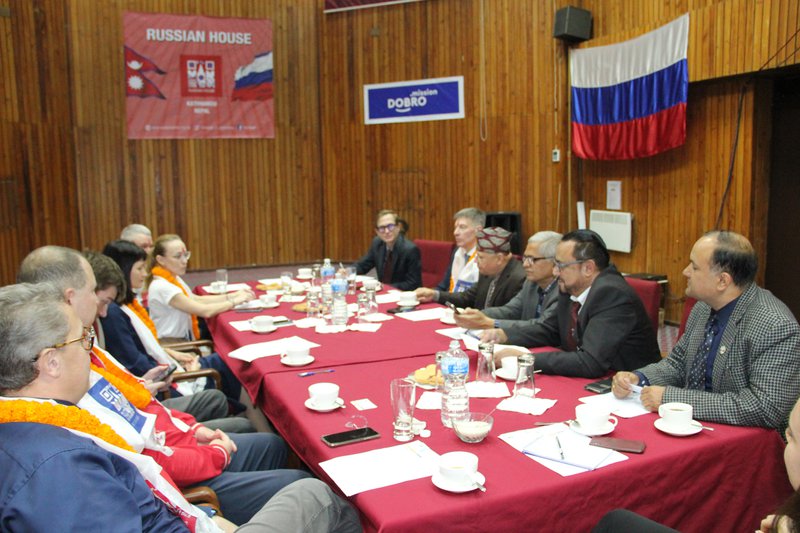 At the Kathmandu Medical Institute, specialists from the Yamal-Nenets Autonomous Okrug were welcomed by the Vice-Principal of Clinical Sciences, Dr. Pawana Kayastha.
She presented the KMC, noting the large number of international studies and projects, and spoke about the difficulties faced in Nepalese realities. Dr. Pawana Kayastha also introduced the guests from the Yamal-Nenets Autonomous Okrug to the KMC heads of wards.
Olga Kholyavko, Head of the International Activities Department of the Department of External Relations of the Yamalo-Nenets Autonomous Okrug, presented general information about the region to the staff of the KMC. Similarly, volunteers shared the most recent developments of their Clinic, using video clips to show their Nepalese colleagues in what conditions they sometimes have to work, what difficulties – to solve.
Everyone was greatly impressed by the video of the successful evacuation of a newborn from the tundra, which was demonstrated by the head of the perinatal center of the Salekhard District Clinical Hospital, obstetrician-gynecologist Alexey Denisov.
Pediatrician, pediatric endocrinologist and ultrasound specialist IlfatKhafizov, when visiting the maternity ward, was impressed by the number of unique cases: "With such a flow of people and the number of pathologies, our specialists would become professionals in less than a year." Nepalese colleagues showed IlfatKhafizov the ultrasound equipment used at the KMC, and he, in turn, shared his skills by diagnosing one of the newborn children with ultrasound.
The further program of the Mission includes visits to specialized clinics – pediatric, oncology, traumatology – in the Kathmandu Valley. Russian specialists will also hold meetings with the professional medical community of Nepal at the Russian House, consultations for the doctor of the Russian Embassy in Nepal and meetings with employees of the RZU, as well as visits to local specialized universities.