The protest rally organized to press demand of Dr. Govinda K.C. is now gradually turning into anti- Prime Minister K.P. Sharma Oli agitation. Today, all the speakers except Manisha Koirala criticized targeted PM Oli for current chaos and uncertainty in the medical education.
Addressing the rally, former Chief Justice Sushila Karki accused PM Oli of being intolerant. Writer Khagendra Sangraula questioned PM Oli's current policy and questioned what kind of socialism the government was batting for. Former chief justice Karki added that if the government continued to turn a deaf ear to KC's demands, a wave of protest would erupt across the country.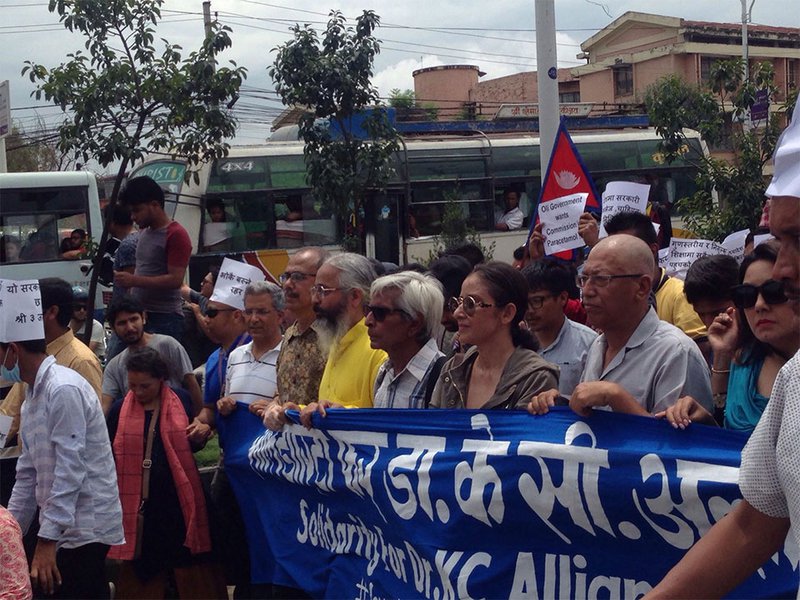 Sangraula said that the mafia rule must end in the country. "The leaders are batting for socialism, but this is not the way!"
"The government must meet the demands of Dr. Govinda KC otherwise a wave of protest will erupt across the country," Karki said adding that the KP Sharma Oli led government was entangled in a web operated by mafia and contractors. "The government must wake up to the pleas of Dr. KC and stay away from mafia," she said.
According to Deshsanchar online, Shangraula also condemned the price hike in internet and telecommunication despite its ability to connect people and communities while improving access to information. "When prices for communication means are decreasing across the world, our government is doing the opposite."
Similarly, co-chair of Sajha-Bibeksheel Party Rabindra Mishra criticized PM Oli for his intolerance behavior. Nepali Congress youth leader Gagan Thapa said people needs to come to street to dislodge the government.
Human right activist Krishna Pahadi said that Oli government is worse than Panchayat regime and call for people to come to street to fight against autocratic Oli's government.