Former prime minister Pushpa Kamal Dahal Prachanda said that Nepal India Relations is moving towards right direction following the recent high level political visits.
Former prime minister Dahal said that Nepalese Prime Minister K.P. Sharma Oli and Indian Prime Minister Narendra Modi have expressed to further strengthen the bilateral relations between the two countries.
"It is very happy to none that after the visits by both the Prime Ministers, all the bilateral mechanisms between the countries," said Prachanda. "This is one of the positive progresses."
Prachanda said that Nepal and India share so many things and both the countries have centuries old relations. After the parliamentary elections, people voted Nepal Communist Party with two third majorities hoping to bring development in the country. With political stability, Nepal has now to make economic progress. For this Nepal needs India's sincere support," said former Prime Minister Prachanda.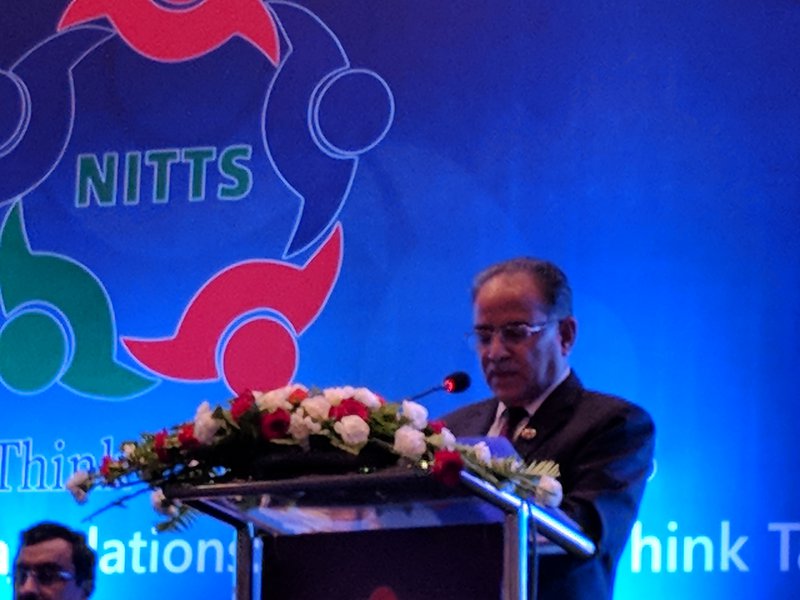 "Nepal and India has a long social and culture connectivity. We need to have Railways, Water Ways, airways and road connectivity for prosperity," said Prachadna.
Addressing the program Indian ambassador to Nepal Manjeev Singh Puri said that the strength of India and Nepal relations rooted in the people of both the countries who share civilization. "Unlike in the past, we are working Nepal differently now fulfilling all our commitments into reality," said ambassador Puri.
Ambassador Puri said that the goodwill and warmed welcome accorded by Nepalese people to Indian Prime Minister Narendra Modi during his visit in Janakpur, Kathmandu and Muktichhetra showed deep attachment of people of Nepal toward s India.
After visiting three times in Nepal in a matter of four years and fourth visit in coming August for BIMSTEC Summit, Indian Prime Minister Modi attaches great importance to the relations with neighbors particularly Nepal.
In his special guest remarks, Shree Ram Madhav, National General Secretary, Bharatiya Janta Party, suggested Nepal to follow look south policy so that Nepal can achieve higher growth connecting to sea. "India and Nepal are not only connected from land, rive and nature, they are also linked by religious shrine. Janakpur –Ajodhya, Lumbini-Kushinagar and Pasupatinath and Bishownath," said Madav.
Minister for Industry, Commerce and Supply Matrika Yadav said that Nepal-India relations have unique in its nature. Whatever the relations at the official level, people to people relations remain intact and cordial since the time immoral.
Shakti Sinha, Director of Nehru Memorial Museum and Library, highlighted the importance of the think tank summit. Shyam KC, Research and Development director of AIDIA and Sunil KC founder/ CEO of AIDIA also spoke in the program.
Inaugurated by Former prime minister Dahal, large numbers of experts from both the countries are taking part in Nepal-India Think Tank Summit 2018. Organized by The Asian Institute of Diplomacy and International Affairs and Neharu Memorial Museum and Library, one day Summit discussed wide range of Nepal India relations.