President of Ireland Michael D. Higgins said that Ireland and Nepal are geographically far away but they do share many common humanitarian values and culture.
Addressing the Special Ceremony on Nepal-Ireland Friendship Day, President Higgins said that Nepal and Ireland secured the membership of United National same day saying Ireland and Nepal share common views on many international issues.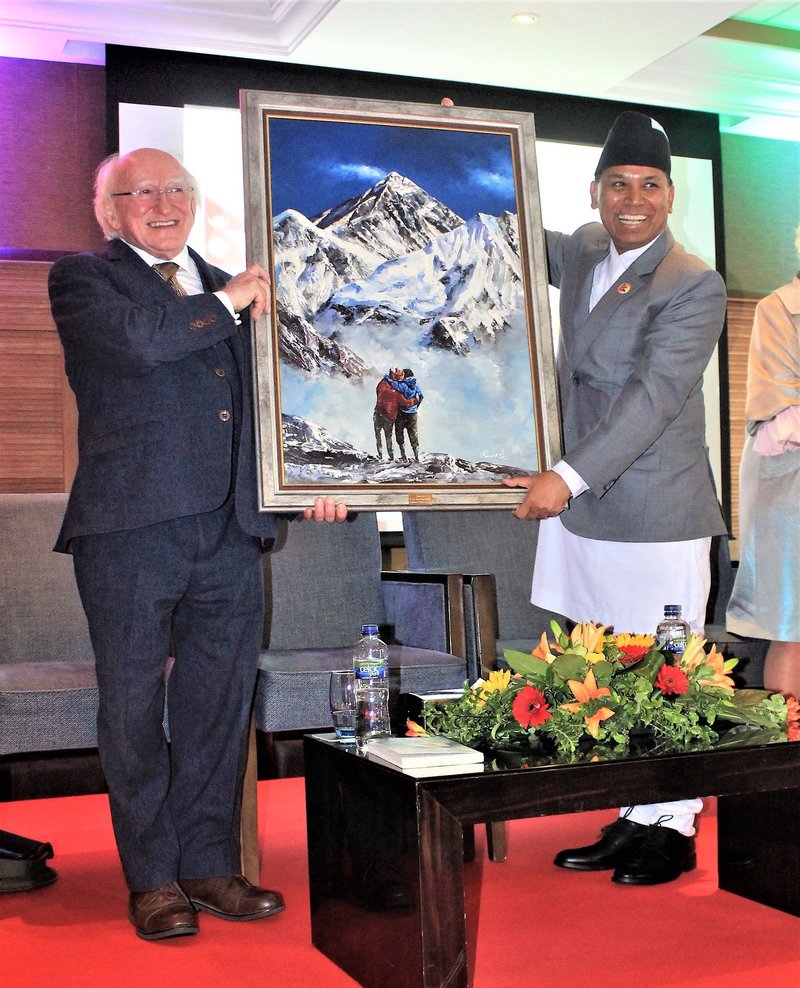 He also said that Ireland and Nepal is contributor to UN Peacekeeping serving different conflict zone to restore peace and order. President of Ireland also said that Nepalese constitution is one of the best democratic and inclusive constitutions.
President Higgins also unveiled a poem of Irish Poet translated by ambassador Dr. Subedi in Nepali. Organised a special program to mark 20 years of establishment of diplomatic relations between Nepal and Republic of Ireland in Dublin, Nepali Ambassador to United Kingdom and Republic of Ireland Dr. Durga Bahadur Subedi said that it is a matter of privilege to welcome president of Ireland in the program. Ambassador Dr. Subedi thanked president of Ireland attending the program to celebrate twenty years of establishment of diplomatic relations.
Addressing the program ambassador Dr. Subedi said that Nepalese are small in group in Dublin but they are active. "There are around 3000 Nepalese in Ireland but they have been organising various programs to promote Nepalese culture," said Dr. Subedi. Ambassador Dr. Subedi said that Nepal's new constitution is one of the best inclusive constitution which guarantees democratic and human rights of the people.
Attended by large number of high level people from Ireland including chief justice, ministers and diplomats based in Dublin, member of Ireland's Parliament also addressed the program.
Conducted by third secretary of Embassy Bhupendra Ghimire, President Higgins also conferred eight Nepalese Dipesh Man Shakya, Ganesh Prasai, Gangaram Kandel, Jeevan Timilsina, Krishna Kumar Dangol, Nawaraj Koirala, Rajendra Kafle and Sarada Khatri Pyatrik for their contribution in promoting and protecting Nepalese language, culture and music in Ireland.
This is a first such a public program organised by Nepalese Embassy in Ireland.