Neymar took a whack to the face, played on with cotton tissue in his bloodied mouth, and grabbed his second goal as Paris Saint-Germain won at Nice 3-0 in the French league on Saturday.
The Brazil forward was caught by Wylan Cyprien's flailing arm as they contested the ball near the hour mark of an otherwise one-sided contest.
Cyprien was sent off for a second yellow card, and Neymar sat down for a while and had a little blood wiped from his mouth with a sponge. He got up and carried on, playing on for several minutes as he ran around with the makeshift plaster device protruding from his mouth.
Neymar had already done damage of his own to Nice, expertly curling PSG in front midway through the first half from the edge of the penalty area. The ball fizzed past goalkeeper Walter Benitez before he could react and lodged in the bottom right corner.
That was enough for league leader PSG's eighth straight win.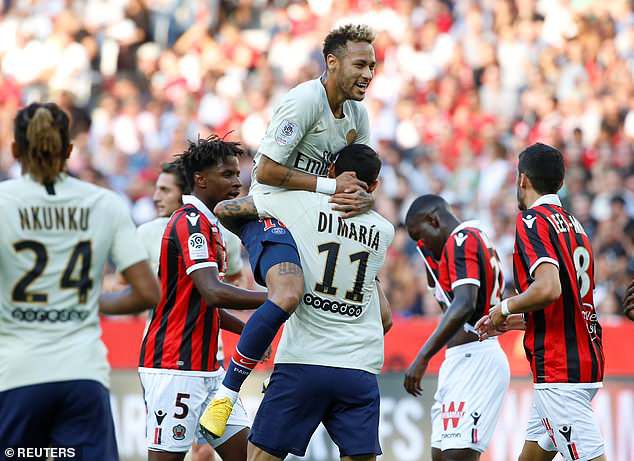 France star Kylian Mbappe returned from a three-game ban and was desperate to score for PSG, but too much so. He fluffed a good chance right at the start of the second half by taking too many touches. After his shot was blocked near the line, attacking midfielder Christopher Nkunku stroked in the rebound to make it 2-0.
PSG has struggled in the past at Nice, which always reserves a vitriolic welcome, but should have scored several more. When Neymar eventually got the third goal, it was in the second minute of injury time as Mbappe set him up for an easy tap-in.
With seven goals, Neymar is one ahead of Marseille winger Florian Thauvin at the top of the scoring chart.
Mbappe wasted a great opportunity midway through the second half when he shot from a tight angle, rather than pass to two unmarked teammates. He recognized his error, holding his hands up to apologize.
Neymar was also a bit lazy, trying an extravagant finish with a lob when he could have been more clinical. Moments later, he held his head in his hands in disbelief when Benitez made an astonishing save from his point-blank header.
Neymar, so often decried at the World Cup for his antics and play-acting, showed a touch of class as he congratulated Benitez.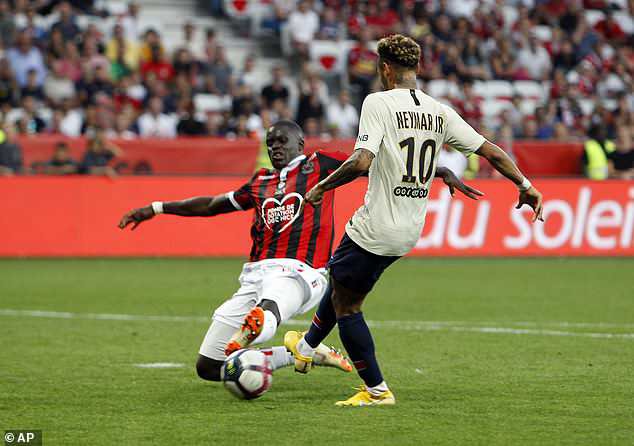 He seemed in high spirits, too, asking security guards to be lenient on a young fan running on at the end to meet him. He shared a joke with a security official before swapping his jersey with Nice striker Mario Balotelli.
There seems no stopping PSG in the French league: It has 27 goals and counting. PSG is the second French side to win its first eight games after Lille in 1936, and victory at home to Lyon next weekend will be a record.
Later Saturday, Lyon was looking to beat Nantes at home and reclaim second spot from local rival Saint-Etienne.