With the approach of the Autumn season, the people have started to clean the temples and shrines of Kathmandu Valley as they are already in a festive mood. Not only in the valley, people from all over Nepal are celebrating the Dashain festival.
Dashain Festival is one of the most important Hindu festivals, which are celebrated all over Nepal delightfully. This festival usually falls in the month of September or October and is actually celebrated for 15 days. It starts from bright lunar fortnight (Shukla Paksha) and ends on the day of full moon (Poornima) according to Nepalese annual calendar. Hindus' greatest festival, Dashain honors a great conquest of the gods over the evil demons. The symbol of power, Goddess Durga is worshiped during this festival.
According to the Hindu myths, a demon named 'Mahisasur' who spread horror was killed by Goddess Durga. And, the first nine days of Dashain represent the constant battle between vice and virtue. And, the tenth day signifies the triumph of good over evil. Another Hindu legend 'Ramayana' takes Dashain as symbolizing the triumph of Ram (vice) over Ravan (virtue) with the blessings of Goddess Durga.
The first day of Dashain is known as Ghatasthapana. On this day, people fill a vessel with sand and sow maize and barley seeds, cover it and worship it for 10 days. On the seventh day, also known as 'Saptami', Phulpati is celebrated. The eighth day is regarded as Maha Aastami. On this day, animals like buffaloes, ducks, goats and hens are sacrificed to Goddess Kali and the meat is taken as 'Prasad' (holy food). The night of this day is called the dark night- 'Kal Ratri'. Maha Navami is the ninth day of Dashain. On this day, craftsmen, mechanics and traders worship their equipment and tools by sacrificing different animals and offering them to the equipment. The tenth day is named as Vijaya Dashami, which is the most important day of this festival. On the tenth day, younger ones in a family receive Tika (a mixture of yogurt, rice and vermilion), Jamara (planted on the first day of Dashain) and blessings from elders as well as respected people.
Festival of Fun
This festival is in fact the ceremony of reunion and fun. People living far away from home or homeland, revisit their home and get together with their families. Similarly, parents buy new clothes to their children. People enjoy eating mouth-watering foods and playing a lot of games including cards. People invite guests, organize feast, visit their relatives' houses, fly kites, build bamboo swings and get involved in various entertaining activities.
This year, the first day of Dashain Festival – Ghatasthapana falls on 10 October, the seventh day Pulpati will be celebrated on15th October, followed by Asthami on 16 October and Nawami and Dashami on 17 and 18 October respectively. Additionally, for 5 more days, till 24th October, which is named as Kojagrat Purnima, the festival continues.
In addition to worshipping the Goddess Devis and Durga, Nepalis will hold celebrations for the fertility of the land and a year of good harvest. Dashain has also emphasized the importance of family reunion, which is helpful to ease social contradictions. All the government agencies, educational institutions and other public sectors will be closed down during this festival period.
Festival of Slaughter
People also slaughter goats, buffalo, chicken, and goose during the Dashain and sacrifice them to the goddess. People consume a lot of meat during the festival. Along with spiritual values, the tradition of consuming meat have also its reasons. Following Dashain festival, the country enters the cold winter. With consumption of meat, people prepare for the winter with good food intake.
Victory of Good Over Evil
Dashain symbolizes the victory of the good over evil. According to religious tradition, Goddess Durga with ten different manifestations combats the demon Mahishasura.
Devout Hindus celebrate Durga and her many appellations during a nine-night festival called Navaratri, which is held in late September or early October, depending on when it falls on the Hindu lunisolar calendar. Each night of Navaratri honors one of the mother goddess' manifestations. Hindus believe that worshiping Durga with sufficient religious fervor will lift the divine spirit and fill them with renewed happiness.
To commemorate the courageous Durga, the king of Nepal respected her as "the sacred protector". Since then, offering the sacrifices to the Goddess has become one of the most popular festive rituals.
Kathmandu Valley is the only place where the Newar community strictly follow Navaratri, worshipping at temples of all nine deities.
Day 1, Ghatasthapana, is for sowing holy Jamara. People usually use a kalasha to symbolize the Goddess Durga. On this day, the kalasha is filled with holy water, and then mixed with barley seeds and cow dung, finally delivered to the priest to pray for the blessings of the Goddess Durga. After the ceremony, the kalasha will be placed in the room. Traditionally, outsiders and women are not allowed to enter the holy place. Kalasha is protected from direct sunlight and carefully watered every day. Then the seeds begin to sprout. This holy grass is called Jamara and the rituals will last for seven days.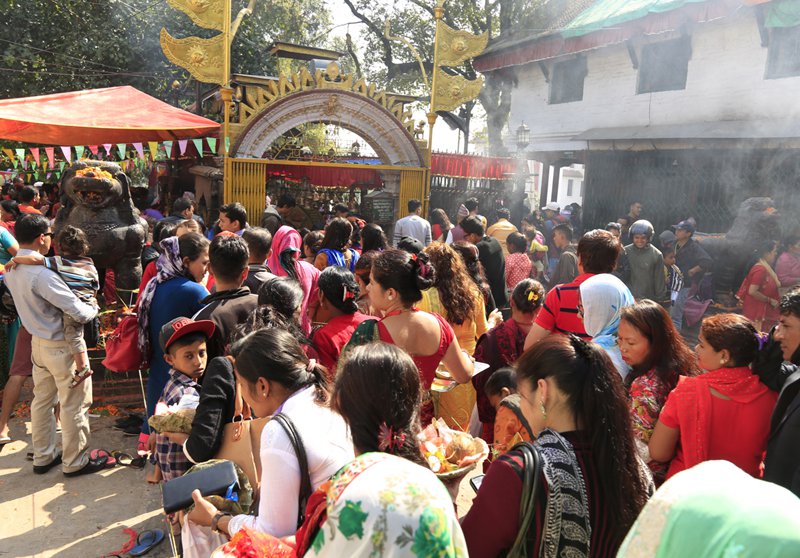 Navaratri begins with a night of worship and celebration in honor of Durga's avatar Shailaputri, whose name means "daughter of the mountains." Also known as Sati Bhavani, Parvati, or Hemavati, she is the daughter of Hemavana, the king of the Himalayas. Shailaputri is considered to be the purest embodiment of Durga and the mother of nature. In iconography, she is depicted as riding a bull and holding a trident and a lotus blossom. The lotus represents purity and devotion, while the prongs on the trident represent the past, present, and future.
On the second day of Navaratri, Hindus worship Brahmacharini, whose name means "one who practices devout austerity." She enlightens us in the magnificent embodiment of Durga with great powers and divine grace. Brahmacharini holds a rosary in her right hand, representing the special Hindu prayers recited in her honor, and a water utensil in her left hand, symbolizing marital bliss.
Chandraghanta is the third manifestation of Durga, representing peace, tranquility, and prosperity in life. Her name is derived from the chandra (half moon) in her forehead in the shape of a ghanta (bell). Chandraghanta is charming, has a golden bright complexion, and rides a lion. Like Durga, Chandraghanta has multiple limbs, each holding a weapon, and three eyes.
Kushmanda is the fourth form of the mother goddess, and her name means "creator of the universe," for she is the one who brought light to the dark cosmos. Like other manifestations of Durga, Kushmanda has multiple limbs (usually eight or 10), in which she holds weapons, glitter, a rosary, and other holy objects. The glitter is particularly significant because it represents the sparkling light that she brings to the world. Kushmanda rides a lion, symbolizing strength and courage in the face of adversity.
Skandamata
Skandamata is the mother of Skanda or Lord Kartikeya, who was chosen by gods as their commander-in-chief in the war against the demons. She is worshipped on the fifth day of Navaratri. Emphasizing her pure and divine nature, Skandamata is seated on a lotus, and she has four arms and three eyes. She holds the infant Skanda in her right upper arm and a lotus in her right hand, which is slightly raised upward. With her left arm, she grants blessings to the Hindu faithful, and she holds a second lotus in her left hand.
Katyayani is worshipped on the sixth day of Navaratri. Like Kalaratri, who is worshipped on the following night, Katyayani is a fearsome sight, with wild hair and 18 arms, each clutching a weapon. Born in a fit of divine rage and anger, she emits a radiant light from her body from which darkness and evil cannot hide. Despite her appearance, Hindus believe that she can bestow a sense of calm and inner peace upon all who worship her. Like Kushmanda, Katyayani rides a lion, ready at all times to confront evil.
Phulpati is the seventh day of Dashain, marked by presenting sacred flowers. This is the day of Kalaratri. This is also known as Shubhamkari; her name means "one who does well." She is a fearsome-looking deity, with a dark complexion, disheveled hair, four arms, and three eyes.
Lightning issues from the necklace she wears and flames shoot from her mouth. Like Kali, the goddess who destroys evil, Kaal Ratri has black skin and is worshipped as a protector of Hindu faithful, one to be both honored and feared. In her left hand, she holds a vajra, or spiked club, and a dagger, both of which she uses to fight the forces of evil. Her right hands, meanwhile, beckon to the faithful, offering them protection from darkness and allaying all fears.
On the seventh day, traditionally, the Brahmins would carry royal kalasha, holy jamara, banana stalks and sugar cane tied with red cloth from Gorkha to Kathmandu. It often takes them three days to complete this 169-kilometer-long trekking. Hundreds of government officials would gather together in traditional dresses and witness the fulpati parade with the king. After 2008, the royal family was overthrown and the ancient tradition has been changed. Now, the president of Nepal has replaced the king to hold the ceremony.
Mahagauri is worshipped on the eighth day of Navaratri. Her name, which means "extremely white," refers to her luminous beauty, which radiates from her body. Hindus believe that by paying homage to Maha Gauri, all past, present, and future sins will be washed away, imparting a deep sense of inner peace. She wears white clothes, has four arms, and rides on a bull, one of the most sacred animals in Hinduism. Her right hand is in the pose of allaying fear, and her right lower hand holds a trident. The left upper hand holds a damaru (a small tamborine or drum) while the lower one is thought to grant blessings to her devotees.
The eighth day is a bloody day in Dashain Festival in Kathmandu valley. On this day, scores of livestock in temples of Nepal will be slaughtered to appease the goddess. This night is also known as "Black Night". When the midnight comes, people will cut off the heads of 8 buffaloes and 108 goats at the courtyards in Durbar Square.
On Maha Navami, celebrations begin with visiting Taleju Temple in Kathmandu. On this day, the Nepalese army sacrifices the buffaloes for the official worship and prays to Durga for the invincible courage. Nepalis slaughter their livestock to sacrifice their own cars or motorcycle and the airlines also have blood sprinkled on the aircraft tires, hoping to avoid traffic accidents in the coming year. The Taleju Temples in Kathmandu, Patan and Bhaktapur will be open to the public only on this day of the year.
Siddhidatri is the final form of Durga, celebrated on the final night of Navaratri. Her name means "giver of supernatural power," and Hindus believe she bestows blessings upon all deities and devotees of the faith. Siddhidatri grants wisdom and insight to those who appeal to her, and Hindus believe that she can do the same for deities who worship her as well. Like some of Durga's other manifestations, Siddhidatri rides a lion. She has four limbs and carries a trident, a spinning disc called a Sudarshana Chakra, a conch shell, and a lotus. The conch, called a shankha, represents longevity, while the spinning disc symbolizes the soul or timelessness.
On the final day, known as Vijaya Dashami, people receive Tika from their elder relatives. Vijaya Dashami is a great time for family reunion. On this day, relatives and friends will exchange greeting cards and gifts with each other. Parents will place a Tika (red cinnabar dot) on the child's forehead. When the night falls, splendid parades and masked dances can be seen in Kathmandu valley.
Kojagrata Purnima
Kojagrata Purnima, the full moon day, masks the ending of Dashain Festival. Literally, Kojagrata means "who is awake". On this day, Laxmi, the goddess of wealth and luck, will come to earth and bless the people who didn't sleep all night. Therefore, it has become an excuse for Nepalese people to gamble overnight.
Flying kites
Kite-flying is regarded as an important way to remind the gods not to rain anymore. During Dashain Festival, it is common to see people of all ages flying kites everywhere. Under the cozy sunshine, the pure blue sky is packed with colorful kites of different sizes and shapes. The whole valley is immersed in cheerful laughter and happiness.
Shopping and buying new clothes is a key part of Dashain Festival. As many people live in rural areas, most of them would only purchase goods and new clothes in Dashain holidays.
Although many manifestations and patterns of celebrating Dashain have changed or transformed, what remains intact about Dashain is the celebration with joy, fanfare and sharing happiness and prosperity.