As part of 'Azadi Ka Amrit Mahotsav' Embassy of India, Pension Paying Office (PPO), Dharan organized a Blood Donation programme inside its premises on 07 Jan 2023 (2079 Poush 23), Saturday with co-ordination of Nepal Red Cross Society, Sunsari. Blood donation programme was conducted from 08 AM to 05 PM. In this programme the Indian Army ex-servicemen and their dependents from Sunsari, Dhankuta, Udaipur, Morang and Jhapa districts, staff of National Investigation Department, Nepal Police, Nepal Traffic Police, Nepal Army, Sub-Metropolitan City, Dharan, BPKIHS, Delhi Public School, Dharan, College Students & citizens of Nepal and Staff of this office participated with full enthusiasm. PPO Dharan successfully collected 283 blood pints. The same has been handed over to the Nepal Red Cross Society for wide distribution. As per Nepal Red Cross Society, this is the highest collection of blood pints by any organization in a single donation camp, within this fiscal year 2079-80 in Sunsari district.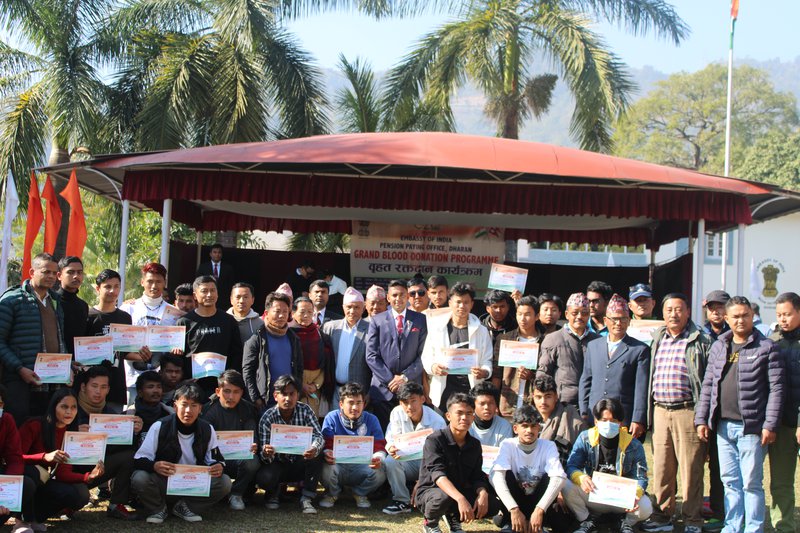 The event was graced by Aaindra Begha, Deputy Mayor, Dharan Sub-Metropolitan City, Krishna Khanal, Deputy Inspector General of National Investigation Department, Dr Bikram Prasad Shrestha, Departmental Head of Orthopedics & Neuron, Dr Rajiv Maharjan, Orthopedics & Neuron Specialist, Dr Pramindra Prasad Gupta, Head of Emergency Department at BPKIHS, Dharan, Inspector Shyam Kumar Basnet, Incharge of District Traffic Police, Sunsari, Inspector Suraj Shrestha, Incharge of Nepal Police School, Dharan and Umesh Thapa, President of Nepal Redcross Society, Sunsari.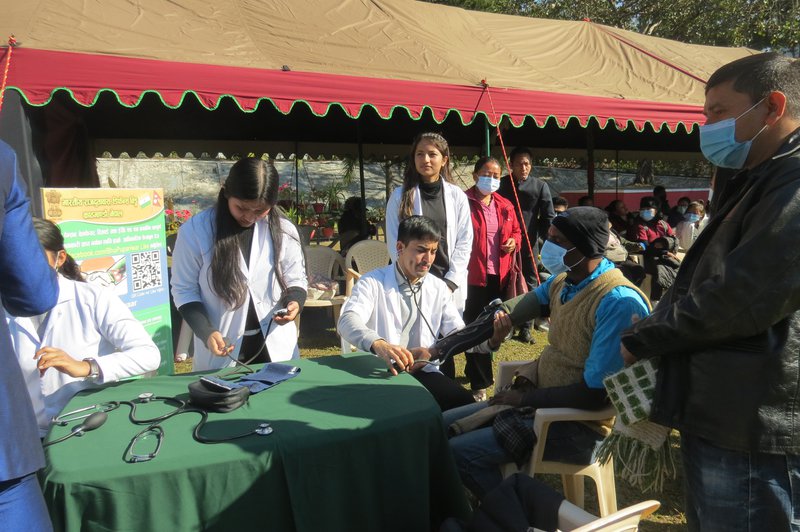 Major Bharat Kanojiya, Officer-in-Charge, PPO Dharan expressed his gratitude to each and every individuals who participated in this noble cause and contributed to make this a huge success and also hope for this number to increase with more participants in the next blood donation programme.