Communist leader Vladimir Lenin said, lie as much as possible till you hold power comfortably. He argues that once one holds power, don't let the enemy and rival thrive,
As he is mentally and by heart a true follower of Mao and Lenin, Prime Minister Pushpa Kamal Dahal is doing everything to woo his enemies and rivals to firmly control, enemies, as it says by Russian communist revolutionary leader Lenin.
Forming a coalition government with the support and backing of the main communist party CPN-UML, rightist party RPP and Swatantra and regional identity-based Madhesh-based parties, Prachanda betrays political understanding, breaking an alliance with the Nepali Congress, the Communist Party of Nepal (United Socialist) and others.
With the hope of breaking the alliances, the Nepali Congress and CPN-US voted for Prachanda's government, harping on the slogan of political consensus. After his historic victory, securing the highest number of votes, Prachanda also helped the national consensus.
However, Prachanda's slogan of consensus turned contentious at the election of the speaker of the House of Representatives. Prachanda voted for the CPN-UML candidate as speaker and the Rastriya Swatantra Party candidate as deputy speaker.
"We voted Prachanda hoping that the Prime Minister can take initiative to have consensus in the selecting candidates for constitutional posts. Looking at the two recent elections, we are losing hope from him," said Ramesh Lekhak, NC Chief Whip Ramesh Lekhak. "Nepali Congress pursues the policy of consensus and the government side is reciprocating it by confrontation."
Frustration is growing against Prime Minister Prachanda's recent actions and reactions. "If Prachanda does not realize its mistakes and does not push the agenda of consensus in selecting the key constitutional positions, Nepal Congress can no longer giver safe cushion to Prachanda," said senior party leader Arjun Narsingh KC said.
But leaders close to Prime Minister Prachanda said they are confident that Prachanda will take a stand when necessary, and he does not have any interest in pushing the Nepali Congress from his antenna. "We know how untrustworthy Oli is and how Nepali Congress helped us in the past to rescue from the ire of CPN-UML leader Oli.
Maoist leader Deb Gurung holds the view that Prime Minister Prachanda is making his best efforts to bring consensus in politics. Prime minister Prachadna is not a puppet of CPN-UML leader Oli and he can take the decision at an appropriate time,"said Gurung.
With Prachanda's assurances and words, ruling party candidate Deb Prasad Ghimire was able to secure all 167 votes of the coalition and the Nepali Congress candidate secured 100 lawmakers, including those from the Nepali Congress and the CPN (Unified Socialist. "Seven-party ruling alliance partners and some independent lawmakers voted in Ghimire's favor," said Gurung.
Communist Unity
As a typical communist leader and die-heart follower of Lenin and Mao, Prachanda does not hesitate to carry several hats, including centrist, rightist and communist.
As he is leading a government completely backed by two rightists and two regional identity-based parties, Prime Minister Prachanda is also making an effort to unite all the communist parties.
During discussions with a team led by the Communist Party of Nepal (Bahumat) – CPN (Bahumat) – at the Office of the Prime Minister, Prachanda said that community unity is necessary.
"The disposition of Nepal's socialist system has not been enshrined in the Constitution with an ordinary meaning. Discourse is also going on regarding the socialist way with Nepali characteristics at present. Discussions have started among all communist parties of Nepal on this topic. I expect a constructive role from you," PM Dahal said.
During the meeting with the Prime Minister, the CPN (Bahumat) leaders presented various requests related to nationality, popular democracy and the livelihood of the people.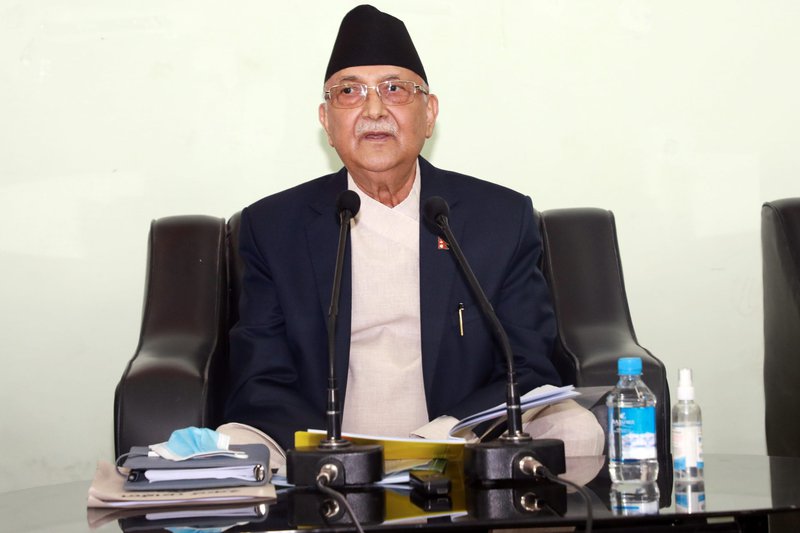 "The government is committed to developing a self-sustaining economy by protecting the national capital. I am alert regarding as to how maximum work can be carried out in the current situation," he said.
Prachanda's Consensus
Although he was unable to build consensus, prime minister Pachanda held an all-party meeting and he decided to continue with consensus and cooperation among the political forces in the days ahead.
Communications and Information Technology Minister Rekha Sharma said the PM expects consensus and cooperation on all political issues occurring in the country. "The leaders of political parties have also agreed on this motion," Minister Sharma said.
PM Prachanda also made it clear that the consensus of the ruling alliance would be implemented regarding the government, and sought ideas and suggestions on whether the political parties can forge consensus for the election to the President, Vice-President.As a die-heart follower of Lenin and Mao, Prime Minister Prachanda's actions are very much with his communist gurus' lies as much as possible till he consolidated power.