With shrinking revenues and a growing trade deficit, Nepal is in a precarious economic situation, unable to invest in development projects, clean energy, and strengthening local and provincial institutions. The announcement by USAID Administrator Samantha Power to provide $ 60 million to Nepal provides relief to the country.
Samantha Power, the administrator of USAID, announced during a two-day official visit to Nepal that USAID will provide up to $58.5 million in assistance to advance Nepal's democratic progress, subject to funding availability. The announcement was made in the presence of Nepali government, civil society, and private sector leaders.
The amount of $ 20.2 million was part of a $659 million development objective agreement announced in 2022, according to the US Embassy in Kathmandu.
"Following transparent and peaceful election this year, Nepal has an opportunity to strengthen federalism, advance the inclusion of women and marginalized communities, empower youths and demonstrate that democracy can deliver for its people. The US would work with Nepal in these areas, according to the Embassy.
The USAID investment would help to strengthen public financial management, independent civil society and media, democratic processes and institutions, rule of law, and the private sector, thereby consolidating democratic achievements and inviting further wider prosperity and resilience.
"USAID would also continue to assist Nepal in its fight against human trafficking," according to the statement. The investment announced today includes up to $20 million to support provincial and local governments in strengthening inclusive democracy and prosperity in order to deliver services in a more accountable and transparent manner from an economic standpoint.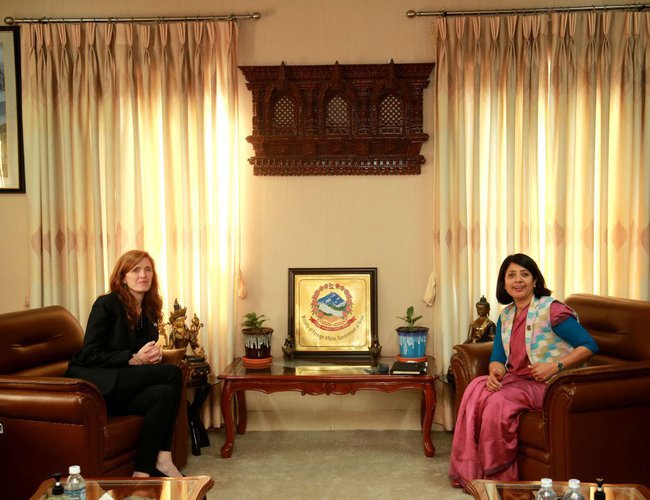 Similarly, up to $ 18.5 million in assistance is included in the package to support independent CSOs led by and for women, youth, and marginalized community members in advancing community needs, fundamental freedoms, and accountability.
USAID would work with CSOs to help them develop the skills, credibility, and techniques needed to effectively engage with the government and the general public.
The international development agency has stated that it will also work with the media to improve public access to credible information and diverse narratives. This will increase social trust in the media.
The USAID has also stated that it will work to strengthen the rule of law and legal framework in order to combat human trafficking and ensure free and fair elections. These new initiatives build on more than 60 years of USAID collaboration with the Nepal government and people, the private sector, and others to support Nepal's goals and aspirations.
It has been shared that USAID is ready to collaborate with the relevant Nepal government agencies by aligning aid with government priorities, including the recently released common minimum programs.
Samantha Power, Administrator of the United States Agency for International Development (USAID), also met with Nepal's Minister of Foreign Affairs, Dr Bimala Rai Poudyal.
According to the Ministry of Foreign Affairs, they met at the ministry and discussed a variety of issues concerning Nepal-US mutual interests.
The meeting's agenda included discussions about the implementation of US assistance through the Millennium Challenge Corporation, climate change, and assistance to Nepal after it graduated from the Least Developed Countries (LDCs) category.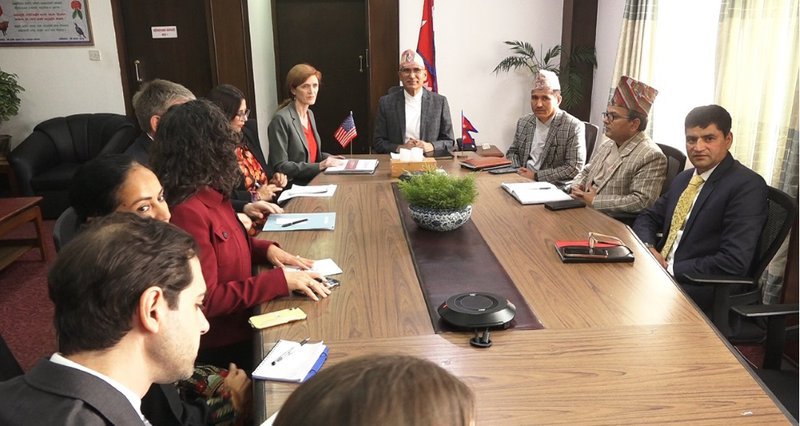 From 2013 to 2017, Power served as the United States' 28th Permanent Representative to the United Nations. Power worked as a special assistant to the President and Senior Director for Multilateral Affairs and Human Rights at the National Security Council from 2009 to 2013.
Since the establishment of diplomatic relations between Nepal and the United States, Nepal has received assistance from the US government for the construction of infrastructure and the establishment of institutions. The recent announcement is part of the United States' ongoing assistance to Nepal.