Minister for Foreign Affairs of Bangladesh Dr. A K Abdul Momen stressed the need to explore new avenues of cooperation to further deepen economic partnership.
Addressing a seminar on Celebrating 50 Years of Bangladesh-Nepal Friendship: Shared Vision of Peace, Progress and Prosperity, he said that both the countries require sharing experience to ensure a smooth and sustainable graduation from the LDC category. It is important that we share our experiences and best practices with each other.
Nepali's ambassador to Bangladesh Ghanshyam Bhandari highlighted how Nepal-Bangladesh relations have evolved over the last five decades in a spirit of good neighborliness. He also stressed the need for further collaboration to enhance economic partnership between the two countries.
Chair of the Institute for Integrated Development Studies (IIDS), Dr. Swarnim Waglehighlighted the need to enhance collaboration in three key areas: sub-regional trade and economic partnership, cooperation in the sectors of clean energy, climate change and regional commons, and exercise of soft power through people-to-people links.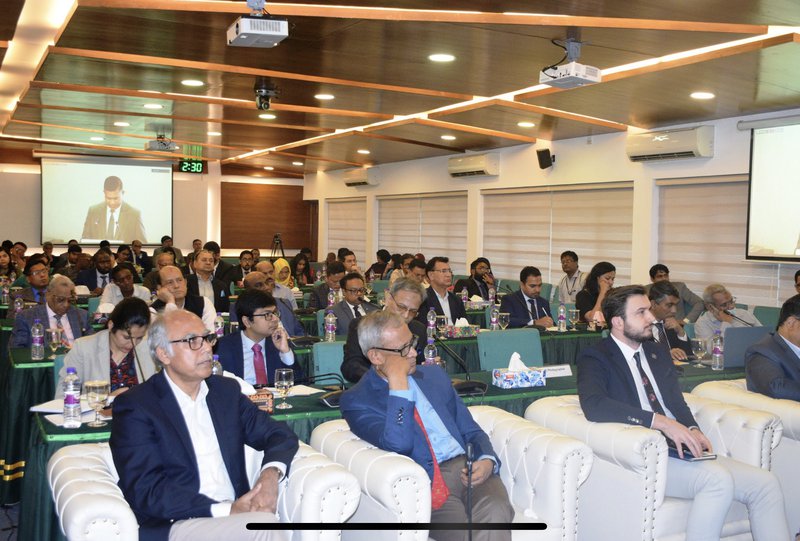 Speaking on the occasion, Ambassador Rector of the Foreign Service Academy, Ambassador Mashfee Binte Shams emphasized the need to identify synergies in matters such as trade, connectivity, LDC graduation, and climate change, regional and sub-regional integration, among others.
Delivering his remarks, Director General of BIISS shed light on Nepal-Bangladesh relations in the past fifty years and stressed the importance of further consolidating bilateral cooperation.
Organized by the Embassy in collaboration with the Ministry of Foreign Affairs of Bangladesh and the Bangladesh Institute of International and Strategic Studies (BIISS), the seminar is an event in the series held this year to mark the 50thAnniversary of the establishment of diplomatic relations between Nepal and Bangladesh.
The deliberations in the Seminar covered a range of matters of mutual interest, including trade and investment, energy cooperation, connectivity, cultural and educational cooperation, and people-to-people exchanges, among others.
The Seminar was attended by over 100 participants including diplomats, experts, officials, and academics. It was also live-streamed on Face book at www.facebook.com/onBIISS