KIKUTA Yutaka, Ambassador of Japan to Nepal, hosted a Reception at his official Residence in Tahachal today to celebrate the 63rd Auspicious Birthday of His Majesty Emperor Naruhito.
About 400 guests, including Nanda Bahadur Pun, Vice President, as the Chief Guest, Urmila Aryal, Vice Chairperson of National Assembly, former prime ministers, and former ministers, Ambassadors and Heads of International Organizations in Nepal, members of the Federal Parliament, government officials and many friends of Japan attended the reception.
Ambassador Kikuta welcomed all the guests mentioning his pleasure at finally being able to host the reception after three years. It is the fifth year of the "Reiwa (beautiful harmony)" Era in Japan, which started in 2019.
In October 2019, former President Bhandari attended the Ceremonies of the Accession to the Throne of the Emperor. The Ambassador also mentioned that high-level exchanges, stalled by COVID-19, had resumed with the visit to Nepal by TAKEI Shunsuke, State Minister for Foreign Affairs of Japan, last November. At the reception, the Foreign Minister's Commendation for Fiscal Year 2022 was presented to Japanese Universities Alumni Association, Nepal (JUAAN).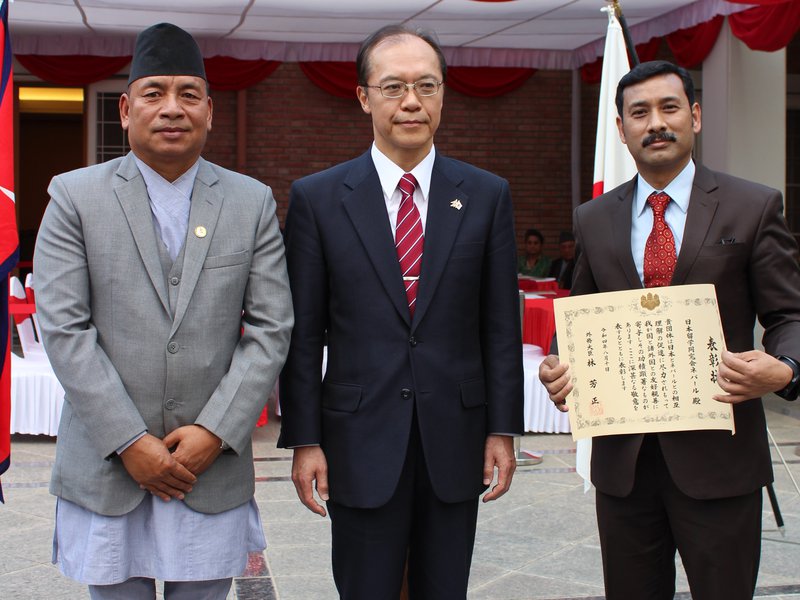 The year 2022 marked the 120th anniversary since the first eight Nepali students were dispatched to Japan, and this year marks the 50th anniversary of the establishment of JUAAN. The Commendation was awarded in recognition of JUAAN's contribution to the long history of educational exchanges between Japan and Nepal. Dr. Prabin Shrestha, the President of JUAAN delivered a thank-you speech.