The Embassy of Nepal in Thailand in cooperation with the Nepal Tourism Board organized Nepal Evening on the theme 'Lumbini and Beyond' in Bangkok.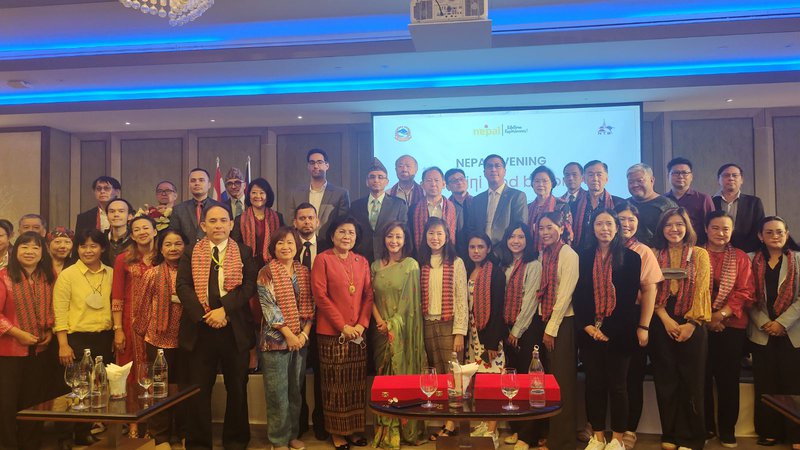 Nepal Tourism Board (NTB provided support to embassies of Nepal in Thailand ti hold 'Nepal Evening--Lumbini and Beyond' program.
The Embassy of Thailand to Nepal and Ambassador Ganesh Prasad Dhakal have played a key role to the event, which is a part of its Buddhist tourism promotion activity in the BIMSTEC region, make the program successful.
Nepali envoy to the Thailand Dhakal urged Thai tourism businesses to send tourists to Nepal.
The events saw an overwhelming presence from the tourism fraternity from both Yangon and Bangkok, the statement said.
Similarly, NTB in collaboration with Embassy of Myanmar also hosted similar programs in Yangon, Myanmar on Sunday. In his tweet, Nepali Ambassador to Bangkok Dhakal shared the events.
According to a press statement issued by the Board on Friday, the program was organised to advertise the Greater Lumbini area and promote Nepal as an ideal destination for spiritual tourism.
At the Myanmar event, NTB's Chief Executive Officer Dr. Dhananjay Regmi called on the Southeast Asian nation's airlines to start direct flights to the two new international airports of Nepal. He also assured them that the Board would provide all necessary support to facilitate flights to and from Bhairahawa's Gautam Buddha International Airport.
Nepal's Ambassador to Myanmar Harishchandra Ghimire recalled the role played by former Secretary-General of the United Nations U Thant for the development of Lumbini and stressed that Nepal would be a good spiritual and natural destination for the Burmese citizens to visit.
As per the statement, the program was attended by monks, officials of the Bodhgaya Tourism Committee, the chief executive officer of Myanmar International Airlines and representatives of Myanmar Travel Associations.
Both the events saw an overwhelming presence from the tourism fraternity from both Yangon and Bangkok, the statement said