As stated, Kathmandu is home to a number of deity incarnations, such as the Bhairavi or Bhairabhis. Without Bhairav or Bharavis chariots, valley celebrations would be lacking.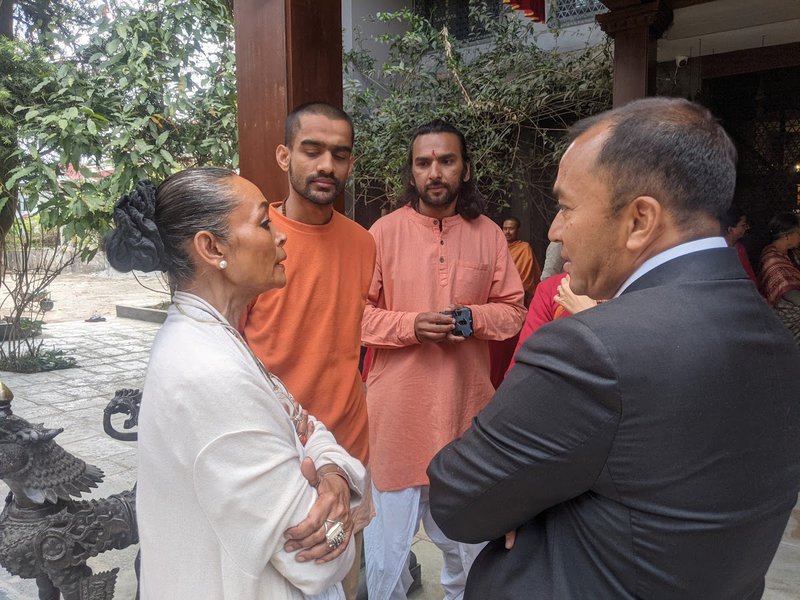 Since the city's geography was created with Bhariav and Bhariravi as defenders, all three of the Kathmandu Valley cities do have Bhaiav and Bharavi. Hindu mythology describes Bhairavi as one of the mother goddess' 10 avatars, or Mahvidyas.
Because of her great power, all three cities in the valley, including the historic Newar villages, are surrounded by several goddesses associated to Dashmahavidya, with Bharavi at the forefront. However, they have been dwindling in recent years.
What a coincidence, only a month before one of Bhaktapur's biggest Bhairav Festivals (Bhariab Jatra of Bhaktapur), India's famed sage Sadhguru inaugurated the Linga Bhariavi temple in Kathmandu.
Sadhguru sanctified the eight-foot-tall Devi as a powerful energy form with a solidified mercury core in her manifestation as a linga. Linga Bhairavi was consecrated using prana pratishtha, a rare magical ritual that employs life energies to transform a plain stone into a deity.
The Linga Bharavi temple in Bashundhara is managed by a Nepal recognized charity under the International Umbrella of the Isha charity. A big number of young Nepalis visit the shrine.
Given that the valley is home to 330 million incarnations of Hindu gods and goddesses, the existence of Linga Bharavi in Kathmandu is logical in divine terms, as she protects people and provides spiritual power for mental tranquility.
Sadhguru describes Linga Bhairavi as the most exuberant incarnation of the Divine Feminine, residing in a triangular-shaped abode in the Velliangiri Foothills. Linga Bhairavi is an absolute woman of ultimate dimensions, strong and compassionate at the same time, refined and raw, powerful and colorful, earthy, humane, and motherly. Devi is the Ultimate Giver of all that and more, whether a devotee aspires to gain, enjoy, or transcend the physical and material components of existence.
"Sadhguru is grateful to the people of Nepal for agreeing to have the Linga Bhairavi temple." "The temple is currently run by ISHA Foundation Nepal," said Sangita Shrestha Einhaus, the foundation's chairperson. "The temple is open to the public, and anyone is welcome to perform the puja as prescribed by the foundation." She is known as Bhairavi, one of the Hindu goddesses."
Along with Rabindrajung Lamichhane, a London-based entrepreneur, philanthropist, and trustee, and other trustees, trustee Sangita Shrestha Einhaus, who is also the Managing Director of the Dwarika's Group of Hotels & Resorts, briefed reporters on Linga Bhairavi.
Bharavi Utshav
The Bhairavi Utsav was celebrated on March 9, in Tudikhel, Kathmandu, following the consecration of the Linga Bhairavi Devi temple on March 7 by the Indian spiritual leader Sadhguru.
Linga Bhairavi is a one-of-a-kind, joyful, and rare incarnation of the Divine Feminine who nurtures all life while also acting as a strong guardian from destruction.
The Linga Bhairavi Temple was inaugurated in Nepal for the first time, making the country the first outside of India to hold the Linga Bhairavi Devi temple. Sadhguru consecrated Linga Bhairavi through an intensive "Prana Pratishtha" ritual, which employs life energy to transform a plain stone into a deity.
Bhairavi means "fear" or "awe-inspiring" in Hindu philosophy. She is number five of ten Mahvidyas. Tripurabhairavi is another name for her. Spiritually, "Tri" denotes three, "Pura" means fortress, castle, city, town, and so on. Tripura expresses three states of consciousness: active, dream, and deep sleep. She takes the shape of all triads, and it is claimed that once all triads are transcended, Brahman is reached. As a result, she is known as Tripurabhairavi.
Sadhguru Jaggi Vasudev founded and directs the Isha Foundation, a non-profit spiritual organization. It focuses on human empowerment and societal rejuvenation through the Isha Foundation, a non-religious multinational organization dedicated to addressing all areas of human well-being.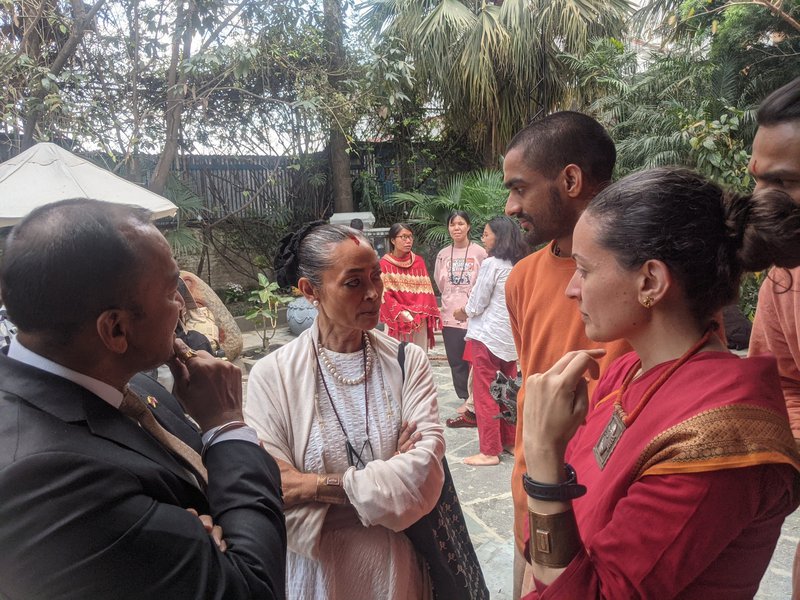 "Our approach has gained worldwide recognition and reflects in Isha Foundation's special consultative status with the economic and social council ECOSOC of the United Nations," writes Isha Foundation.
The celebrations began with an exquisite musical performance by the Isha Foundation group, who charmed the worshippers with their verses. Then there was a quick peek of the Linga Bhairavi Abhisekham in Nepal, followed by a live shorter version of the Linga Bhairavi Abhisekham with a fire dance. The Project Sanskrit then performed the Niraivya Bhairavi, which is an offering dance to a selection of lyrics from the Devi Mahatmayam, followed by the composition of renowned poet Subramaniyam Bharathiyar. Sadhguru created Project Samskriti, an Indian classical art that teaches powerful chanting, classical music, Bharatanatyam, and Kalaripayattu, an old martial art method. Next month, Project Samskriti will provide the training in person at various places throughout Kathmandu.
The next Linga Bhairavi Abhisekham took place on April 5 in Nepal's Linga Bhairavi Temple in Basundhara Chowk, Ring road. The Linga Bhairavi Abhisekham is a set of eleven offerings to the Devi for the well-being of one's family. Navaneetham, Haridram, Chandanam, Kumkumam, Vastram, Patram, Pushpam, Deepam, Naivedhyam, Tamboolam, and Sriphalam are the eleven offerings. These rituals and processes are designed to assist you in many aspects of life, such as for their family's overall well-being, for children, and for couples.
Now, the Linga Bhairavi Devi Temple is open to everyone every day. There is also a daily Abhisekham which takes place from 6:30 am to 11:20 pm and 4:20 pm to 8:20 pm every day. Also, the eleven auspicious offerings with Arati will be made to Devi thrice a day, at 7:40 am, 12:40 am, and 7:40 pm. likewise; the special offerings are made on Purnima and during Navaratri.
Sadhguru stated, "Those who earn the grace of Linga Bhairavi do not have to live in concern or fear of life or death, poverty, or failure." All that humans regard to be well-being would be theirs if they win Bhairavi's grace."
As Bhairavis have protected people by their power and grace, Sadhguru's desire to create Ling Bharavi in the heart of Kathmandu is a continuation to preserve traditions and values.