Under-Secretary-General of the United Nations and Executive Secretary of the Economic and Social Commission for Asia and the Pacific (ESCAP) Armida Salsiah Alisjahbana paid a courtesy call on Deputy Prime Minister and Home Minister Narayan Kaji Shrestha today.
During the meeting, UN under-secretary-general Alisjahbana shared with DPM Shrestha about the workshop to be held in partnership with National Planning Commission in regard to Nepal's graduation from least developed country to developing country in 2026.
She said representatives of some LDCs will also participate in the workshop.
In response, DPM Shrestha said that Nepal was making necessary preparation for it addressing the remaining challenges and obstacles for the graduation to the developing country from the status of LDC. He thanked the UN for the coordination and cooperation in this regard.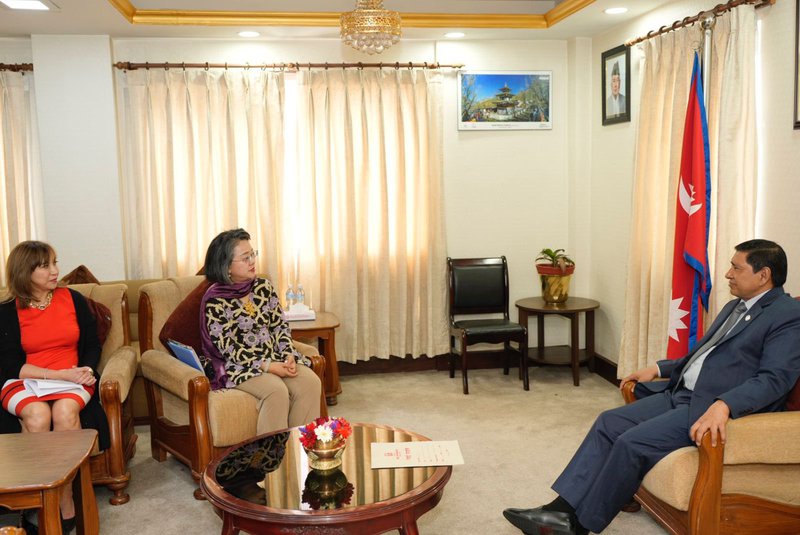 Issues pertaining to further consolidation of the relations between the global body and Nepal were also discussed during the meeting, according to the secretariat of the DPM and Home Minister Shrestha.
Visiting UN Under-Secretary-General Alisjahbana also calls on Finance Minsiter Dr. Prakash Sharan Mahat. During the meeting, they also talk about integrated financing framework for #SDGs acceleration and Nepal's readiness to convene & leverage more south-south cooperation for it.
Similarly, UN Under-Secretary-General Alisjahbana also met Minister of Energy, Water Resources and Irrigation Shakti Bahadur Basnet, National Planning Commission Vice Chair Min Bahadur Shrestha and secretary Kebal Bhandari.
During the meeting, UN Resident Coordinator in Nepal Hanaa Singer-Hamdy was also present.