Nepal is one of the countries with the greatest environmental vulnerability. Natural disasters can take many forms, ranging from earthquakes and climate change to floods and landslides. Similarly, community and individual encroachment into forest and natural habitat regions is widespread.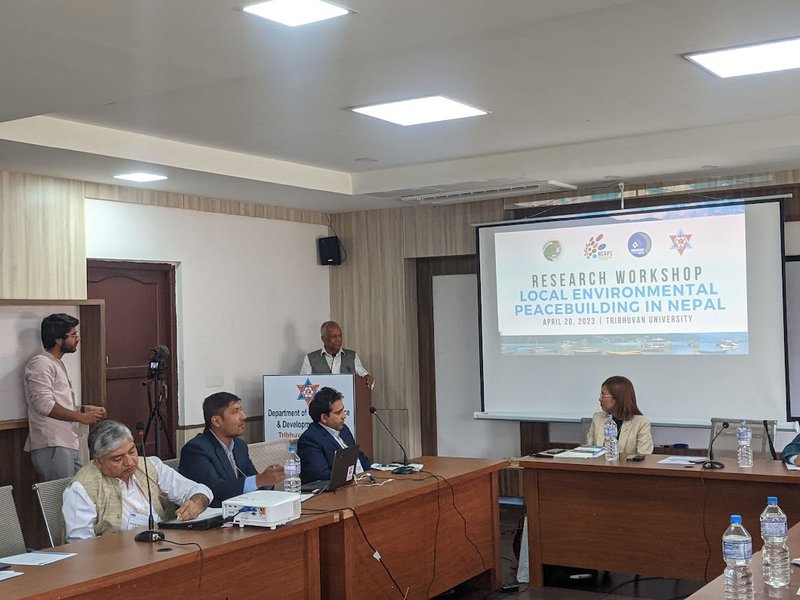 The devastation of the forest and other natural resources is significant because it is a developing country. Similarly, a site is required to handle human waste as a result of urbanization and population growth. People are dying as a result of air pollution, and community clashes over water sharing, particularly between lower and upper riparian areas, are intensifying.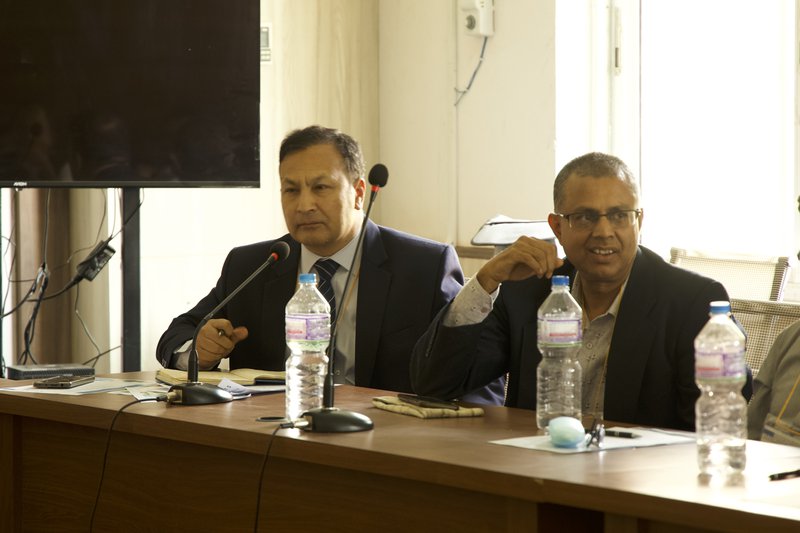 Furthermore, the rivalry between the three state-run parties has recently deteriorated. The rivalry between the federal, provincial, and local governments is being blamed for the country's environmental disaster.
Almost every day, Nepalese living in various parts of the country face environmental challenges of one kind or another. Forest fires, rubbish conflicts, air pollution, water disputes, and human-wildlife conflicts are destroying people's lives, and the number of annual water-related disasters is dangerously on the rise.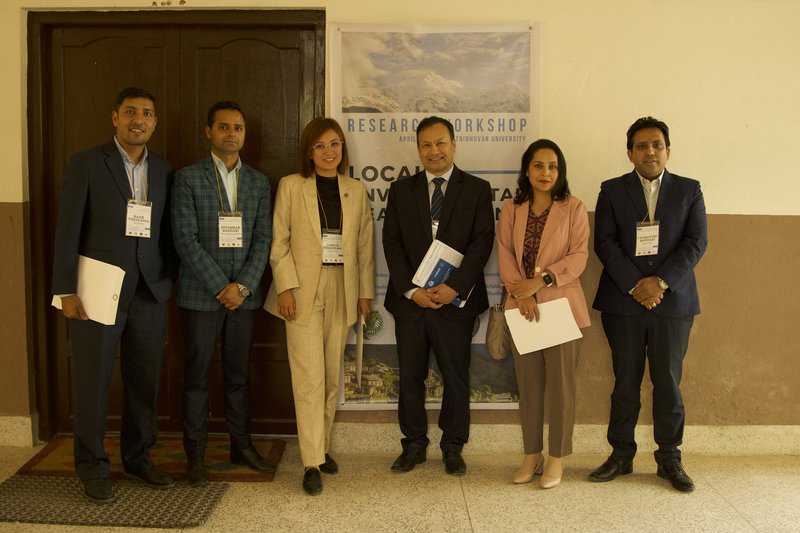 Disagreements and conflicts have gotten worse as a result of the disasters and their aftermath. Nepal has yet to publicly begin the process of promoting environmental harmony.
Nepal has a track record of political peace-building and conflict resolution, which enabled it to incorporate Maoist forces in the constitutional process.
Despite the fact that Nepal is at high risk of potential community disputes as a result of its sensitivity to environmental and climate-related disasters, the country has only just begun to learn about local environmental peace-building.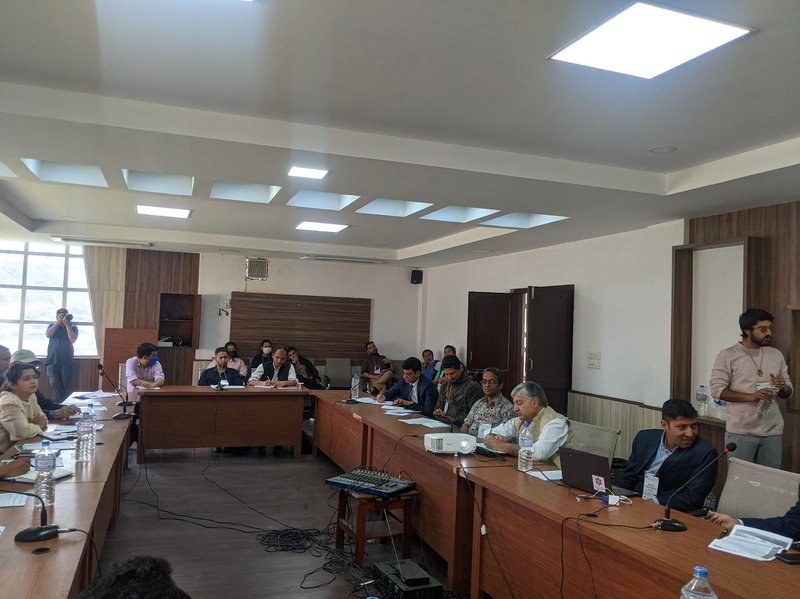 Thanks to the University of Hiroshima in Japan, Nepalese and Japanese academics have undertaken a number of programs in Nepal to learn about environmental peacebuilding. Scholars, experts, and students from higher education institutions shared their research at a half-day research workshop on Local Environmental Peace-building in Nepal organized jointly by the Network for Education and Research on Peace and Sustainability (NERPS), Hiroshima University, Hiroshima University Scholars' Alumni Nepal (HiUSAN), and Department of Conflict, Peace, and Development Studies, Tribhuwan University.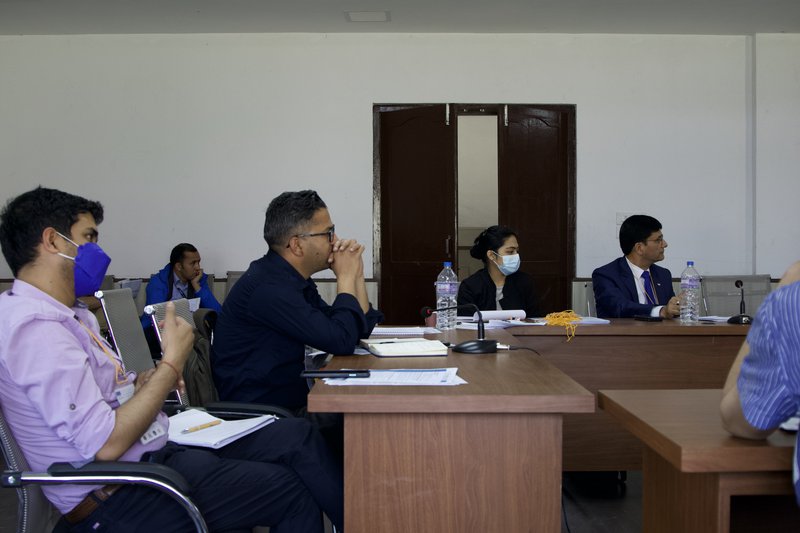 The half-day event, which was inaugurated by former environment minister Ganesh Shah, addressed a wide range of issues, including conflict resolution and peace promotion.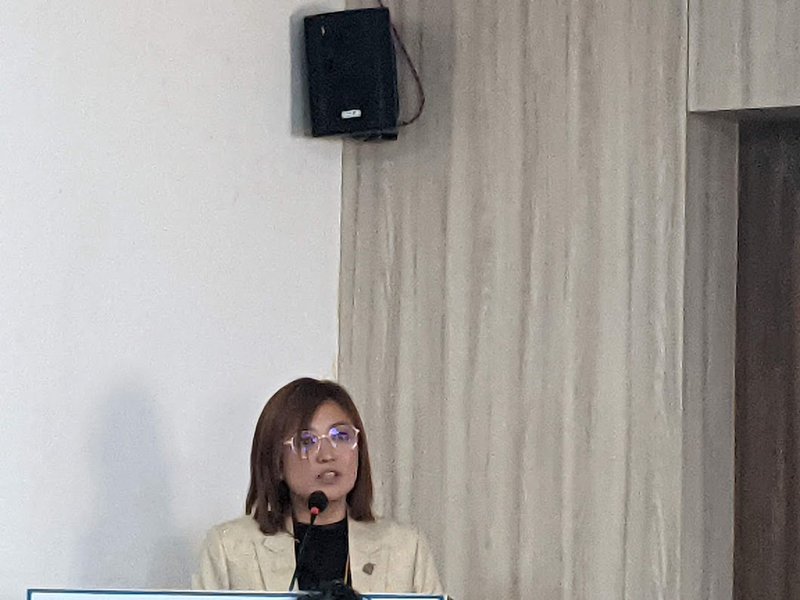 Hiroshima University Professor Dahlia Simangan emphasized the goal and indicated that this research was a collaborative effort between Hiroshima University and HiUSAN.
Environmental peacebuilding is a set of conflict-sensitive approaches for dealing with environmental issues. It consists of equitable resource allocation for long-term peace and development, as well as technical solutions to environmental deterioration and shortages. "Environmental peace-building approaches are typically focused on macro-level and top-down efforts, even though it provides the conceptual lens for understanding peace-promoting practices amid environmental issues," Professor Dahlia Simangan noted. "Further research is required to better understand local dynamics and bottom-up approaches to environmental peacebuilding."
"This collaborative effort by Japanese and Nepalese academic and research institutions will aid in the development of an environmental peacebuilding mechanism."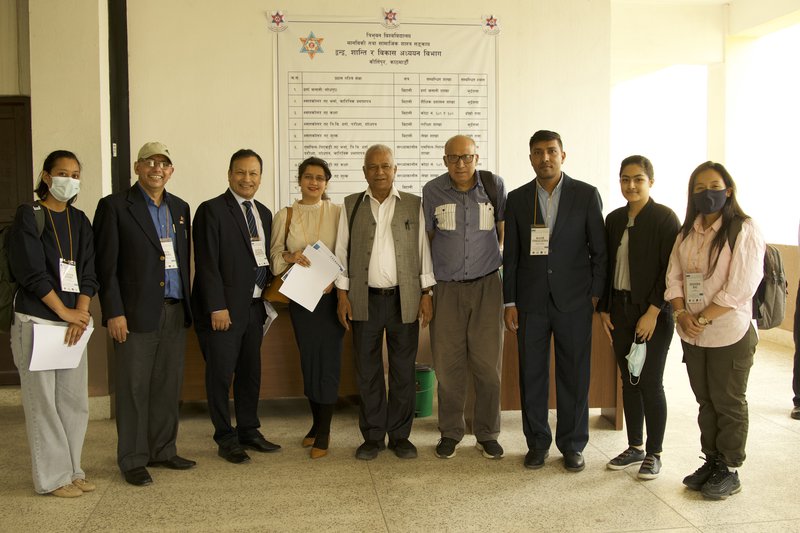 She indicated that Hiroshima University will do additional study in collaboration with Tribhuwan University, the Conflict Management Department, and HiUSAN members.
Organized to highlight common environmental peace-building strategies in local communities confronted with water disputes, forest-sharing disputes, climate-change conflicts, and structural disagreements over environmental issues in all three tiers of governance.
Kushum Shakya, dean of Tribhuwan University's college of humanities and social sciences, spoke at the ceremony and expressed gratitude to Hiroshima University for financing research in Nepal and partnering with the TU. To conduct research for the benefit of broader areas, TU is willing to engage with academic institutions such as Hiroshima University.
Chiranjibi Bhandari of the Department of Conflict, Peace, and Development Studies This research, according to Chiranjibi Bhandari, contributes to a grassroots understanding of environmental peacebuilding in Nepal.
In his keynote lecture, Ganesh Shah, who has worked in the water and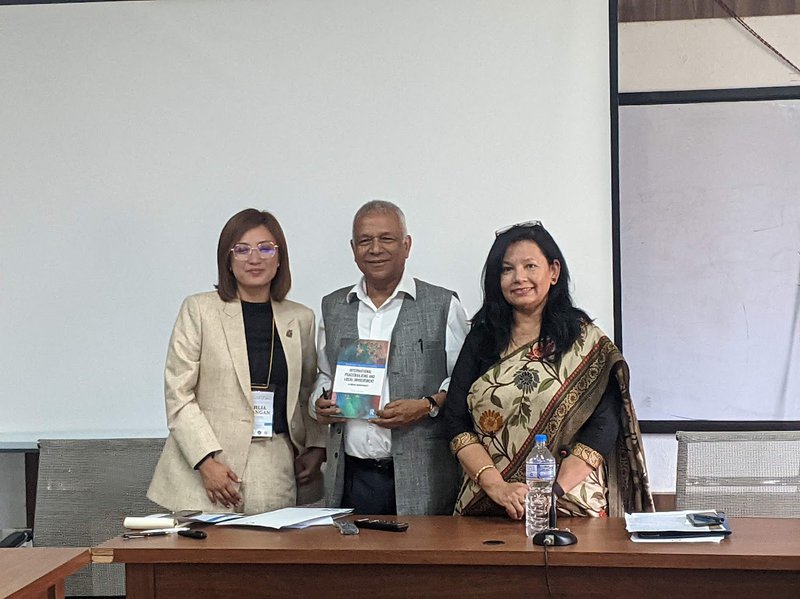 environmental sectors for over 30 years, indicated that environmental conflict will certainly become a big concern in the future. Describing how minor water-related disagreements in agriculture and drinking water increase the likelihood of larger communal violence. He suggested that rising levels of air pollution and natural disasters caused by climate change could trigger future conflicts.
The first session, divided into two half, focused on government and environmental peacebuilding in Nepal. In a discussion hosted by Ranjan Prakash Shrestha, president of HiUSAN, Dr. Bishnu Raj Upreti, Nepal's first Ph.D. scholar on environmental conflict and a widely regarded academic, explored the significance of environmental peacebuilding in the context of Nepal.
Over-exploitation of natural resources has compounded the environmental disaster confronting Nepal in particular, as well as the entire world. Carbon dioxide levels in the atmosphere have risen due to anthropogenic factors such as industry, agriculture, and the use of fossil fuels, resulting in glaciers melting, increasing sea levels, species extinction, and extreme weather events such as irregular floods and droughts. Tensions and conflict result from the insecurity, uncertainty, and psychological stress caused by all of these situations.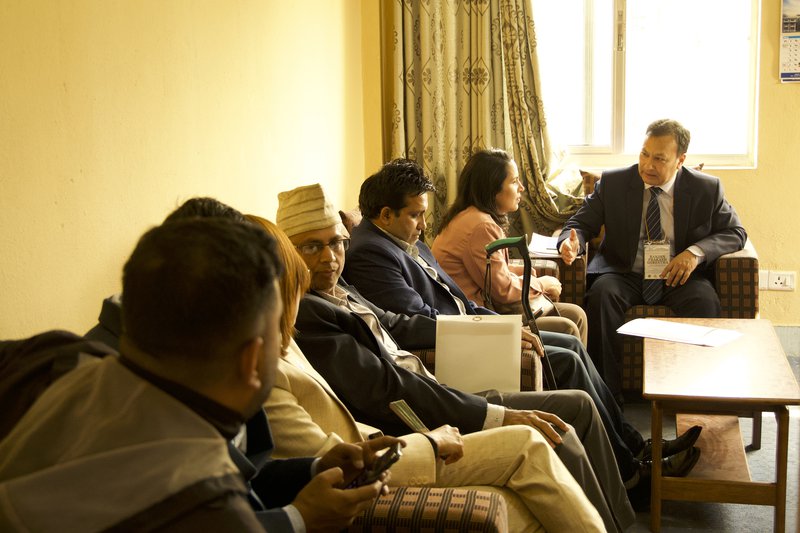 Nepal's biggest concern, he says, is encouraging environmental peace. Dr. Upreti believes that Nepal must develop measures to address institutional issues, environmental inequality, and environmental governance.
He believes that the government should start with a bottom-up and top-down approach to environmental peacebuilding. Dr. Upreti commended the planners for taking such an important step.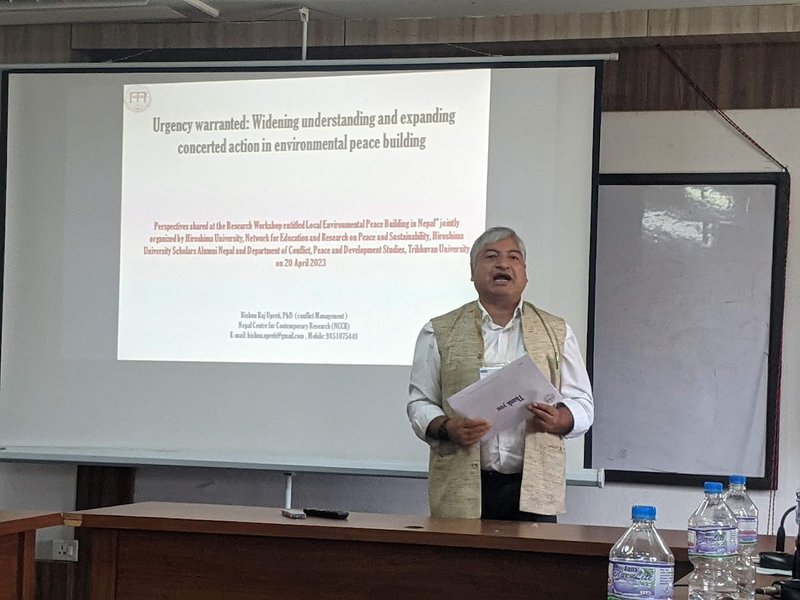 "Nepal is one of the most vulnerable countries in terms of climate change." More research is needed to better understand the local dynamics. As the first session concluded, Ranjan Shrestha stated, "We will hold events in the future."
In introducing his paper, "Governance Conflicts in Federal Nepal: Prospects for Peacebuilding," Prakash Bhattarai of The Center for Social Change noted how conflicts of all kinds are becoming increasingly common in Nepal. He claimed that 400 to 500 minor problems with people and wildlife, garbage dumps and landfills, and water are documented at the local level. He added that the conflicts are now being reported at the federal level.
Pitamber Bnahdari, TU, utilized the current conflicts between Kathmandu Metropolitan and the federal state as an example in Factors Affecting Peace and Sustainability in Post-Conflict Practices in Nepal. He projected that structural conflict would become more common in the future.
Professor Vishnu Prasad Pandey of Pulchowk Engineering College gave a presentation titled "From Water Conflict to Water Cooperation: Prospects for Nepal." He underlined the progression of water conflicts from the local community to the bilateral boundary, as well as the difficult nature of water-sharing considerations.
The Ganges River starts in Nepal and flows through India. India receives around 224 billion meters of water from Nepal's four large, five medium, and countless other southern river systems. This water benefits India in terms of flood disasters as well as a variety of beneficial applications. Water has been and continues to be a major topic of discussion between Nepal and India.
Pitamber Aryal's talk at the second session focused on climate change, the frequency of catastrophic events, and the effects on Nepalese society. Every year, floods, landslides, fires, thunderstorms, glacier lake eruptions, floods, drought, and other natural disasters occur in Nepal. The loss of life, damage to property, livelihood assets, infrastructure, and vegetation, as well as the extinction of species and damage to ecosystems, are all major consequences of disasters and catastrophes. He prophesied that the squabbles in the neighborhood would worsen.
The second session focused on encouraging environmental peace in Nepal. Pitamber Aryal of Tribhuwan University moderated a discussion on Climate Change: Occurrences of Catastrophic Events and Their Impact on Nepalese Society. Aarogya Dahal from TU gave a study on Changes in Water Consumption Patterns and Urban Areas and their Effects on the Sociocultural Values of Hiti.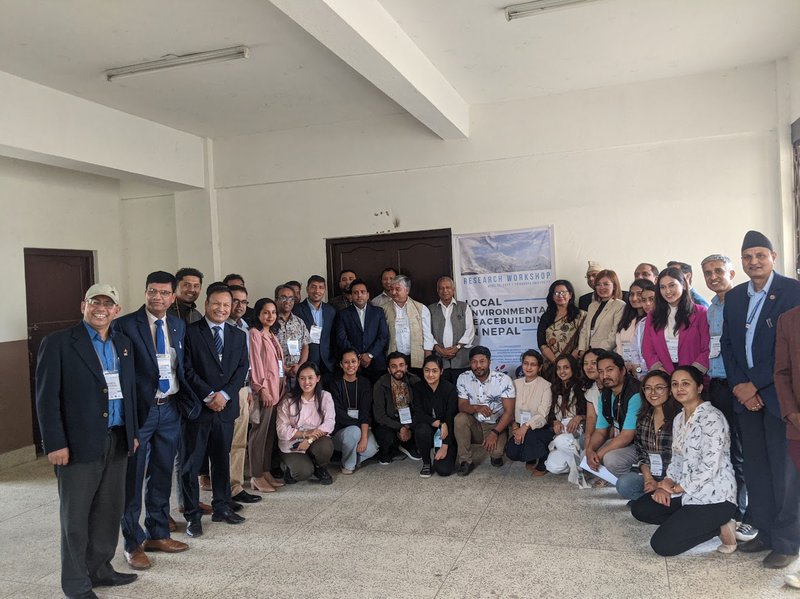 Riyan Karki presented a paper on local manifestations of positive peace and environmental sustainability: evidence from Nepal. Naresh Rimal also presented a paper on the silent and ecological disaster in Nepal's cultural post.
As Nepal and Japan commemorate the 120th anniversary of international student exchanges between their two countries, Hiroshima University is initiating a critical research endeavor to benefit Nepal.