Minister for Foreign Affairs of Nepal Narayan Prakash Saud called on the Prime Minister of Bangladesh Sheikh Hasina at Ganobhaban, Dhaka this afternoon.
On the occasion, Foreign Minister congratulated the Government of Bangladesh on the successful hosting of the 6th Indian Ocean Conference and appreciated the opportunity to participate in the Conference.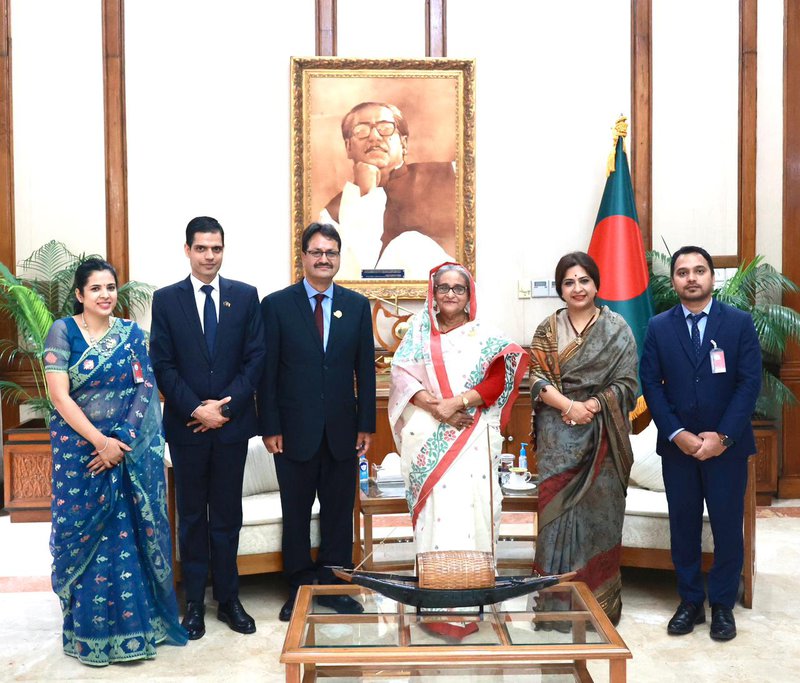 Matters of bilateral relations such as trade, investment, energy cooperation, tourism as well as interest of Nepali students studying in Bangladesh were discussed in the meeting.
The Foreign Minister underlined the steady growth of Nepal-Bangladesh cooperation and stressed the need to ramp up efforts to strengthen economic linkages.
Prime Minister of Bangladesh expressed satisfaction over the excellent state of bilateral relations and highlighted the need to build on the progress and further the areas of cooperation.
Hon. Foreign Minister was accompanied by Mrs. Jyotshna Adhikari Saud spouse of Foreign Minister, Ambassador Mr. Ghanshyam Bhandari, Deputy Chief of Mission Ms. Lalita Silwal and Second Secretary Mr. Ranjan Yadav on the occasion.
Upon completion of his three-day visit to Bangladesh, Hon. Foreign Minister is leaving for Kathmandu this afternoon.