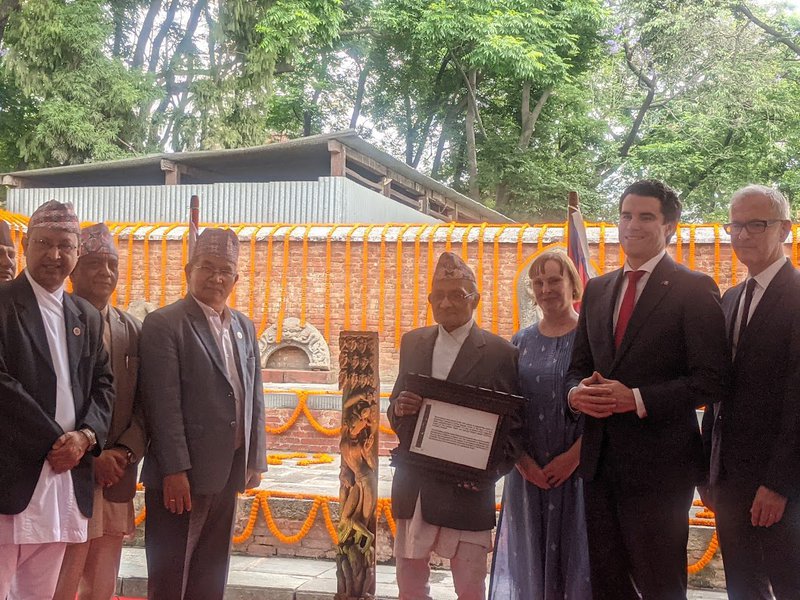 Australia returned a 13th century tundaal (temple strut) to the head priest of the Ratneshwar Temple, Heramba Raj Rajopahdyay. The handover of this important artifact was made by the Director of the Art Gallery of New South Wales (AGNSW), Dr Michael Brand, at a ceremony attended by Australia's Assistant Foreign Minister, The HonTim Watts, MP, Secretary of the Ministry of Culture, Tourism and Civil Aviation, Suresh Adhikari, and Mayor of Lalitpur Metropolitan City, Chiri Babu Maharjan.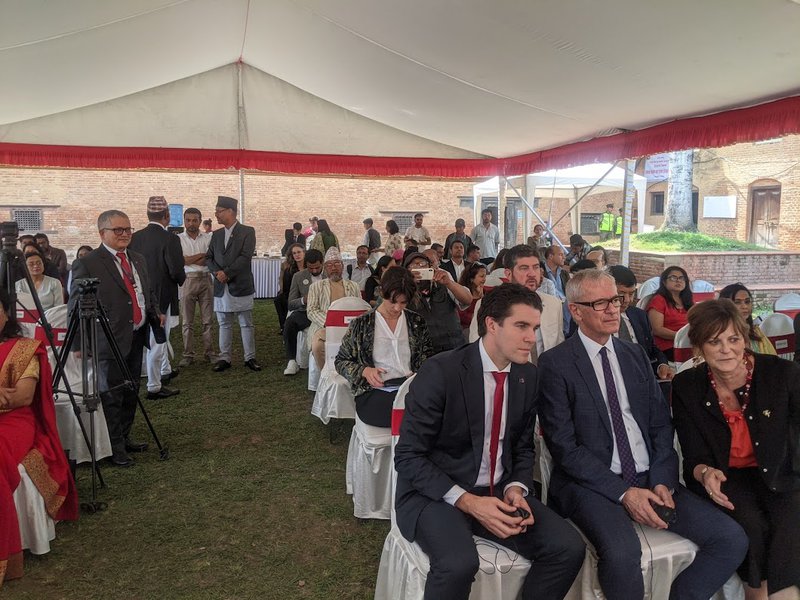 Addressing the handover event, Assistant Minister Watts who is on an official visit to Nepal from 16-17 May, commended AGNSW, saying, "Today, Australians have shown ourselves to be absolutely committed to the highest standards of ethical practice and international obligations. That is what the Australian people expect of us, and what the world expects of Australia."
He said, "Today is a day of celebration because it is clear that the Australia-Nepal relationship is flourishing, and it's our people who have been at the heart of these ties."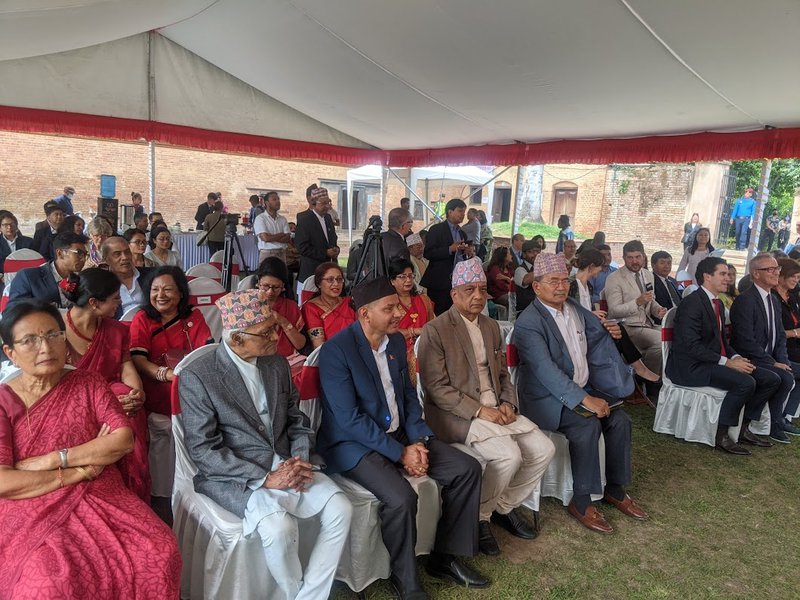 "We're pleased we've been able to work with Nepal on climate change, disaster preparedness, and good governance. And we're always interested in new initiatives, like the possible introduction of direct flights between Australia and Nepal. We're bringing our two countries closer and connecting our peoples," Assistant Minister Watts said.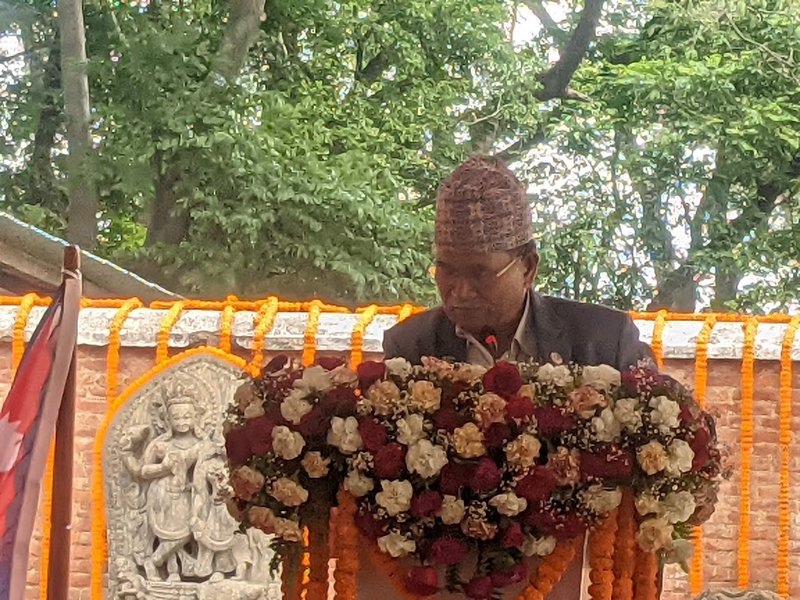 Handing over the tundaal to the local community, AG NSW Director Dr Michael Brand said the Art Gallery was honored to have worked with the Australian Government in returning the important piece of heritage to where it should be, and to whom it belongs – the people of Nepal.
"As we grow in our understanding of the past, we are privileged to live in a more connected world, where collaboration is inherent in our work and in our relationships with both our professional colleagues and the many Diaspora communities thriving in Australia. These connections inform our research and the understanding of the art of which we have assumed custodianship," he said.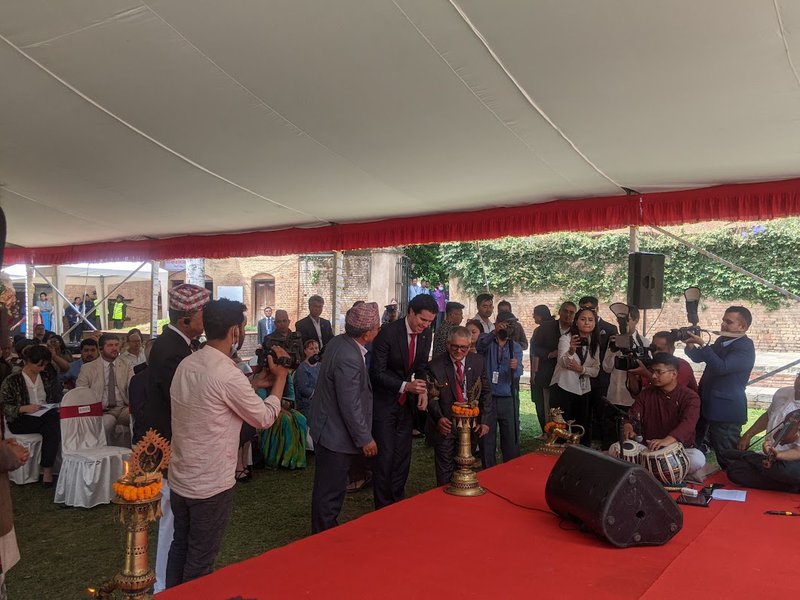 Addressing the program, mayor of Lalitpur Metropolitan City Chiri Babu Maharjan Thanked Australian Government and Art Gallery of New South Wales for returning the statue to the original place.
He assured Australian government that the Metropolitan City will now completely take care the returned heritage allowing people to perform their pujas.
Secretary of Minister of Tourism, Culture and Civil Aviation Suresh Adhikari thanked the government of Australia for this effort and returning heritage of Nepal. He said Nepal and Australia has very cordial and warm relations and today's even is reflection of it.
Chief priest Hembaraj Rajopadhyaya expressed his happiness over the return of god to his original place. He admired Australian government for its support to Nepal.