For the transformation of Nepal's whole agriculture and forestry sector, the Food and Agriculture Organization (FAO) Country Programming Framework 2023–2027 has been published.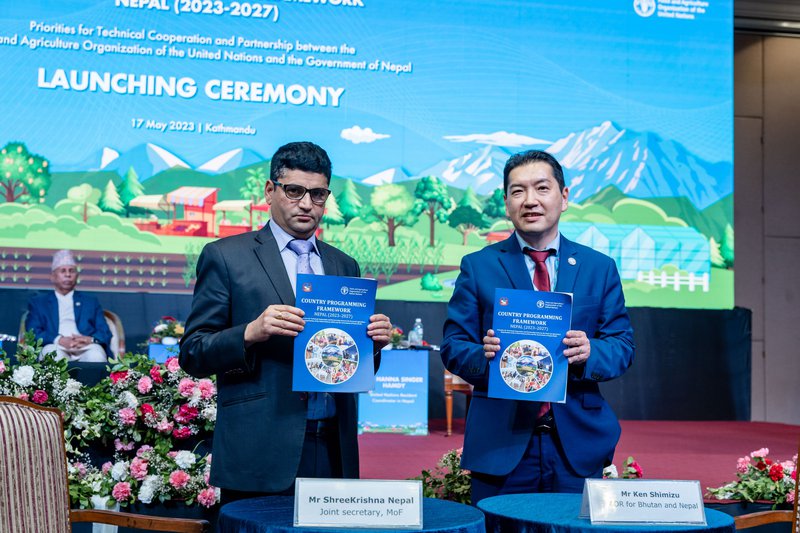 The framework work was officially launched by Minister of Agriculture and Livestock Development Bedu Ram Bhusal, Vice Chairman of the National Planning Commission Dr. Min Bahadur Shrestha, Jong-Jin Kim, Director of the Food and Agriculture Organization's (FAO) Asia Pacific Region, United Nations Resident Coordinator Hanaa Singer-Hamdy, and Ken Shimizu, FAO Country Representative for Bhutan and Nepal.
Ken Shimizu, Director of FAO Nepal, and Shri Krishna Nepal, Joint Secretary of the Ministry of Finance, jointly signed the contract at the occasion.
While acknowledging FAO Nepal's assistance in the development of Nepal's agricultural sector, Minister of Agriculture and Livestock Development Bhusal expressed his hope that this framework will aid in reaching sustainable development objectives.
He stated that this framework is a joint product of the Government of Nepal and FAO and expressed his appreciation for their cooperation and help with FAO Nepal for more than seven decades..
He thinks that doing this will support the sustainable growth of Nepal's agriculture and forestry sectors, guarantee food and nutrition security, and advance the aims of sustainable development.
Dr. Min Bahadur Shrestha, vice chairman of the National Planning Commission, stated in the program that the CPF will play a special role in assisting Nepal's food system reform, the country's fight against hunger and poverty, and addressing climate change.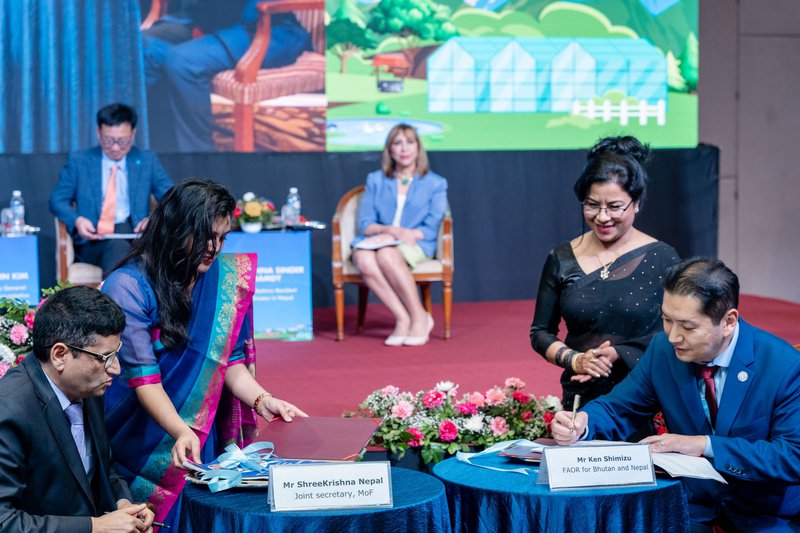 Jong Jin Kim, the director of FAO's Asia-Pacific region, stated that he is prepared to assist the priorities and policies established by the Nepalese government in accordance with FAO's mission.
He claims that the FAO has carried out projects and initiatives in its member nations in line with the strategic goals of raising output, enhancing nutrition, enhancing the environment, and raising living standards.
He underlined that these actions not only promote equitable development but also guarantee the safety of all residents' access to food. According to Kim, the nation's food system needs to be changed in order to properly address problems with malnutrition and other difficulties with food security.
Hanna Singer Hamdi, the UN Resident Coordinator, expressed her happiness that this framework has given special attention to the development and promotion of women's friendly technology as well as women's empowerment in the context of increasing the responsibility of women in agriculture because young men and women in Nepal are leaving their homes for foreign employment. By 2026, she pledged, the country would move from being underdeveloped to becoming a development-oriented country with the full assistance and participation of the UN.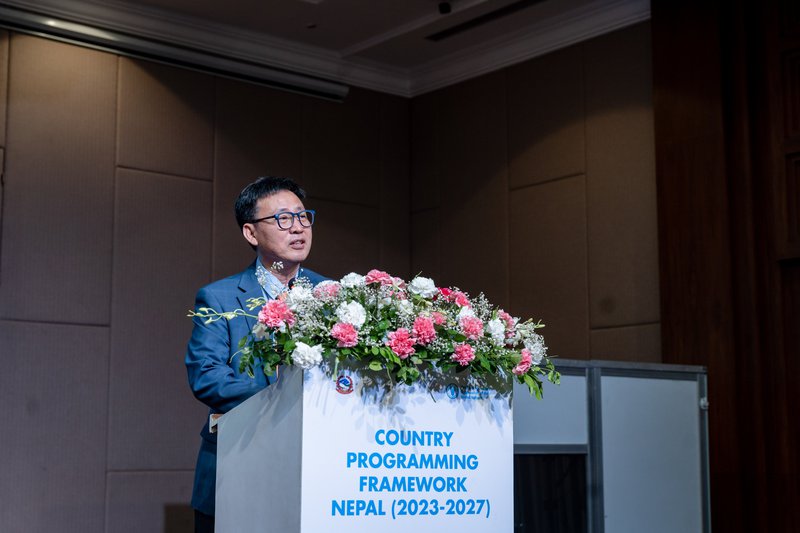 Ambassadors, representatives of development partnership organizations, government officials, representatives of the private sector, agriculturalists, business owners, and development partners were present at the public Country Programming Framework 2023-2027 event.