Nilgiri I and II Hydropower Project will add 109 MW of electricity to national grid from coming October.
The work of 38 MW Nilgiri-1 and 71 MW Nilgiri-2 hydroelectric projects under construction on Nilgiri River has reached its final stage. Nilgiri Khola Hydro Power Limited has been working on both projects since 2076.
About 80 per cent work of the Nilgiri hydropower project, under construction in Annapurna Rural municipality-4, Narchyang of Myagdi district, has been completed.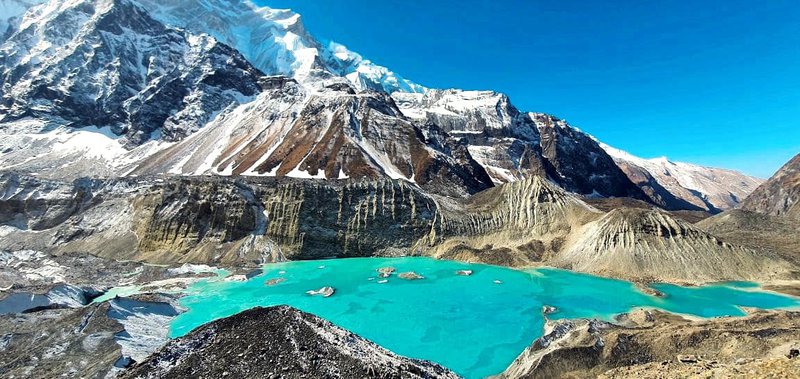 Project Engineer Keshav Wagle said that the construction of both the projects is being completed within the next 6 months. "Constructing the project at the foot of the Himal was a big challenge for us", he said, "We managed to complete the project by dealing with all the challenges and problems."
Promoted by the Nilgiri Khola Hydropower Company Ltd., Nilgiri Khola-I & the -II Hydroelectric Project have capacity of 40.7MW & 71MW respectively.

The electricity generated from the Nilgiri River will be connected to the Dana substation at a distance of 8.5 km through a 220 kV transmission line. The necessary transmission line work up to the substation is also being done. Out of the 24 towers of the line, 23 towers have been constructed and wire pulling work has been completed.
This is a big project in the district being constructed with private sector investment. The project took two years to build the access road in Akkare hill. The structures of the project have been built in the gorge of mountains.
According to the project, the dam site, tunnel digging and power house construction of both projects have been completed.
He informed that the work of penstock tunnel digging has been completed and the penstock pipe connection work of 800 meters of the Nilgiri-I and 1,500 meters of the Nilgiri-II has been started.
He informed that the civil structure work of the power plant to be built for both the projects has been completed and the electromechanical work has started.
A structure has been built in such a way that the water coming out of the Nilgiri-I power plant can be stored as a dam and put into the tunnel of the Nilgiri cascade.
A dam has been constructed at Humkhola and a power house at Chotepa on the Nilgiri-I. A 14-km access road has been constructed from cascade's power station to Humkhola.
Wagle said, "Constructing the project at the foot of the mountains was a big challenge for us, but we have been able to deal with all the challenges and problems, bringing the project construction to the final stage."
Both projects, estimated to cost around Rs. 16 billion, are of 'run-of-the-river' nature. Chairperson of Nilgiri Khola Hydropower Company Pvt. Ltd. Prithvi Bahadur Pande attended the headrace tunnel breakthrough of the Nilgiri Hydropower Project in July 2022.