Under this season's mountain clean-up campaign, the Nepali Army (NA) has collected nearly 36 tonnes of solid wastes deposited in different mountains, including Mount Everest.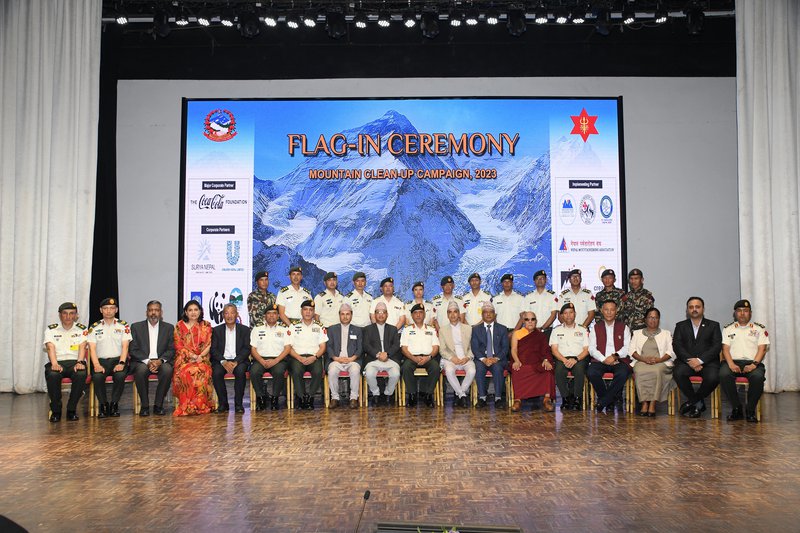 Organizing a ceremony coinciding with the world Environment Day on Monday, Chief of the Army Staff (CoAS) Prabhu Ram Sharma in the presence of governmental officials, including Sherpas assisting the campaign, announced the conclusion of the clean-up campaign for this season (2023/24).
During the campaign, which was started by organizing a flag-off ceremony at the Army Headquarters on March 30, the Army collected 35.6 tonnes of solid wastes from Mt. Everest, Mount Lhotse, Baruntse of Khumbu Region, and Mount Annapurna. Of the total quantity, 10,000 kg of waste was collected from Mt. Everest and Lhotse, 15,000 from Mt. Baruntse and another 10,600 from Mt. Annapurna. The campaign, which began with the theme "An endeavour to save the Himalayas", lasted nearly for 55 days
The campaign left two Sherpas dead and six Nepali Army members injured. The injured are receiving treatment in India after referral from Nepal, according to the Army.
Since the campaign began in 2019, it has collected 109 tonnes of mountain wastes so far, said the Army.
Delivering a concluding remarks of the campaign, CoAS Sharma said that strict monitoring and implementation of the legal provision introduced by the government to compulsory bring the wastes made by the climbers back to the ground would help reduce the wastes that are deposited or left carefree there. The government mechanism should give attention to implementing the legal provision while climbing the mountains of Nepal.
There is a Sagarmatha Pollution Control Committee in existence to implement the provision, but it has not been able to translate the provision into reality.
On the occasion, CoAS Sharma honored the team members and leaders who had also climbed the Mt. Everest and Annapurna this season.
Similarly, the Nepali Army also felicitated the private and government unit offices which have supported the campaign. The mountain clean-up campaign is a government's national programm under the Ministry of Culture, Tourism and Civil Aviation operated under the Department of Tourism.