How do you see the role of RPP?
The RPP is a strong ally of Hinduism and supports both constitutional monarchy and Hinduism. Within the context of constitutional monarchy, we require a crown. We want to revert to being a Hindu state. The restoration of constitutional monarchy and Hindu kingdom is our main agenda. To help Hindus around the world, Nepal needs to be identified as a Hindu kingdom. We aim to designate Nepal as a Hindu kingdom. That is our country's splendor and glory.
How much Nepalese Hinduism has influenced the BJP's ascent in India? Do you believe that Indian Hindus will support the issue that your party has raised?
Because it is tolerant and based on harmony, Nepalese Hinduism differs from other forms of Hinduism. Our Hinduism is not oppressive or domineering. It is a way of life. Most Hindus identify as such at birth, and everyone is welcome to do so. In my opinion, we don't typically preach and coerce conversion. We are pleased with the sizeable Hindu population in India, Indonesia, America, and Europe. Hindus are Hindus, no matter where they live. Hinduism is a way of life.
Do you believe that a constitutional monarchy and Hindu kingdom, as advocated by your party, are feasible in the current environment?
Since we have made the decision based on our ground reality, we hope both will be restored sooner or later. There is no other choice for Nepal but to become a constitutional monarchy and Hindu state. Both components are essential to Nepal's existence and identity. Hinduism and constitutional monarchy have a strong potential for revival in the current climate of instability and uncertainty.
How do you feel about the former King traveling to various regions of the nation and the vast majority of people showing up to greet and welcome the former King?
This mass gathering of people from all regions of the nation in support of the former King demonstrates the validity of the RPP's demands for a constitutional monarchy and the Hindu Kingdom. Considering the restoration of the monarchy in Spain, England, and Cambodia as examples, and Queen Elizabeth setting the tone for England during her 70 years as monarch, Nepal's monarchy will also revive as constitutional monarchy and serve the nation and unite it again.
How do you see RPP?
RPP was founded on five guiding principles. We support the nation, plurality, multiparty democracy, constitutional monarchy, and Hinduism. If there was a constitutional monarchy, it would be more grand. We support a multi-party democratic system. In 1990, I conducted negotiations with the major political parties under atheprinciples of multiparty democracy and constitutional monarchy. That foundation still exists. Unfortunately, following that, things have changed.
You are now working with younger MPs from various parties in parliament. How do you view your role as a legislator?
I'm thrilled to be a member of parliament. They are Nepal's young, dynamic generation. The parliament is filled with wonderful women in addition to youthful men. They represent one spectrum of Nepal and are well-equipped, educated individuals.
What impact do you think the growth of the Rashtriya Swatantra Party (RSP) will have on the RPP?
Even during the election campaign, I was unaware of RSP's existence. They suddenly appeared. They currently have 20 seats. In by-elections, they won two of the three seats. I praised them for their accomplishments. Our group agreed that the most recent entry is quite significant.
What about RPP?
We also recognize that it is time to move on to a new generation. We have begun to involve the younger generation in our parties rank and file. Following the election, the party formed a committee headed by Rabindra Mishra to develop a fresh strategy for reinvigorating the party. We must reenergize the party and organize as a result. Gyanenra Bahadur Shahi and Rabindra Mishra are the new RPP. We sat close to one another. I sit next to Dr. Swarnim Wagle, a famous thinker who recently won the by-elections in the HoR. I know three or four excellent people who work at RSP. We can prevent any debacle in future, if we band together.
I have not observed the same level of impact this time around as you four did in 1990 when you ran the entire House of Representatives. Is this a result of the house's size?
I assumed the role of the HoR's common figure for a month by pretending to be the oldest member. I have continued to play the balancing role. I serve on the committee for international relations. I'm always willing to go wherever they need me. I must, however, also consider my age.
How do you view Nepal's political leadership managing its foreign policy in light of the current situation of growing global dominance in our neighborhood?
The management of our geopolitics is currently a major concern. That is the main issue facing Nepal right now. Founder of nation Prithvi Narayan Shah describes Nepal as a yam between two big rocks. The lesson from that circumstance is that finding a balance between South and the North is crucial. The leadership in Nepal had vision even during the time of the huge British Empire and a weak China. Both of our neighbors are now a rising global power. China is on the rise, and the United States of America is the most significant country in the world. When discussing the USA, you must take into account the QUAD countries of Australia, America, Japan, and India. We must maintain the balance between these two big forces because it is essential to Nepal's security and development.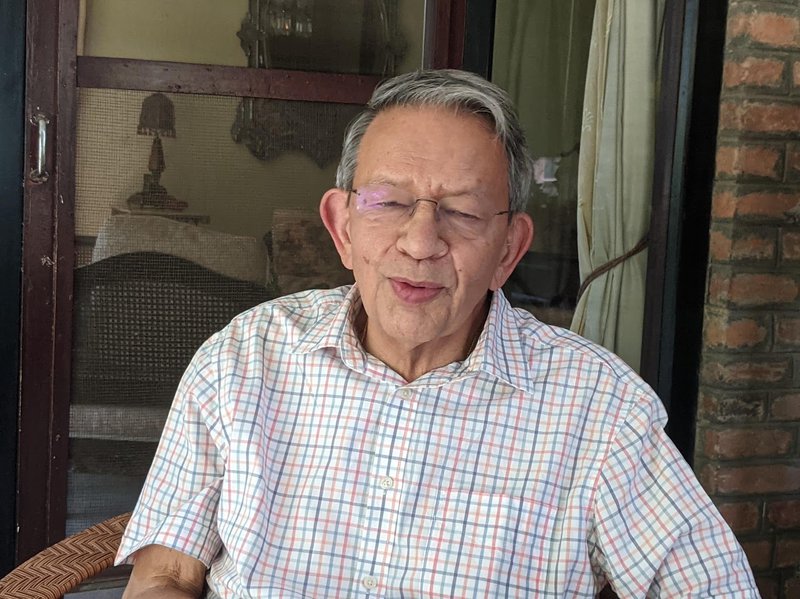 How useful now for Nepal Chandra Sumsher Rana's policy of maintaining harmonious relations with both neighbors?
It still has value. He also despatched a delegation to China while maintaining excellent ties with British India. How come he did? He thought that Nepal's geopolitical existence required good relations with both the north and the South. That is the strategy we have long employed. No matter who holds power in the North or the South, I hope we will stick to that principle.
At a time when populist communist forces are in charge and are chanting anti-Indian slogans on the streets, India may believe that China is controlling Nepal. Which way do you see it?
No matter who is in power, Nepal's internal geopolitical situation is balanced between the north and the south. America and China are currently the two most significant countries in world affairs. However, the two most significant countries are China and India for us. Between these two stones, we must reside. No matter who leads Nepal—Prithvi Narayan Shah, Maharaja Chandra Sumsher, or Prachanda—yam is a fundamental idea and no one can ignore it.
Along with geography, India and Nepal have similar civilizations and religious traditions. How difficult is it for Nepal to preserve its ties with its neighbors?
Running a nation is complex in and of itself. There need to be skilled and sensitive. It calls for managerial talent. However, the contradiction is present now. We have close cultural, religious, and civilizational ties to India. Three sides of our borders are open with India. Unlike in the past, there are no Himalayas between Nepal and China like there once were because we live in the age of chips, the internet, and technology. We must adapt to the times. We move in new directions. Our independence and sovereignty are one constant. As a nation, we must maintain both our independence and our sovereignty.
When will your book be released?
My book will be released soon. The book's title is 'We Three'. The book makes brief mentions of my grandfather Maharaj Mohan Sumsher, my father General Vijaya Sumsher, who is not well recognized but achieved a lot for Nepal, particularly in the area of foreign affairs, and me. Given well-known his effort, Chandra Sumsher doesn't require an introduction.
How do you think Nepal's Prime Minister Pushpa Kamal Dahal Prachanda would be received?
One of the most essential takeaways from his visit was that he had laid the groundwork for a long-term sale of energy, one of our most valuable resources and biggest product. In my opinion, if done so following the letter and spirit of the agreement, it would contribute greatly to Nepal's economic development.
During the visit, India and Nepal inked seven agreements, including one on the exchange of power. How do you perceive it?
I've always thought that Nepal's primary resource is water and the more electricity we can export, the better. We now have a long-term foundation for electricity export. The day Nepal's development is conceivable is a dream I've always had. However, everything now depends on how they will carry out and how the agreement's clauses are interpreted. For Nepal, which is a landlocked country, signing the transit agreement is particularly crucial. It is also crucial to begin work on the 400 kV cross-border transmission line between Butwal and Goraphur. This project is essential for selling power from Nepal to Utter Pradesh\, which is the largest market.
How do you see the achievements?
The delegation led by Prachanda succeeds in obtaining the goal Nepal has been working toward for the past three decades. Nepal and India have demonstrated that they must advance together to attain economic success and higher growth in a variety of areas, including commerce and power. PM Prachanda and PM Modi have demonstrated that resolving the trust deficit is essential to enhancing bilateral ties rather than seeing one another with distrust.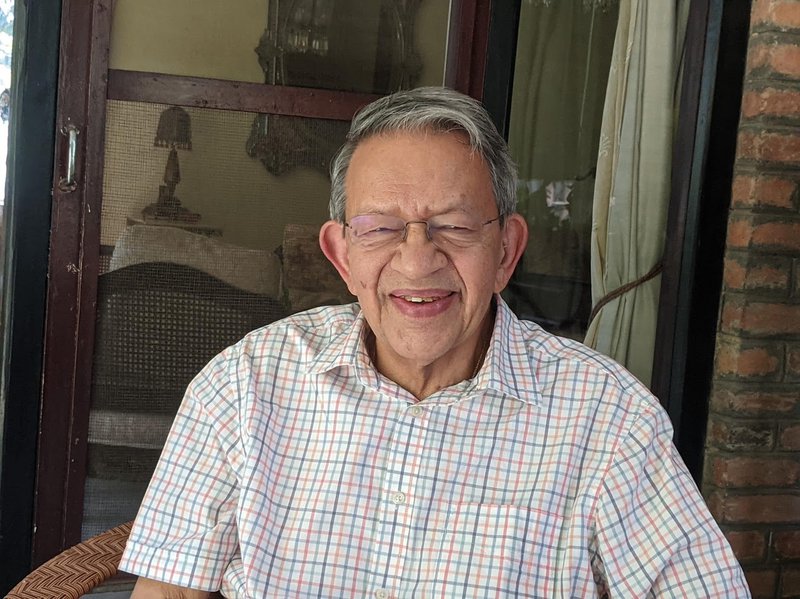 You have long been interested in water resources, formerly holding the ministry portfolio, and signing treaties such as the Mahakali Treaty. How do you see these developments?
This is essential because the project has been languishing. Since I initiated the negotiations, Sher Bahadur Deuba and I am pleased with the commitments made by Prime Ministers Prachanda and Prime Minister Modi to advance the Panchaeshwor project. Even if it is not so simple, I look forward to seeing it put into practice.
As Nepal and Britain commemorated the 1923 Treaty's 100th anniversary, your great-grandson Prime Minister Chandra Sumsher Rana signed it. How do you view the treaty?
Even though Nepal has always been an independent country, that was the first official recognition of Nepal's sovereignty by the world's superpower at the time. The empire of the nation was all over the world the sun never set to the empire. It is crucial to recognize this wonderful country's independence and sovereign status. Being Chandra Sumsher's great-grandson makes me happy and proud.
How do you perceive the likelihood of political stability in Nepal, which now has a hung parliament?
The number distribution among the parties doesn't provide stability, and the current parliamentary structure is essentially unstable. But even within that, I think the current coalition is pretty powerful. Naturally, we and UML both voted against it. Despite this, we are still firmly in the opposition and will continue to play the necessary role of the opposition party. From here, I would argue that we need to put party and politics aside when it comes to foreign policy.