The Nepal Electricity Authority (NEA) has said unequivocally that the only surplus electricity has been sent to India, and that the NEA's goal is to deliver enough electricity within the country.
In response to recent social media and media comments, MD Ghising stated that NEA has not made any power cuts in order to export electricity to India.
The claim that domestic electricity supply has been reduced to export to India is untrue, according to MD Ghising. According to MD Ghising, "the electricity generated in the nation will be consumed domestically first and exported only as surplus product."
"Export and domestic consumption go hand in hand. "NEA will lose billions of rupees if we don't export the excess electricity," MD Ghising warned.
"It is true that the system has been disrupted for a few days. It appears to trip up to 11 times per day. The error has been discovered and is currently being fixed. When the system fails, no electricity is exported".
Ghising stated that there is some problem with power delivery in industries in the Birgunj Industrial Corridor and Banke's Kohlpur district during the evening peak due to a lack of capacity in the transmission and distribution system, but the electricity has not been exported due to power cuts.
He stated that there are numerous impediments to the implementation of the plans and programs proposed to strengthen the transmission and distribution system.
"Work is being done all over the country to improve the transmission and distribution system, but it has not been completed due to disruptions everywhere." Everyone wants reliable and high-quality electricity, but they do not want transformers near their homes. If the current scenario continues, it will be impossible to handle electricity supplly beginning next year," he continued.
There is only one 132 kV Transmission line for electrical supply in East West; how will that meet the demand without completion of Inaruwa-Dhalkebar-Hetaunda 400 kV Transmission lines and 220 kV Hetaunda-Bharatpur-Bardghat-New Butwal. Due to local opposition, Court's interim orders, a delay in tree felling approval, and other factors, As a result, there is an issue with electrical supply.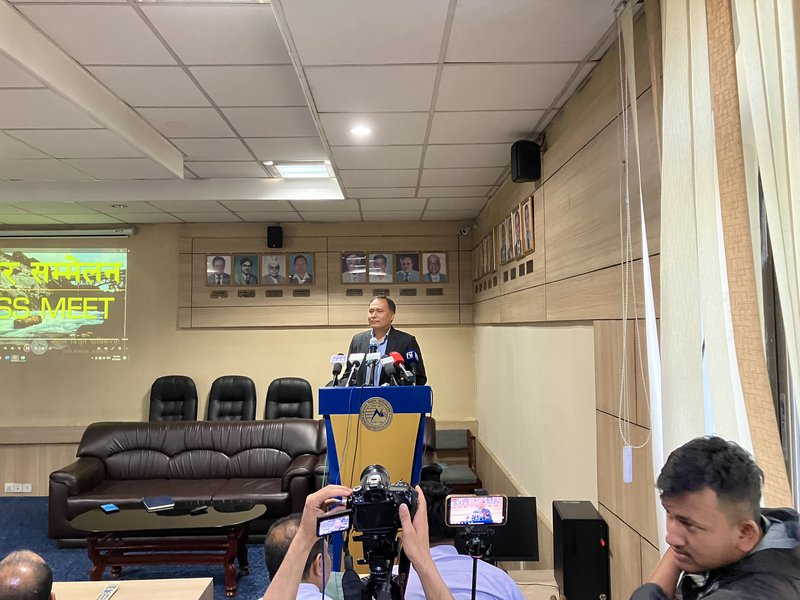 MD Ghising stated that despite the fact that the trees on the Kaligand corridor and the Bardghat-New Butwal transmission line have been cut for the past 4-5 years, the cutting order has yet to be issued.
"Five years after the Council of Ministers' decision, we will still be unable to obtain an order for tree cutting." We have raised finances for the use of forest land and tree chopping, but no agreement has yet been reached. At a time when no one is supporting us, how can NEA complte the work? "There will be a major disaster if we do not increase our investment."
MD Ghising stated that it will be a major disaster if the country's cannot make investment in transmission and distribution infrastructure for the export and domestic consumption.
"Many people believe that load shedding is no longer and there is no need for investment in the energy sector." However, MD Ghsing continued," an investment of approximately 800 billion rupees is required over the next five years in order to increase consumption and export electricity."
"From profits earned in recent years, the NEA has invested more than one trillion rupees." There would have been a load shedding problem if this expenditure had not been made. When the NEA is not given a budget, the government asks to lower consumer power tariffs and investments in reliable and high-quality electricity supply. 'How can reliable electricity be supplied in such a situation?' asked MD Ghising.