Ministry of Finance (MoF) and the Embassy of Republic of Korea in Nepal signed the Memorandum of Understanding (MoU) for the project "Capacity Building Of Medical Service To Achieve Universal Health Coverage For The Poor In Vulnerable Areas In Bhaktapur, Nepal" on 11 July 2023 at the Ministry of Finance, Singhadurbar, Kathmandu.
The MoU was signed by Arjun Prasad Pokhrel, Secretary of MoF and Park, Tae-Young, Ambassador of the Embassy of the Republic of Korea in Nepal. Likewise, Kamal Prasad Bhattarai, Joint Secretary of Ministry of Federal Affairs and General Administration (MoFAGA), Mayor Surendra Shrestha of Madhyapur Thimi Municipality and representatives from Nepal Korea Friendship Municipality Hospital (NKFMH) were also present at the ceremony.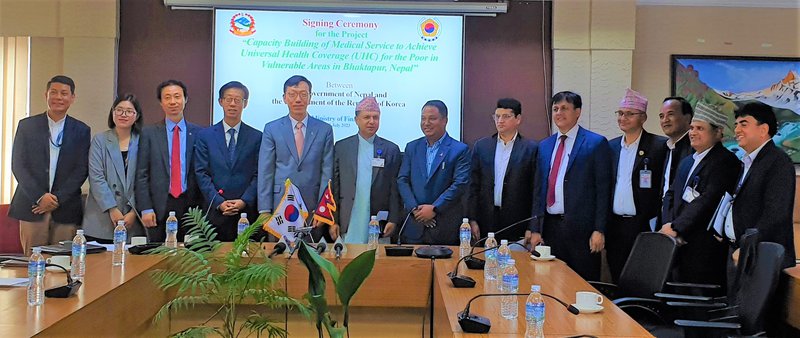 The Korean Government through Korea International Cooperation Agency (KOICA) will spend US$ 9.5 million for this project for 5 years. The project aims to enhance the capacity of medical infrastructure and professionals for quality hospital management, infection control, and improved coverage of public health insurance to attain the goal of Universal Health Coverage (UHC) in Bhaktapur, Nepal. This project shall be implemented by KOICA, Madhyapur Thimi Municipality, KOICA and Nepal Korea Friendship Municipality Hospital (NKFMH) in close collaboration and coordination with MoFAGA.
KOICA shall construct a 150 bed hospital in the adjoining land of NKFMH, provide necessary medical equipment and develop the capacity of medical and administrative staff of the hospital. The old and new hospital buildings shall be interconnected for effective service delivery.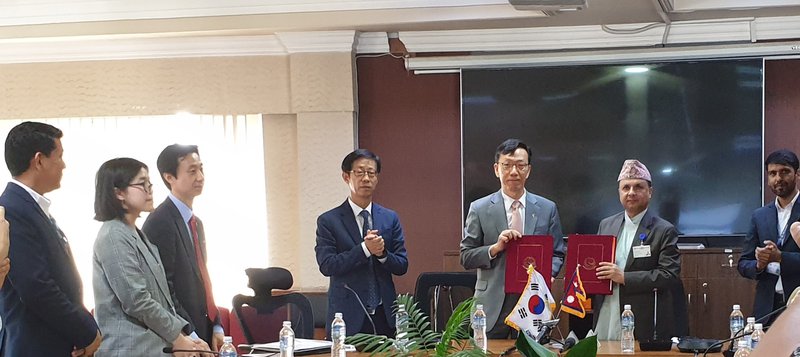 During the signing ceremony, Shreekrishna Nepal, Joint Secretary of International Economic Cooperation Coordination Division of MoF, acknowledged the support of the Korean Government. He stated that Korea has grown as a very close development partner of Nepal over the years and he appreciated people-to-people relations between the two countries.
In the ceremony, Kong Mooheon, Country Director of KOICA expressed that KOICA has implemented various health projects in Nepal and every project has its own unique achievement. He added phase 2 of NKFMH shall be instrumental in providing quality health care to the general public and poor and vulnerable people of Bhaktapur and nearby districts shall have easy access to specialized health care services.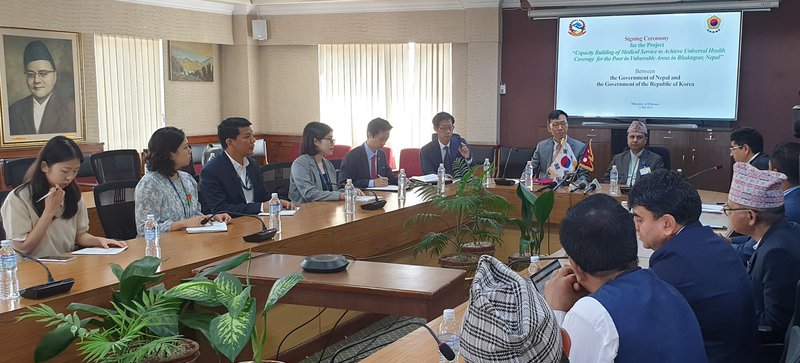 Likewise, Korean Ambassador to Nepal Park, Tae-Young expressed that the new hospital will be very much useful for the general public and he expected full cooperation from the government side to successfully implement this project. He is looking forward to marking the 50-year bilateral diplomatic relations between Korea and Nepal.
During the signing ceremony, MoF Secretary Arjun Prasad Pokhrel expressed his gratitude to the Government of the Republic of Korea for the partnership which shall enhance the friendly relation between the two countries. He further assured to fully cooperate for the successful implementation of this project.