Managing Director Kul Man Ghising was interrupted by several brief power outages on August 10 as he spoke at a press conference to highlight his two years of leadership at Nepal Electricity Authority (NEA) in a crowded meeting room on the fifth floor of the central office.
In a news conference attended by the NEA's top brass as well as other junior employees, MD Ghising demonstrated how teamwork and hard work contributed to NEA's expansion of transmission and distribution over the past two years.
The frequent power outage at NEA's headwaters during a press conference where NEA's MD spoke raised the question of whether the recent frequent outages were simply technical or the result of employees' lack of cooperation with management at a time when everyone in attendance had experienced one type of frequent power outage or another, believing that the disruption had been caused by a lack of transmission and distribution.
Although MD Ghising credited the entire NEA team for the advancements made over the previous two years, his workers don't appear to have done so yet. The press conference's gesture implied that they do not fully trust and support the management in return.
Even some journalists wonder if it's merely a technical issue or perhaps NEA staff members are becoming uncooperative with management. Nevertheless, despite frequent power outages, MD Ghising read out his hour-long speech and answered the media's questions.
MD Ghising remained speaking despite power outages frequently blocking the microphone, demonstrating his underlying conviction to take action to improve Nepal's electrical supply.
The system's infrastructure has been encouraged to be improved and strengthened in response to consumer complaints about occasional power disruptions. By estimating the power consumption of 11 main cities, including the federal capital Kathmandu Valley, by the year 2050, the building of 400 kV, 220 kV, and 132 kV transmission lines and substations has been done in stages. Transmission and distribution substations have begun to be automated as part of the Digital NEA program, which aims to modernize and automate service delivery, according to MD Ghising.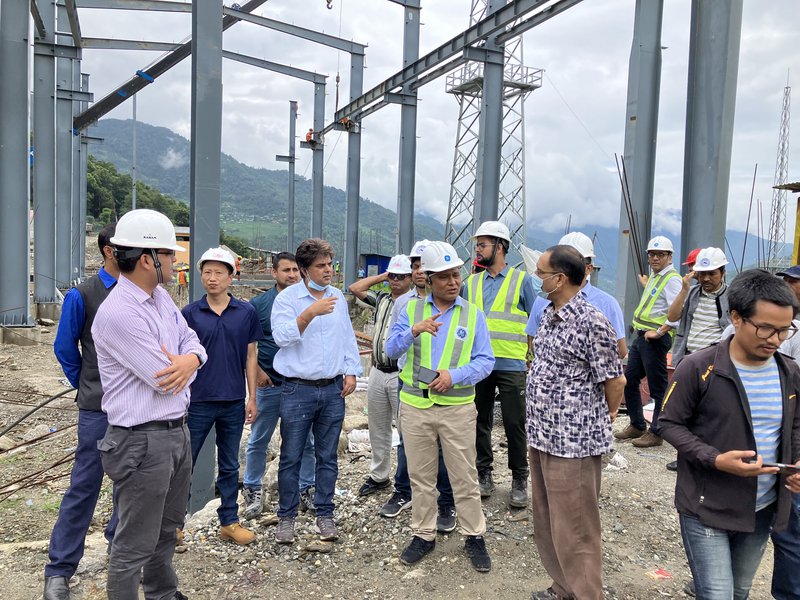 What is inspiring is MD Ghising's brave commitment to transform Nepal's transmission and distribution systems capable of providing dependable and uninterrupted electricity in his remaining two years, despite facing numerous obstacles, non-cooperation from government agencies, particularly the Ministry of Forests, apathy from local governments, and resistance from local people.
"There are difficulties everywhere, such as those related to funding, purchasing land, clearing forests, and so forth. To organize and carry out the transmission line project, I only have one choice. To upgrade the distribution infrastructure in the valley alone, I require more than Rs. 50 billion. According to MD Ghising, NEA need up to Rs. 600–700 billion to upgrade the transmission and distribution network.
MD Ghising stated in modest terms that the government has only allotted Rs. 70 million for this fiscal year. "I'm making plans for my two-year term. I'm making plans for the next 50 years. In the next two to three years, NEA must build the transmission line and upgrade the distribution system. Otherwise, load shedding would resume. Earlier, a lack of electricity was the reason for load shedding. The lack of a transmission and distribution system will now be the source of load shedding, according to MD Ghising.
Two years Progress
In the past two years, NEA has achieved some noticeable improvements, particularly in the electricity transmission and distribution networks. Over 1383.37 MW of additional energy had been added to Nepal's grid in the last two years.
The system's entire installed capacity as of now is 2822 MW, with the remaining capacity being divided between 2078/79 and 2079/80 (up to the 24th of Shravan 2080/81). According to MD Ghising, 1383 MW of power were added in 2078/079 and 2079/080, respectively, with additions of 751 MW and 632.37 MW.
Only around 1774 megawatts of power purchase and sale agreements have been completed in the last two years, compared to the approximately 8052 megawatts of deals that have been completed thus far.
In addition, the authority has already finished the 2290 megawatt draft power purchase and sale agreement. Power purchase and sale agreements for a total of 2168 megawatts are in the process of being written.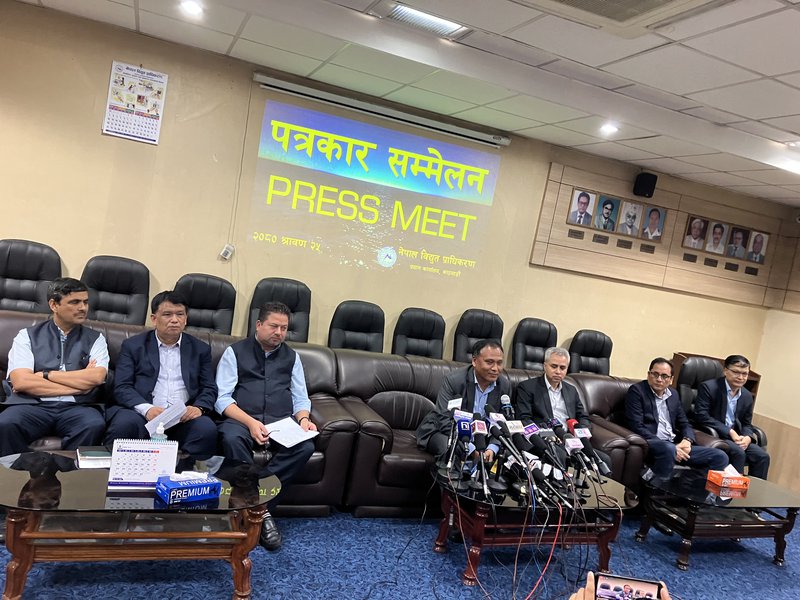 The company had a Rs. 6 billion profit when he took over as MD of NEA. Nevertheless, as compared to the total profit of Rs. 13 billion previous year
The per capita energy consumption has increased from about 235 units to 380 units as a result of the system's strengthening.
Due to a coordination issue with the relevant agencies, the work to underground the electricity distribution system for the Kathmandu Valley, Bharatpur, and Pokhara Metropolitan Area has begun. Despite a slight delay, the construction work has advanced to finish the project.
Transmission Line Delay
MD Ghising inspects transmission line construction sites, supervises contractors, and bargains with locals for over 90% of his spare time, yet he hasn't yet reached his objectives. Many unfinished transmission line projects have been finished in the last two years, while many more are still experiencing challenges from diverse sectors. Officials from the Ministry of Forest and Environment, in addition to local NGOs and the community, are to blame for the obstruction of numerous transmission line projects across the nation. A tower for a 220 kV transmission line in the Bardaghat area has failed to be built due to the ministry's clearance order, costing the nation significantly in lost revenue.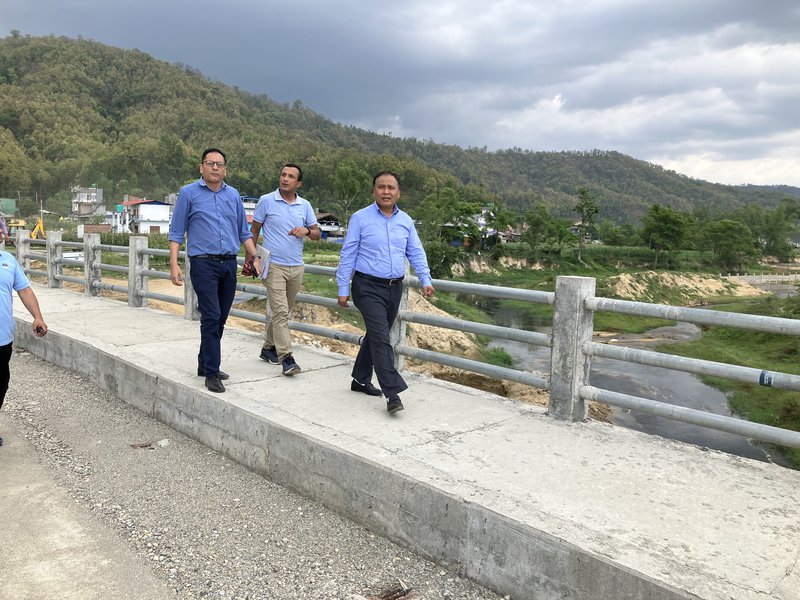 The NEA is being pressured to give the landowner an exceptional sum of money in compensation, with the help of a few NGOs with a presence in Kathmandu. According to reports, NEA will receive up to Rs. 50 million for a plot of land on which to build the tower.
"A transmission line must be built in order to move electricity to a supply area. This requires complete support from numerous stakeholders, according to MD Ghising, who painted a grim picture. "Despite the fact that the pace is still slow, our persistent efforts have had an impact."
Despite all of this, there are currently 8867 MVA capacity substations and 5742 circuit kilometers of transmission line in operation. In two years, NEA plans to finish 900 circuit km of 400/220/132 kV. A total of 17 substations with a combined 10500 MVA capacity have been built. There are 54 capacity substations being built, according to MD Ghising.
Export of Electricity
NEA has begun exporting a sizable amount of electricity to India for the first time ever. Since November 2021, Nepal has been exporting power to India in quantities ranging from 39 MW to the current 450 MW. The Indian Ministry of Power is now approving an additional 600 MW worth of projects for export to India.
NEA MD Ghising has already established a plan for the following two years, just like he did for the first two years of his leadership. Support must be given to MD Ghising's proposal to upgrade distribution networks and expand transmission, given Nepal's NDC commitment to having no emissions by 2045. Even though it is a lengthy journey, MD Ghising needs the assistance of all interested parties in both words and deeds in order to offer electricity to everyone.