Prime Minister Puspakamal Dahal 'Prachanda' has advised everyone not to politicize development activities so that the current generation may receive quality services and the next generation can have a bright future. He stated that everyone must be honest and work together for the welfare and progress of the Nepali people.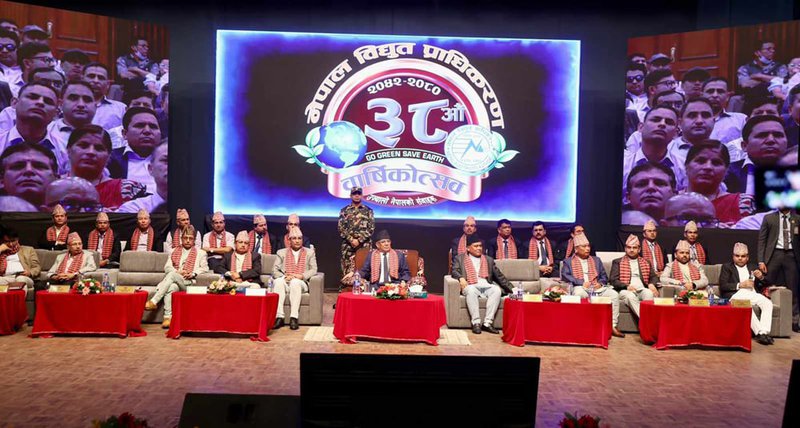 This was stated by Prime Minister Pushpa Kamal Dahal 'Prachanda' while speaking at the 38th annual celebration of Nepal Electricity Authority (NEA) at Nepal Academy Kamaladi in Kathmandu.
Prime Minister Prachanda also encouraged the use of electric vehicles, electric stoves, and other similar devices in order to increase domestic demand for electricity through appropriate policies and action plans, as well as to create a conducive environment for the establishment and operation of industries and factories that consume more electricity, and to adopt the maximum use of electricity as a strong foundation for the national economy and prosperity. He emphasized the importance of all key ministries and agencies working together to move forward.
He stated that he is working deliberately to resolve the paradoxical situation in which rivers and canals continue to flow but provide little profit, and that some work is currently being done for the construction of hydroelectric projects in canals and rivers around the country.
The Prime Minister stated that due to the abundance of river-based hydropower projects in Nepal, there is a great opportunity for Nepal to take the lead in the production of green hydrogen through the use of renewable, clean electrical energy, and suggested that the Nepal Electricity Authority be prepared for this task as well.
Prime Minister Dahal stated that the leadership of the NEA has demonstrated that Nepal can make significant progress in hydropower development.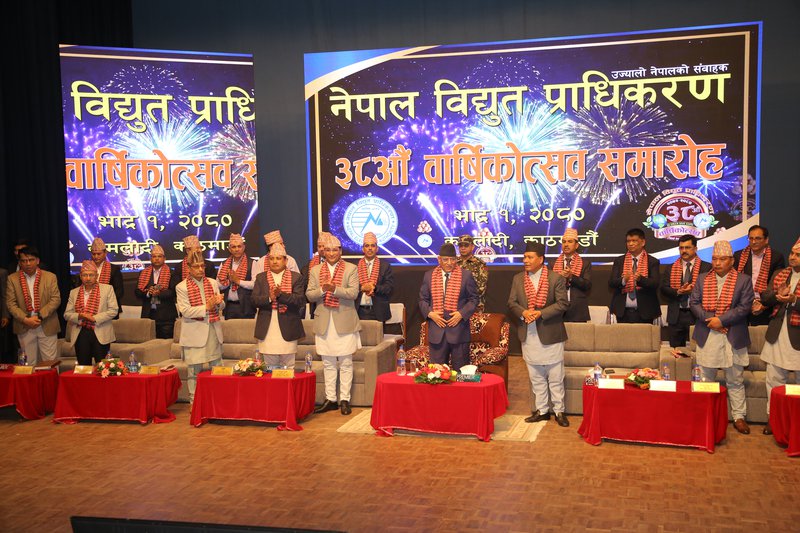 Kul Man Ghising, Managing Director of Nepal Electricity Authority (NEA), stated that the NEA has submitted a financial restructuring proposal to the Nepalese government with the goal of issuing shares to the general population.
According to him, there is a proposal to use the funds raised by selling NEA primary shares to the general people to build huge hydropower projects.
He also stated that the electrical service has reached 98 percent of the country's population and that 95 percent of consumers are connected to the NEA's central system.
MD Ghising further mentioned that NEA is working hard to accomplish the government's goal of reaching all households in the next two years.
He also mentioned that Nepal exports 452 megawatts of electricity.
Nepal Electricity Authority's profit has reached 12.33 billion rupees. The Nepal Electricity Authority reported an annual profit of Rs 12.3 billion in the previous fiscal year.
According to Managing Director Ghising, financial transparency, accountability, and good governance are tightly enforced in the firm. He stated that by reducing distribution leakage to 13.46 percent, NEA has achieved a new milestone in its history.
Even after the government wrote off Rs. 27.29 billion in accumulated losses for fiscal year 067-068, the process of slipping into deficit continued. By the fifth year of write-off, fiscal year 2072/073, the NEA loss had climbed to 8.9 billion rupees, bringing the overall loss to 34.61 billion rupees.
NEA began a beautiful history of profit by generating 1.5 billion rupees in fiscal year 073/074, and has been consistently profitable in subsequent fiscal years.
Electricity has been provided to 98 percent of the population, with 95 percent provided by the authority's central system and 3 percent provided by small and micro hydro and solar power.
All preparations for the government's program of total electrification over the next two years have been finished, and all necessary work has been performed.