A commemorative book titled "A Man with A Mission", The Life and Times of Captain Bobby Bikram Shah was recently released in Kathmandu. It details all his achievements and features write-ups from many of his friends, subordinates and family members. It also comes with lots of Nepal aviation related facts and photographs. It is co-authored by his wife, Jaya and a colleague at RNAC, Maheshwor B. Shrestha. I was pleasantly surprised to be invited even though I had no direct connection with Bobby. However, my father gave him and his sister tuition at their Kopundole house and he likely studied at Patan High School as his two younger brothers were there too. That said, I will now try to explain how I got bitten by the aviation bug so as to link it with one of the most memorable incidents in Bobby's entire flying career.
We try to learn as many new things as possible on subjects or areas of our interest. It then becomes a passion, not just a hobby, if one tries to get deeply into it. It often gets unleashed during growing up years, but one's age is seldom a barrier in getting interest aroused. But it was challenging, mostly for being unable to gather adequate information or insight into the subject, especially as this scribe felt during the mid-sixties. Getting fascinated by aviation was easy, but it was difficult to get necessary information. See this in the context of what we have at our disposal presently.
For me knowing, aircraft communicated with ground through "radio", but not exactly how and where about. In 1962 August a RA/DC3 on its flight to Delhi went missing for nine days and the incident had aroused grave concern all over. Subsequently, on 26 August, few days after the DC3's wreckage was found, a Pilatus PC6 Porter(9N-AAF) was dispatched with an accident investigation team that had six on board, including Nepal's only forensic surgeon Dr. Mohan Mani Dixit. It was quite unfortunate that the single engine aircraft also crashed not too far from Dhorpatan.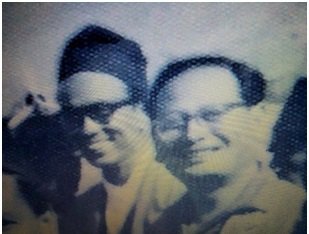 Biranchi Man Pradhan (left) with then Secretary of Transport Ministry Er. Jyan B Pradhan
I recall Sri Biranchi Man Pradhan, the then manager at Gauchar (Airport), who usually dropped by Dixit's place in Patan Dhoka and provided up to date information about the search. I heard him telling that the communication could also be heard over the "radio". And that bit of information was good enough to arouse my interest, so I started twisting and turning the radio knob at any opportunity available, became my pastime. Obviously, it always resulted in being greeted by "dead silence". My tuning spots were far away from normal radio broadcasts that people listened to. Undeterred, I still continued doing so, all in the hope that it would catch something, someday. It took quite a long time, but my "eureka moment" finally arrived in 1966.
In contrast, trying to tune into VHF communication, which is different from HF and well beyond the reach of a household radio. VHF has a very small catchment area and is used extensively in aviation during approach and departure. For effective VHF communication, stations have to be in each other's line of sight. In the early seventies "Three-in-one" were popular as it came with radio with MW/SW/FM bands, a cassette player and a turntable. The FM band was of no use as it produced nothing but hissing noise. But despite the constant hiss, I was able to tune one day into a very "feeble" Kathmandu tower through one such set in 1972 given my earlier HF tuning success. My persistence paid, thankfully because there were no FM radio stations then. Incidentally, RA had just acquired a B727 that year. I managed with that"जुगाड" jugad until 1978 when I finally secured a small Sony, AIR receiver (Airwaves radio). I missed all the excitement, for not being here, when Bobby safely landed the B727/9N-ABN. It was still fine, as Kanak had made a recording of the live VHF audio that I was able to listen later. Dixit brothers were more interested in flights they could simultaneously see and tune, I was more interested in long range HF monitoring, especially at night with no one disturbing.
HF, which used to be the backbone of long-distance communication in aviation has now been sidelined and is used only sparingly and relegated as a backup. Procedures of regular HF waypoint reporting have been taken over by more reliable digital transmissions. Digitization has largely improved clarity as HF transmissions are often hampered by poor reception and fading of signals. Sadly, it has also effectively killed the long distance monitoring hobby that many of us followed passionately.
The lyrics of "Radio Ga Ga" sung by Freddie Mercury of Queen beautifully capture these thoughts in the following lines:
"I'd sit alone and watch your light / my only friend through teenage nights / and everything I had to know I heard it on my Radio ……..". I take it as a fitting ode to my good old 9 valve monster Philips that gave me endless hours of happy monitoring.
Arjyal can be reached at harjyal@yahoo.com