Thailand's national flag carrier, headquartered in Bangkok, has appointed Society International Travel Services – one of Nepal's leading Airline GSA agency– as its General Sales Agent (GSA) for the Nepal market. The appointment, comes into effect from the 1st of August 2023.
As per the agreement, Society International Travel Services will be providing wide-ranging sales, marketing and airport services for Thai Airways Interntaional, in addition to full customer and agent support.
Through this partnership, Thai Airways international will resumes its operations to kathmandu, Nepal which had been halted in April 2020 due to the global COVID-19 Pandemic.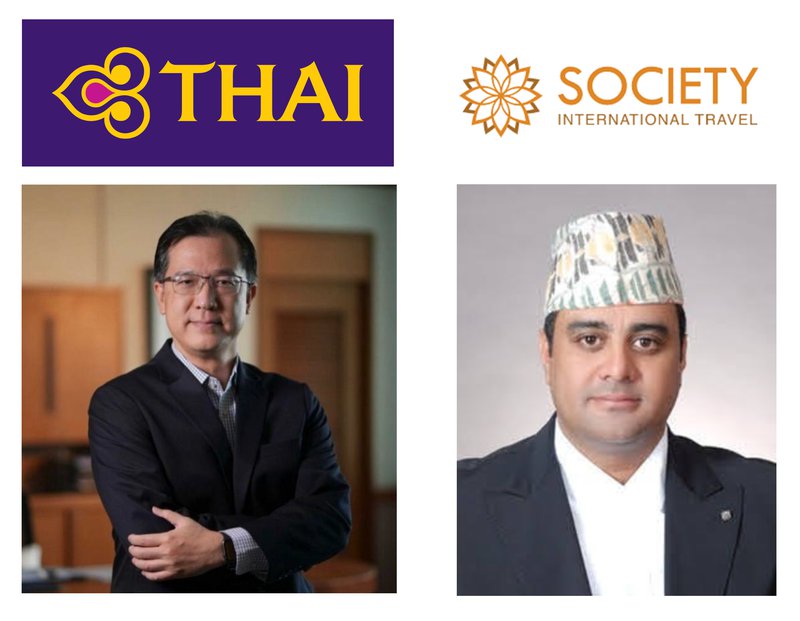 With operations to Nepal first starting in December 1968, Thai Airways holds a special place in the history of Nepalese aviation and amongst the Nepalese people.Thai Airways International intends to tap the opportunity within the Nepalese market by strengthening the presence of Thai Airway's services and facilities towards the Nepalese people inline with the Airline's continuous commitment to boost foreign tourism to Thailand.
KORAKOT CHATASINGHA, Chief Commercial Officer of Thai Airways International, expressed his happiness at the resumption of Thai Airways International 's operations to Kathmandu, Nepal and stated "with various domestic destinations within Thailand like Phuket, Pattaya and Krabi - world famous leisure destinations and Bangkok - a bustling metropolitan city, coupled with quick and easy visa processing facilities for Nepalese nationals, we sincerely believe that the resumption of Thai Airways flights will bring about better connectivity between the two countries not only for the increasing number of Nepalese vacationers and travelers but will also contribute to to enhance econimic activities between Nepal and Thailand.
With Thai Airways' extensive network destinations in Australia, Japan, Korea, Malaysia and various other cities across the world, we will be able to provide travelers from Nepal with additional options for a smoother and safer journey to their respective destinations as well as to stimulate tourism to Nepal by providning enhanced connectivity coming into Nepal. We would also like to take this opportunity to thank the Civil Aviation Authority of Nepal (CAAN) for their continued support to TG as well as to all tour supporting travel agents in Nepal and our Nepalese ex-TG employees who have been an integral part of our journey and success in Nepal.
Rabi Chandra Singh, Chairman of Society International Travel Services, a part of the RR group of companies stated "We are priviledged and honored to be working with Thai Airways International as the appointed GSA in Nepal. Our appointment is a perfect reflection of Society International Travel's specialized offering of localized expertise and networks, supported by international best practice, to expand the international market share and sales of our principal partner airlines.
With their glorious history of operating to Nepal since 1968, Thai Airways holds a special place in the hearts of Neplaese people and was instrumental in introducing the conept of a "vaction" as well as "on-board Service" to the Nepalese people, with Bangkok being the first destination for a foreign visit/holiday for generations of Nepalese families. The TG flight resumption will also assit in boosting Nepalese tourism industry by providing greater options and connectivity for toursits to visit Nepal.