Madhu Kumar Marasini, secretary at Ministry of Indusry, Commerce and Supply, and Chen Song, Chinese Ambassador to Nepal, jointly inaugurated welcoming ceremony for the first cargo arrived in Nepal via the transmit route of People Republic of China (PRC).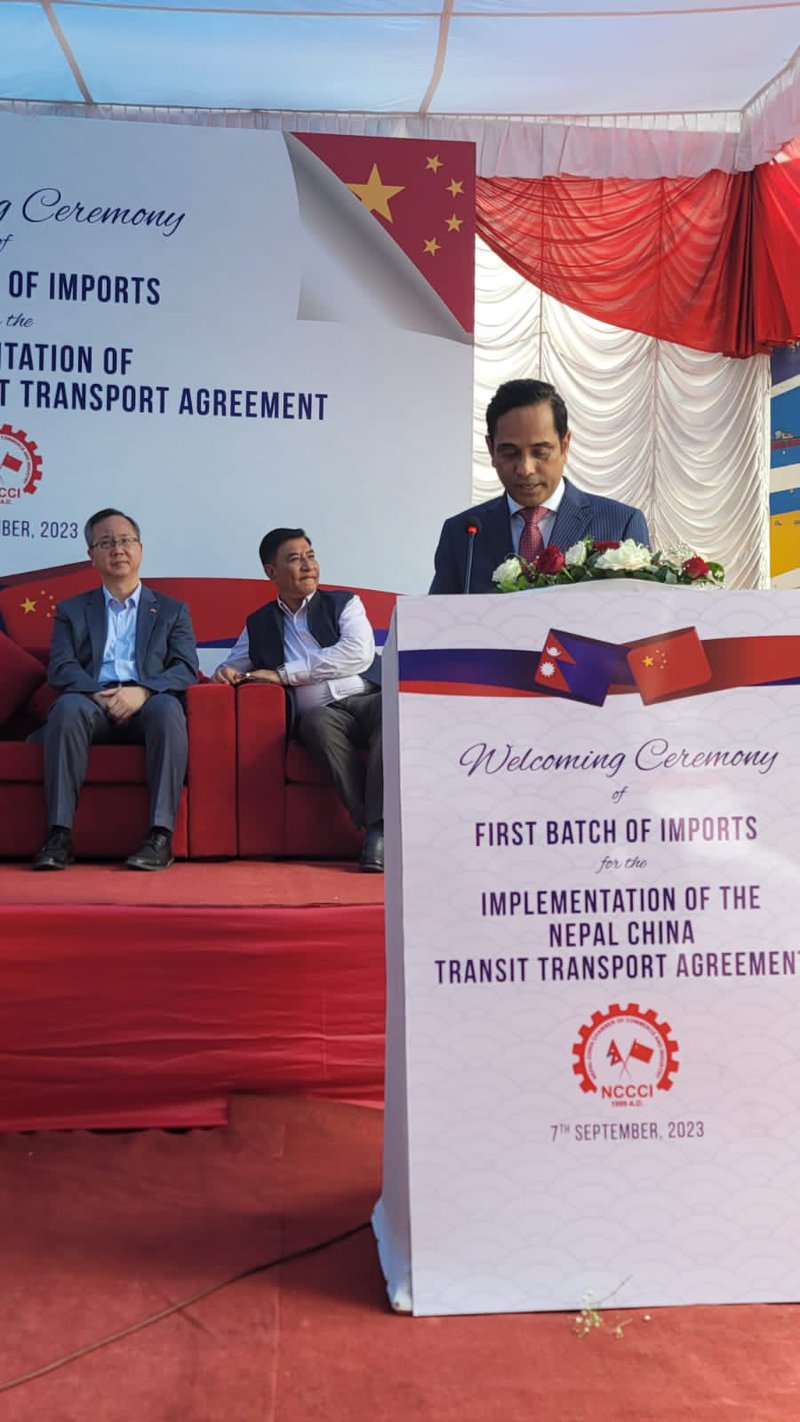 A special ceremony was organized at Tatopani, 100 kilometer from Kathmandu, to welcome the consignments.
"Happy to witness the welcoming ceremony of the very first cargo via the transit route of PRC under the Nepal - China Transit Transport Agreement, 2016 and its Protocol , 2019!," tweets Madhu K. Marasini, secretary at Ministry of Industry, Commerce And Supply.
It is the first time that it has been imported into Nepal from a third country using the Chinese route. But the imported goods are turmeric, an agricultural product that can be sufficiently produced in Nepal.
"The first consignment of transit import goods through China. Congratulations on the successful implementation of the China Nepal Transport Transit Agreement. A small step for transit trade between Nepal and China, a giant leap for the Nepali Sapna land-connected country ," tweets Chinese Ambassador to Nepal Chen Song.
A container carrying turmeric imported from Vietnam to Nepal entered Nepal through Tatopani crossing on Wednesday (6 September,2023). Along with this, the Nepal-China trade and transit agreement, which has been pending for a long time, has also been implemented.
In international trade, especially for imports from third countries, since India is being used only as a 'transit', the possibility of importing goods from third countries from China has received concrete results from Wednesday.
Although there was an agreement with China for the first time on March 8, 2072, the procedure was finalized only on 2018. It has been implemented only about five years after the procedure itself was finalized.
Kathmandu in eleven days
The Chairman of Nepal China Chamber of Commerce Tribhuvan Tuladhar is the owner of Tunche Trans Himalayan Trading Company, which imported goods using Tianjin sea port in China. Tuladhar informed that when importing goods in this way, it takes five days from Vietnam to Tianjin port and six days from there to Kathmandu via Tatopani.
"If these goods were coming through India, it would have taken 45 days," he said. He said that importing goods from China does not cost much, the port fee is also low, and the fee for cleaning the container is also very low. He informed that there is no obligation to bring Silpack goods when importing goods from China. "China has trusted Nepal by not having to pay the fee for sending the container back after bringing it on the truck and not having to bring the seal pack," he said.
With this, Tuladhar says that not only import from China, but also the possibility of export from Nepal has opened up in the future. "We can export goods to Japan in 10 to 15 days from Nepal," he said, "which takes up to a month and a half when sent through India." Apart from this, he believes that the sufferings faced by businessmen in connection with international trade will also be reduced. He said that the problem of having to bring it in a small boat in Kolkata and delaying the release of goods has been solved with the opening of the new transit.
After the earthquake and the subsequent Indian blockade, the government signed a transit agreement with China on March 8, 2072, looking for an alternative to international trade transit. Such an agreement opened the way for goods to be imported from third countries to be brought using Chinese ports.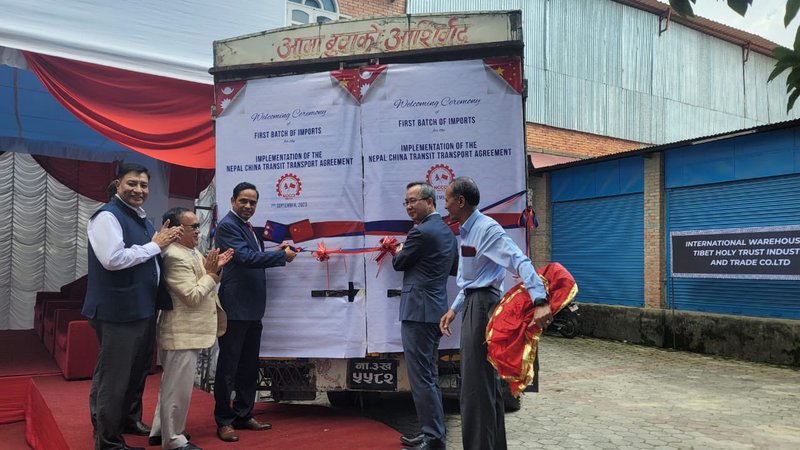 After the agreement was not implemented due to the lack of procedures, it was finalized on 22 August 2075. From which Nepal was allowed to use three dry ports of China namely Lhasa, Lanzhou, Sigatse and four seaports namely Tianjin, Lianyungang, Zhaijing and Shenzhen.
A formal program was held on Thursday after accepting the special container that entered Nepal from Vietnam via China as the first implementation of the transit agreement. There is a program to be jointly announced by Chinese Ambassador to Nepal Chhan Song and Secretary of the Ministry of Industry, Commerce and Supply Madhu Marasini.
During the program, president of Nepal-China Trade Association Rajesh Kazi Shrestha was also present.