Korea International Cooperation Agency (KOICA) organized a Consultative Workshop for its Volunteer Partner Organizations on Sep 29, 2023 in Kathmandu.
The workshop aimed to review and evaluate KOICA's volunteer program by sharing and exchanging the best practices and creative ideas to improve the volunteer program in Nepal among volunteer-related organizations.
This meeting gave a platform to discuss ways to promote a better working environment for Korea Overseas Volunteers and effective implementation of the Volunteer program in the future. About 13 volunteer partner organizations participated in the program.
Mooheon Kong, the Country Director of KOICA Nepal Office, extended a warm welcome to the participants and stressed the significance of collaboration with recipient organizations to strengthen the KOICA program in Nepal.
He emphasized that the program's core mission is to foster friendly cooperation and mutual exchange between Korea and developing nations while supporting their economic and social development.
During the workshop, presentations on various aspects of the KOV program, satisfaction survey, and the Green ODA Programs that the KOICA Nepal Office has been implementing since 2021. Additionally, there was a brief presentation on the ongoing activities of the Green School Project.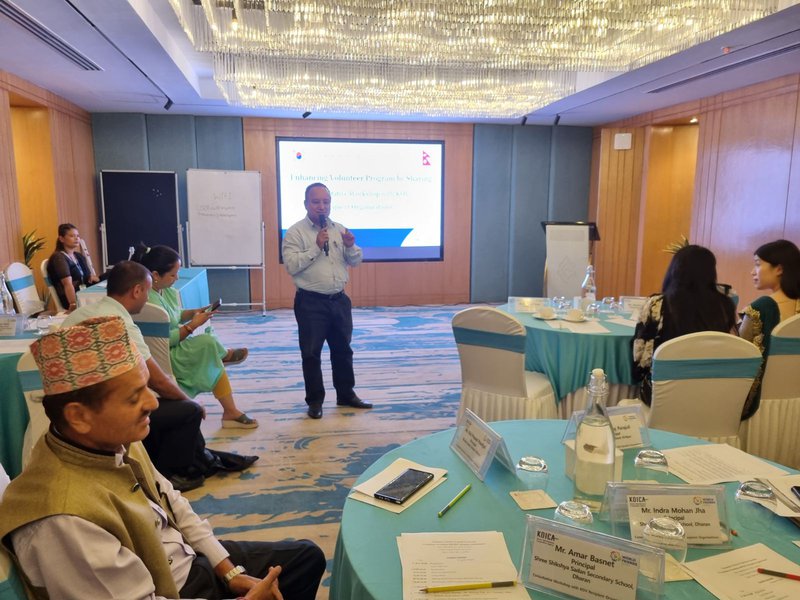 Hyeonsu Park, an IT Volunteer working at Shramik Shanti Secondary School in Lalitpur, provided a concise plan for the ICT project he is set to undertake. Similarly, Mr. Youngman Yoon, a Taekwondo Volunteer working at Nepal APF School, also presented his project activities. These presentations are anticipated to be beneficial to other organizations that have recently received volunteers to plan for the future and maximum utilization of volunteers' tenure as well as to understand the nature of volunteers' work scope in Nepal.
The workshop also facilitated discussions on the experiences of volunteer recipient organizations. Ms. Yoonhee Chung, Deputy Country Director of KOICA, addressed the recommendations and suggestions put forth by these organizations.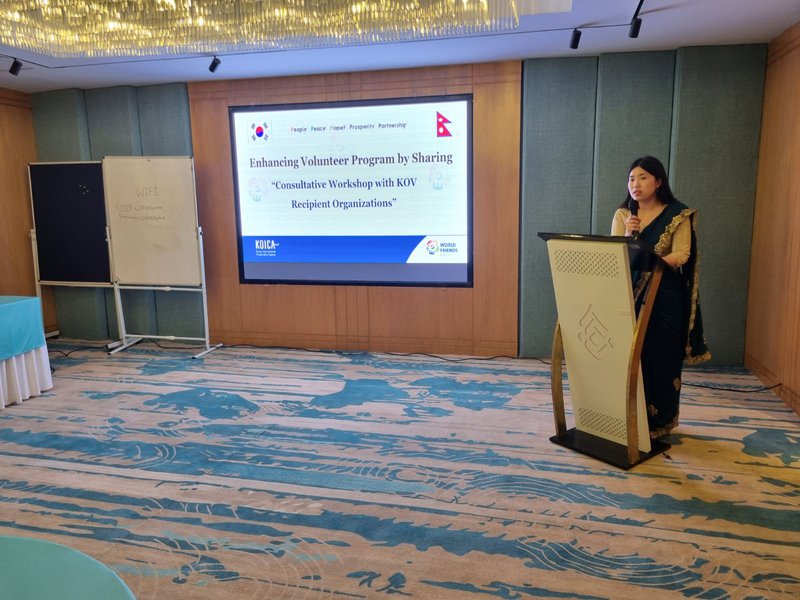 The KOICA Volunteer Program is one of the main pillars of the KOICA programs. KOICA volunteer program aims to contribute to poverty reduction and sustainable development and to promote friendly relations between Korea and host countries. Volunteer program is an important aspect of KOICA's cooperation program in Nepal which supports to transfer of Korean knowledge, expertise, and technology directly at the grassroot level. Now there are 10 volunteers who are actively working in various sectors. KOICA is committed to increasing the number of volunteers in Nepal.