A delegation comprised of civil society members and leaders of political parties handed over a ten point memorandum requesting to cancel PDA on Upper Karnali signed between Nepal Government and GMR and Arun III project signed with Indian government undertaking Satlaj.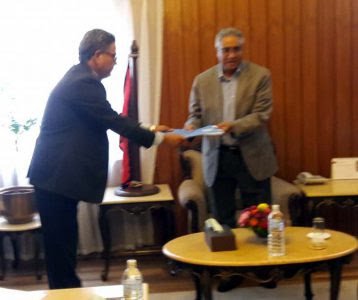 The delegation met Prime Minister Sher Bahadur Deuba at Prime Minister's Resident Baluwatar and submitted a memorandum Saturday morning. They requested Prime Minister Deuba to undertake the development of Upper Karnali Project by Nepal Government as it is considered to b the jewel in the crown among hydroelectric projects in the country.
The ten point memorandum also includes the issues related to the public concern like the acceleration of the construction of Mugling-Narayanghad road, earthquake reconstruction and conciliation of a provision in India-China agreement regarding the Lipu Lake.
The delegation also requested Prime Minister Deuba to take concrete actions to cancel the provision in the agreement signed between India and China on Lipu Lake during his forthcoming official visit to India.  
After receiving the memorandum Prime Minister Deuba promised that he would look into the matter seriously. Chairman of Save Upper Karnali Project Bharat Shahi read the memorandum before handing over it to Prime Minister Deuba.
Speaking at the program, Chairman of Nepal Communist Party (Maoist Revolutionary) Mohan Baidhya Kiran demanded that the agreement should annual as soon as possible as it is against the national interest.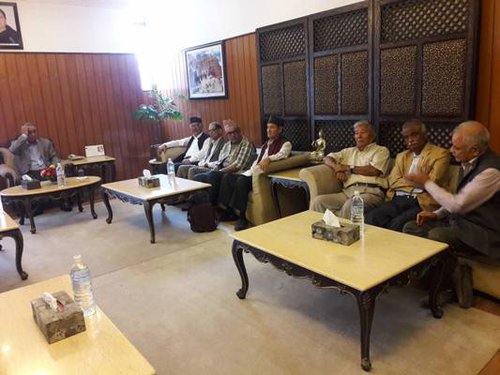 According to a press release issued by Save Upper Karnali Project Campaign, Chairman of National People's Forum Chitra Bahadur KC asked for immediate conciliation as GMR is just holding the project failing to manage the investment.
Former Minister for Water Resources and water resource expert Dipak Gyawali said that one of the saddest parts of the agreement is that the project is going to be constructed for India, not for Nepal.
Former Water Resources Secretary Dr. Dwarikanath Dhungel said even Ministry of Energy expressed objection on the agreement as it is going to affect some of the lifeline irrigation projects in low riparian areas like Rani Jamara, Kularia, Surya Pateria and Bardia National Park.
Water resources expert Ratna Sansar Shrestha stressed the need to make Upper Karnali Project as a storage project which is not only going to benefit Nepal but India as well.
Similarly, water resources activist Ratan Bhandari demanded the Upper Karnali agreement is against the interest of Nepal and it should scrap. He also demanded to scrap all anti-national treaties on water resources and provision related to Lipu Lake in India-China agreement.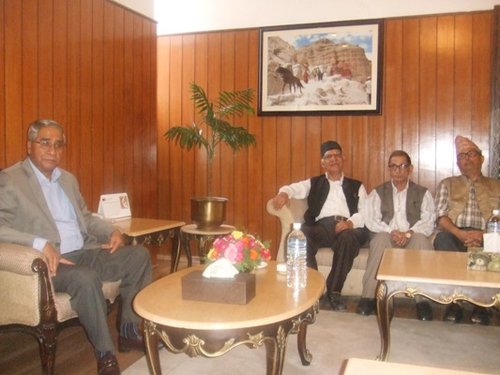 According to a press release, the delegation member who met prime minister Deuba include Chitra Bahadur KC, Chairman National People Forum, Mohan Baidha Krian, Chairman NCP (Revolutionary Maoist), Govinda Singh Thapa, senior journalist,Sitaram Tamang, member secretariat NCP (Maoist Revolutionary), former water resources minister and water resources expert Dipak Gywali, former water resources secretary Dr.Dwarkianath Dhungel,  Bharat Bahadur Shahi, chairman Save Upper Karnali National Campaign, former secretary Bihari Krishna Shrestha, water resource expert Ratna Sansar Shrestha, water resource expert Ratan Bahandari, Janjati leader Ram Bahadur Budha, student leader Anil Kishore Ghimire, Central Committee member NCP Revolutionary Maoist Raj Bahadur Kunwar, member Save Upper Karnali National Campaign Jagat Prasad Regmi,Journalist Prakash Thapa and member of Federation of Nepalese Journalist Indira Tharu.