Eighteen years old, Sanjaya Tamang, a resident of Sindhupalchwok district, has a girl friend with active sexual life. However, young Tamang is fortunate that his girl friend does not have to face any unwanted pregnancy. As they are receiving regular counseling from Marie Stopes volunteers, they need not worry.

"My girl friend has already implanted Norplant, a temporary family planning method. I don't need to worry about her unwanted pregnancy."
Rita Tamang, 18, is happy as well. "I am pursuing my school education, preventing early pregnancy. Thanks to volunteers of Marie Stopes, I am able to decide on having children by choice but not a chance," said young Tamang.
Tamang duo are not the only cases. Thousands of young Nepali people are benefiting from the service and counseling provided by Marie Stopes Nepal. However, there are still a lot of young people out of access to such facilities.
As the young population around the world has been facing problems related to Sexual and Reproductive Health, this year's World Population Day 2017 highlights the theme, Family Planning: Empowering People.
In this context of offering the service and counseling to young, the work programs implemented by Marie Stopes Nepal are very significant.
Although Nepal has introduced family planning methods with free distribution of contraceptive of various kinds long ago, there is still a huge gap in the supply side. Similarly, the low level of awareness about the contraceptive use among the younger population and social taboo involved in forcing young to face unwanted pregnancy is risking life.
As Marie Stopes Nepal has been implementing youth focused programs, including running safe abortion clinics, radio programs and counseling, the young are getting more open on the issue. Marie Stopes has been launching the Meri Sathi Free Helpline and also running FM Radio programs.
Along with counseling, Marie Stopes Nepal also provides safe abortion service through its 36 static centers in 32 districts. Meri Saathi Free Helpline numbers 16600119756 or 9801119756, everyday from 7:00 AM to 12:00 AM, provide the youth with all the needed information.
According to a report of Demographic and Health Survey 2016, the issue of adolescent fertility is important for both health and social reasons. Children born to very young mothers are at increased risk of sickness and death. Teenage mothers are more likely to experience adverse pregnancy outcomes and to be constrained in their ability to pursue educational opportunities than young women who delay childbearing.
 According to the report, 17% of women of age 15-19 had begun childbearing: 13% had had a live birth and 4% were pregnant. The proportion of teenagers who had begun childbearing rises rapidly with age, from 2% at age 15 to 36% at age 19. Rural teenagers tend to start childbearing earlier than urban teenagers.
 Teenagers with SLC or higher education and those in the highest wealth quintile tend to start childbearing later than those with lower levels of education and those in other quintiles.
 Demand and Supply Gap
Twenty-four percent of currently married women have an unmet need for family planning services. Fifty-three percent of married women are currently using a contraceptive method. Therefore, 76% of currently married women have a demand for family planning. At present, 69% of the potential demand for family planning is being met.
There has been a decline in the unmet need for family planning from 28% in 2011 to 24% in 2016. However, the use of modern methods has remained constant at 43%, and the demand satisfied with modern methods has also stagnated at 56%. The increase in the use of contraception since 2011 has been contributed by increased use of traditional methods.
 The results indicate that Nepal is slightly behind in meeting the Sustainable Development Goal (SDG) target for 2017 of reducing the unmet need for family planning to less than 22% (National Planning Commission 2015).
 Youth in Market
Around 1.8 billion youngsters are entering into their reproductive years globally, and over 5 million locally in Nepal. It is necessary to call their attention towards the primary part of the reproductive health.
Sexuality related issues are very necessary to get solved among youths especially between 15 to 19 years of age. If there are more women in the reproductive age group then a large number of births will take place given a fixed fertility rate.
Published by the Ministry of Environment and Population, the Population Report 2016 said women, about 52 percent, are in the reproductive age. In Nepal, female marriage takes place early and almost every woman marries. The proportion of women in the reproductive age group has increased slightly over the last 10 years.
In Nepal, with parental consent, legal minimum age at marriage for both girl and boy has been set at 18 years. If the boys and girls want to marry on their own then the minimum legal age at marriage for both girls and boys is 20 years.
Nepal's Status
Despite so many changes in Nepali society, sex and reproductive health related issues are still a taboo in Nepal. Although Nepali youths are sexually active in the age between 18-19, they are afraid to talk about their sexual life with even with their family.
Modern methods include female sterilization, male sterilization, intrauterine contraceptive device (IUD), implants, injectables, the pill, condoms, and lactational amenorrhea method (LAM).
 "Overall, 53% of currently married women use a method of family planning, with 43% using a modern method and 10% using a traditional method. Among currently married women, the most popular methods are female sterilization (used by 15%), injectables and withdrawal (each used by 9%), male sterilization (used by 6%), and the pill (used by 5%)," reveals Demographic and Health Survey 2016.
 The contraceptive prevalence rate (CPR) among married women varies with age, rising from 23% among women aged 15-19, peaking at 69% of women aged 35-44, and then slightly declining to 65% among women aged 45-49.
 Women in urban areas are more likely to use a contraceptive method than women in rural areas (55% and 49%, respectively). Use of contraception does not seem to vary much by ecological zone and development region, although it is relatively low in Western at 46%. However, it is even lower at 48% in State 2 and State 5. It is highest in State 3 at 61%. The use of female sterilization is highest in State 2 (32%) while it is only 4% in State 6.
 Children by Choice Not Chance
Given such a situation, a finding of the research study conducted by Marie Stopes Nepal on Youth Friendly Sexual and Reproductive Health (SRH) Services: An exploratory study on the SRH experiences and needs of young people in Nepal, will greatly help Nepal's SRH sector.
According to the study, the age 18-19 is a common age for first sex in Nepal. "Awareness and use of contraception is very diverse and depends on various factors. However, communication among youths is high (mostly on condom, pills and EC). Use of contraception is very contextual (planned vs. casual/unplanned)," said a research presented by Deepika Bhatt, youth research coordinator of Marie Stopes Nepal.
According to the study, condom and pills are the most popular method; LARC use is not common. However, unmarried girls fear of contraception use due to fear of being identified by parents and friends, they rely on male partners to use condoms. Concerns are about safety, side effects (future fertility), privacy and comfort (among both partners).
"Use of contraceptives differs from a person to person, youths most likely don't use it at their first time and consider using contraceptives as they gradually open to each other in a relation," said a 20 years old male.
The research also showed that there is a mixed understanding of abortion and MA preferred over MVA. Youths heard about abortion (about safe and unsafe abortion (licensed vs. non-licensed) types of abortion procedure (MA and MVA)," said the report.
EC used as FP in some cases and less informed about side effects. They used as convenience pills. However, urban youths are more aware than rural; used more as FP; male youths take this easy.
Most of the youths are aware, but it's use is alarming among few of them. Easily available in all facilities/ cost ranged from NPR 60-200; Econ and I-Pill popular brands or as 72 hour pill.
Youths are less informed about side effects (mostly bought by male partners; male partners do not convey info on side effects to the users.
"I don't remember how many times I have taken EC. After I have sexual contact, I take medicine and wait for 72 hours, but if I had sex again within 3 days, I would take it again. I have been using EC for 8 months," shares a 20 years old unmarried girl.
 "Most youths are sexually active, varied by gender, marital status and age. However, age 18-19 years is a common age for first sex. Talk on relationship and sex is more common among male youths; more peer pressure for sex; exaggeration around sex and sexual relationship," said Bhatt, Youth Research Coordinator presenting the study.
Pop-Up Volunteers
Along with clinics, talk show and Radio programs, Marie Stopes pop-up volunteers are popular among the youth as they are friendly to talk of Sexual and Reproductive Health. In the period of four years, Pop-Up volunteers felt their skills improved and acknowledged despite many challenges.
Pop-up Volunteer Roni Shakya narrates how difficult it is to work as a youth volunteer to raise awareness on SRH. "Despite all difficulties, we were able to work successfully in society."
These group of volunteers support the youths in trouble on the SRH. "They were wearing Orange color jackets with 'No Condom No Sex' written on it, they gave information about SRH. In this way, I also knew about Marie Stopes," a 21 years old male. "I was very tensed after unprotected sex with my girlfriend. Near my work place, I knew a girl who wore a pop-up T-shirt. I asked her if she works in this issue. After sharing my problem, she gave me a medicine (EC)," said a 23 years old male.
Supported by Australian Aid, Youth Project is first of its kind, which is focused on SRH activities of youth. The finding will help government and other agencies working in SRH to understand the behavior of youth," said Sophie Hodder, country director of Marie Stopes Nepal.
Nilima Raut, manager, Youth and Newlywed Project, highlighted the activities of the project and its contribution to raise awareness on SRH among young population.
 "We are also using various marketing tools to promote the family planning methods," Styajeet Pradhan, Director Marketing and Communication, who introduced Rocket and Space brand showing how it influenced the behavior of youth.
According to NDHS 2016, average age of marriage for females is just over 18 years and for males 22 years. Contraceptive use among married women in Nepal aged 15-19 is 17.6% and 29.5% among married women ages 20 to 24 years.
New Program
With the support from Australian Aid, Marie Stops Nepal has implemented the three years project, ending in June 2017. The study made under the Increasing Access to SRH Information and Services for hard-to-reach groups in Nepal- Adolescent and Youth is first of its kind with firsthand knowledge prepared through interaction with the young.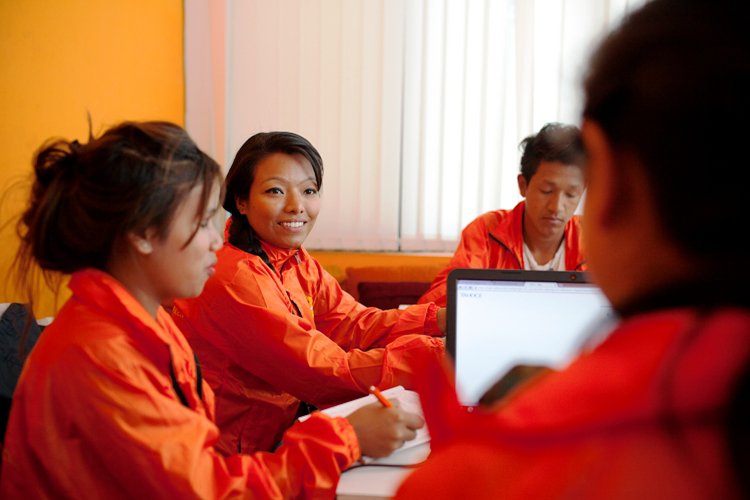 In three years, 30 SRH services providers trained in the provision of adolescent and youth friendly service provision reaching 100,000 youth through an adolescent and youth-focused IEC package, including four 'pop up' teams running a total of 500 site based events over the project.
The project run a nationwide call centre with a toll free number to provide on demand SRH counseling to adolescents, youth and other population 4 SPN clinics established as adolescent and youth friendly service sites and providing adolescent and youth friendly services Lesson learnt and best practices shared among related stakeholders.
Over 65,000 sexual health services delivered to adolescent and Youth, including family planning services. Youth pop-up volunteers are trained SRH educators with interpersonal communication skills, with 10 youth pop-up volunteer per district and 1 Youth ANM providing mobile service.
According to the project, the project reached to 1, 83,746 youths until May 2017. One of the important parts of the project was program designed for young Persons with Disability and SRH needs of young people with disabilities research completed and the actions points are.
The achievements include production of FP IEC materials in Brail, production of informative video with sign language and subtitle, disability sensitization training to Youth Centre Service Providers, Pop-Up Volunteers, Mobile Clinic and orientation program for young people with disability in partnership with Disabled People's Organization.
As Nepal is celebrating the World Population Day, with its motto to Children by Choice, Not Chance, Marie Stopes Nepal has been working in Nepal to prevent unwanted pregnancy and save the life of young mothers.