At a time when everyone is concentrating on the preservation of heritage sites built during the Lichchhavi and Malla periods, the palaces built during the period of Thapas and Ranas are gradually vanishing along with the political history of the period. However, environmental activist CHANDA RANA, who has been taking the lead to save Rana Palaces and heritage, is fighting a lonely battle. Rana, who is also a granddaughter of Chief Engineer Brig Col Daly Jung Thapa , spoke to NEW SPOTLIGHT on various issues. Excerpts:
How did you have the interest in the preservation of Rana Palaces?
I am retired from environmental conservation. I thought I should do something now for the preservation of old palaces. My grandfather, Chief Engineer Brig Col Daly Jung Thapa , who completed his bachelor of engineering from Thompson College Roorkee in 1911, had a great contribution in the building of neo-classic Rana Palaces during the period of Chandra Sumsher and Bhim Sumsher.
Why are you so concerned?
I feel like my heart is tearing when I see the model of neo-classic palaces like Sitabhawan in ruins and demolition of Laxmi Niwas and Lalita Niwas. The government is now demolishing more than 35 old Rana Palaces instead of doing their retrofitting. It is heart breaking.
What steps are you taking now?
I have already sent request letters to Department of Archeology, Nepal Reconstruction Authority (NRA) and Department Urban Development to protect Rana Durbar and Shita Bhawan with urgency. I protest the DURD's criteria to demolish 35 palaces on the ground that it is against the spirit of preservation. Along with the architectural values, these Rana Palaces are of political and historical importance as well.
Why are you focusing on Sita Bhawan (Bal Mandir) only?
Sita Bhawan is one of the Rana Durbar, survived in two major earth quakes 1934 and 2015. In my frequent visits, I see the palace, which was slightly damaged by the earthquakes, is gradually suffering the brunt of further negligence. Nobody takes the importance of architectural heritage seriously. I find Sita Bhawan was being misused by movie-makers. Even rare chandeliers were used to hang their cameras. I strongly protest the government decision to demolish the palace and the criteria need to be amended. So, I am rising to save Sita Bhawan more seriously. I also raised similar questions about other Durbars. In Sita Bhawan, there are a few rooms, which are now decaying. It is unfortunate that the government is unable to provide a plastic sheet to cover and protect the buildings from the monsoon rain. One of the good things about the PaLQDt is still intact.
How about Lalita Niwas?
Nepal Rashtra Bank has already dismantled the Lalita Niwas, which was also designed by my grandfather. The Niwas was a unique Durbar with beautiful design and decorated with exterior and interior. It is said that National Reconstruction Authority is suggesting reconstructing in an old style.
What do you say about the state of the Rana period palaces following the earthquakes?
Preservation of the old heritage is also a part of environmental conservation that I have been working for. The environment gives us fresh air and old palaces and heritage sites give a country fresh year to survive. My effort is now to preserve Rana palaces and architecture of that period when neo-classic styles flourished.
Who recommended demolishing these Palace?
There is a committee set up by Department of Urban Planning to recommend the states of Rana palaces after the earthquakes. The committee recommended dismantling 35 palaces. I strongly protested the criteria set by the Department of Urban Planning and sent letters to Nepal Reconstruction Authority and Department of Archeology. Earlier, the committee even recommended demolishing Singh Durbar's Belayati Baithak, where damaged is very nominal and which can be retrofit as a heritage.
Did they react to your protest?
We must thank Professor Dr. Govinda Raj Pokharel for issuing a direction to preserve heritage asking authorities not to dismantle Rana Palaces rampantly and order retrofitting.
Why are they dismantling the structures?
They argued that the cost of renovating old Palace is much higher than their new construction. They said the price is 30 percent higher. They are priceless heritage and assets left by our forefathers to us. There is no matching the money with our identity. In other countries, the government spends a huge amount of money to protect old palaces. Because old palaces are not the buildings they represent our history, culture and help to understand the contemporary society of that period. If we call for the preservation of such old palaces, many donors will pour the money. If our government cannot make them, others will support us. I am against demolition. I demand the Department of Urban Development should remove the present criteria of dismantling the old buildings on the basis of prices. I am on the side of preserving the palaces. I will do whatever is required.
What steps have you taken to protect the Sita Bhawan?
In the process of preserving Sita Bhawan, I took the case with ward chair of Naxal and asked him to buy a plastic cover to preserve from the roof leakage. But all my suggestion was in vain. I do daily visit the palace, in good shape.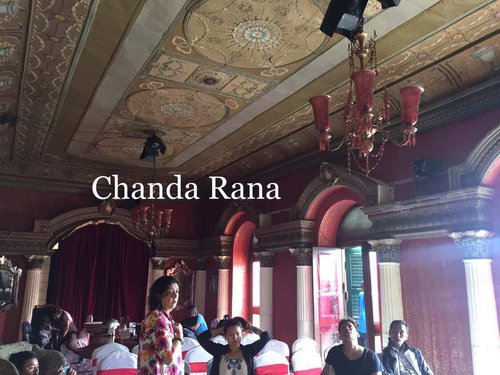 What about other Palace? What is it read as to damaged level four?
Although Nepal Rashtra Bank has decided to construct the building as it front looks as old Lalita Niwas. Had it not been intervened by current CEO of NRA Professor Dr. Govinda Pokharel, the Belayati Baithak of Singha Durbar would have already been demolished. We cannot construct the building like olds which are the testimony of our history, culture and social development. It is unfortunate that all classic Rana Palaces are dismantled in Kathmandu one after another. After the earthquake, the process accelerated. If the situation goes like this, there will be no trace of the 104-year long Rana Period and its contributions to the nation building.
What inspires you to take the initiative?
As my family members have long contributions in Nepal's unification through joining the military, including working with Jung Bahadur Rana, I have a natural interest to be a part of the family. Examples are Governor of Ilam Colonel Gajraj Singh Thapa and Hem Dal Singh Thapa. In the process of collecting the dates of people in my family generations, I have collected a lot of documents about the different periods of Nepal. Rana's palaces speak about a period in Nepal's history and culture and they are our identity. They show how palaces were built in European Style. They depict our engineering capability and quality of our artisans and masons. I used to read a lot of documents related to the materials used in the hen I was a child. We have our own materials like clay, bricks, and others. Compared to present materials like cement, the old materials seem to have a longer life.