Six people were killed when the car they were travelling were swept away by the flood in Damar Chaur 3 of Rajpu Village Municipality of Rautahat. According to Nepal Police, those died in the flood included two male, three female and one child.
 According to Nepal Police, driver and one other person travelling by vehicle were survived and they reported the incident to police station.
According to Ministry of Home Affairs, 50 persons were killed and more than 17 went missing in floods and landslides triggered by the monsoon rainfall in various parts of the country in the last three days. The latest data released by the Ministry shows that 21 districts have been hit hard by the flash floods and landslides.
 As the situation is deteriorated, the government has mobilised,Nepali Army, Nepal Police and APF personnel for rescue and recovery work.
 According to a press release issued by Nepal Army, army were mobilised across the region to launch rescue, relief and rehabilitation work.
 News Bulletin issued by Central Police News Desk, one person was killed in Panchthar, four in Sindhuli, Jhapa and Banke each, five in Morang, eight in Sunsari, three in Sarlahi and Surkhet each and two in Bara and Dang each.
 Similarly, seven persons died in Rautahat floods and landslips, two in Bardiya, one in Dhanusha, Makawanpur, Kailai and Palpa districts each.
 Hundreds of families have been displaced after the floodwater gushed into the human settlement in most parts of Tarai region.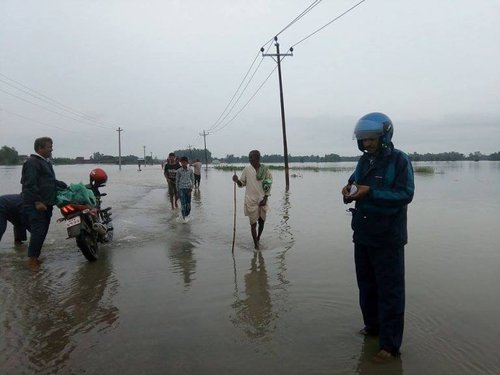 Jhapa, Morang Sunsari, Sapttari, Siraha, Sarlahi, Rautahat, Banke, Bardiya and Dang were the worst affected by flood.