Although Nepal Electricity Authority has also incurred heavy loss and damage in transmission line and substation, it is able to maintain almost all damaged transmission line and substations earlier than expected.
As NEA is celebrating its annual day on August 17, it is a matter of joy and pleasure for them as they are able to restore damaged transmission line and substation earlier than expected.
NEA's management has shown that it has capability to maintain at the time of emergency. One of the example how they work depicted by restoring Duhabi substation, a backbone of the eastern region eelcricity supply, within 24 hours.
Following the hard works of NEA staffs and strong leadership of NEA's management, people of most part of eastern region and central region do not have to live in the darkness for long. Nepal's major cities including Biratnagar got electricity since last evening.
Nepal's second largest industrial city and other industrial corridor Birgunj are connected with the electricity just a day after the devastating floods.
Under Duhbai substation, heavily damaged 133 Kv, 233 Kv and 333 Kv transmission line charged from August 15. However, there is still fault on Dharan 33 Kv which is likely to connect by tonight. After maintenance, Belbari, Khanar, Inaruwa, Duhabi 33 Kv transmission also charges. Duhabi 11 Kv, Biratnagar 11 Kv, Tarahara 11 Kv, Tarahara 211 Kv has also charged. Khanar 33 kV and Inaruwa-Kv is still under Flood. Duhabi 63 MVA TR2 charged.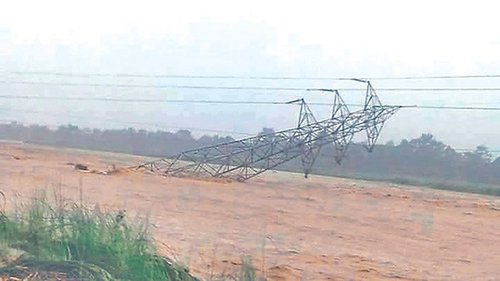 Similarly, Under Chapur station 33 KV Nijgadh feeders has land fault. 44 Kv Haripur feeders running with very less load and 33 Kv Gaur transmission is under construction to elect collapse poll.  Under Hetauda substation, Gramin 11 Kv and Bansgopal 11 charge following maintenance collapse poll. Under Bharatpur Substation, Parsa 33 Kv also charged. Under Bardghat substation Dumkibas 11 Kv and Sunwall 11 Kv charged following maintaincne. Under Lamahi substation Dumkibas Cement 33 Kv also charged but Samrat Cement 33 Kv is shut down due to line fault. Butwal - Bardghat 132KV 2nd Circuit charged. Under Kohalpur substation, Sukhet 33 Kv also charged      .
According to NEA, Puwa Power house (running at 6.2 MW) connected via Anarmani s/s and some small IPPs are going to connected to it within limit. Similarly, work in Progress: 1-Damak and Anarmani S/S 132 KV.
"We all have worked hard on our sides and our staffs have done really good job to restore entire damaged transmission lines and substations," told Kul Man Ghishing, Managing Director of NEA.