South Korean Ambassador ParkYoung - sik distributed Hygiene Kit and First Aid Kit to the flood affected families of Ratnanagar Municipality of Chitwan.
Ambassador of the Republic of Korea Park, Young - sik made a symbolic hand over of the hygiene kit and first aid kit to the Mayor of the Ratnanagar Municipality Narayan Ban.
The Korean Government through KOICA will distribute about 9000 kits to the flood affected families of Chitwan, Kailali, Nawalparasi and Rauthat. The Korean Government spent USD 200000 for preparing 9000 hygiene kit and first aid kits. Out of 9000 kits, about 2000 kits will be distributed in Ratnanager Municipality by the Municipality Office and local Red Cross.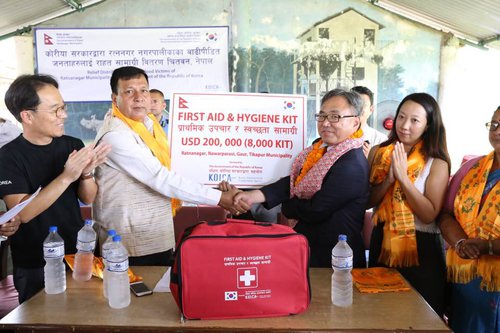 The Kit contains basic first aid medicine, stuffs for hygiene to prevent diseases and mosquito net to prevent from mosquito borne diseases.  It is believed that the support is useful for the affected families who have difficulties in accessing proper health care services.
The Ambassador, Country Director of KOICA and the Mayor of Ratnanagar Municipality distributed around 100 kits to the affected families. Rest of the 1900 kits will be distributed in Ratnanagar Municipality within a week. Similarly, before Dashain remaining kits will be distributed in other districts.
According to KOICA, Korean people and the Korean Government have always stood by Nepal as true friends. Be it for Nepal's development or during the time of emergencies of floods and earthquake Korean government and Korean people have always extended their helping hands of friendship.