Just a week after the visit of Prime Minister Sher Bahadur Deuba  to India, following several agreements on economic and infrastructure development, Nepal's another neighbor, China  has also agreed to ramp up plans for a cross-border railway.
China and Nepal have reached the agreement amid public assurances from China that Beijing would work hard to avoid conflict with New Delhi.
During the visit of DPM Mahara to China, Nepal and China agreed on five important issues.
After talks in Beijing with Nepalese Foreign Minister Krishna Bahadur Mahara, Chinese Foreign Minister Wang Yi said China and India should work hard to make sure their ties do "not derail, become confrontation or get out of control."
Chinese Foreign Minister Wang Yi also said Beijing hoped Nepal could be a bridge between China and India, following a bitter border stand-off between the two Asian heavyweights.
According to a report published in South China Morning Post, "[China and India] should see each other as partners and an opportunity for development, instead of sticking to the old mindset of perceiving each other as a rival or threat," he said.
In his three day visit, Mahara also met Chinese Premier Li Keqiang and State Councilor Yang Jiechi. His trip is his fourth in two years and comes as China tries to expand its relations with Neal. Wang said China had no intention of "bullying" a small country.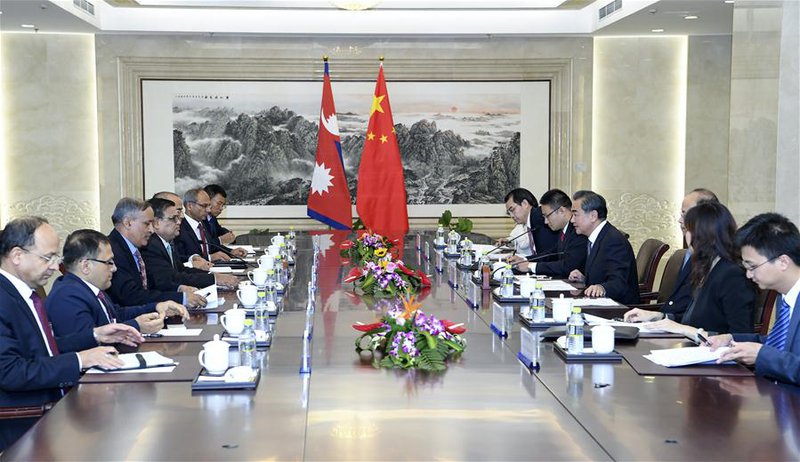 "We do not interfere with Nepal's internal politics, nor do we attach political strings to our cooperation with Nepal or require Nepal to pick a side in its foreign policy," said Chinese foreign minister Wang.
China Nepal Agreement
Wang said officials from Nepal and China had agreed to fast track a feasibility study for the construction of a railway between the two countries. In addition, the two countries agreed to rebuild two highways and three border ports linking Nepal and China, after much of the infrastructure was destroyed in a deadly earthquake in 2015.
Nepal and China also struck a memorandum of understanding on energy cooperation to help Nepal diversify its sources of energy.  During his visit, Mahara also opened a new consulate in Guangzhou.
DPM Mahara said Kathmandu appreciated Beijing's policy of non-interference. Chinese Vice-premier Wang Yang made a four-day official visit to Kathmandu last month while China and India was still at loggerheads on the Doklam plateau in the Himalayas.
While it has maintained a neutral position on the China-India dispute, Kathmandu has slowly increased exchanges with Beijing in recent years. As part of that delicate balancing act, Nepalese Prime Minister Sher Bahadur Deuba visited India late last month.
China is rolling out optical fiber networks in Nepal, spelling an end to India's internet service monopoly in the country.
During a six-day visit to China in September, Nepal's Deputy Prime Minister and Foreign Minister Krishna Bahadur Mahara successfully inked a deal with China to step up plans for a trans-Himalayan rail link, a proposal that Nepal has been keen to accomplish since 2005.
After talks with Mahara, Chinese Foreign Minister Wang Yi said the construction of a cross-border Sino-Nepali railway is a strategic cooperation plan raised jointly by leaders from both nations. The two countries have agreed to fast track a feasibility study for the railway's construction, as well as carrying out cooperation in training talents and railway investigation and design.
According to a plan raised by Nepal's former Prime Minister KP Sharma Oli in March 2016, the railway will include two rail lines, with one connecting three of Nepal's most important cities and two crossing the border from China into Nepal.
In addition, two highways that served as the two nations' traditional land route will be rebuilt, as much of their infrastructure was destroyed in a major earthquake in 2015.
"Currently, the freight transportation between China and Nepal mainly relies on highways, which are in bad condition and can be affected by natural disasters. The highway system has already reached its full capacity, therefore a cross-border railway is needed to connect Nepal with the outside world," Lin Minwang, a professor at the Institute of International Studies of Fudan University, told Xiaokedao, the We Chat account of People's Daily Overseas Edition.
According to Xiakedao, China was already planning to extend its internal railway from the Tibetan city of Shigatse to Gyirong on the Nepal border, but it's still unclear if the extension can reach to Kathmandu, capital of Nepal, as the impoverished landlocked country has been under pressure from India.
"The construction of the cross-border railway will promote the establishment of a Sino-Nepali economic corridor, supporting the latter's political stability and improving the people's livelihood. China can also use the chance to strengthen its presence in South Asia, urging India to build a prosperous South Asia together," said Lin.
With the arrival of railway near Nepal's border, Nepal's connectivity with China is bound to increase. Although Nepal's current trade with China is just over Rs. 10 billion rupees compared to Rs. 600 billion with India, the connectivity will reduce the dependency in future.