Nepal Army (NA) presented feu-de-joie at the army pavilion at Tundikhel on Wednesday afternoon  marking Fulpati, the seventh day of Bada Dasain, Marking Fulpati, the seventh day of Bada Dasain,
 President Bidya Devi Bhandari observed the program. The NA presented a guard of honor to the President on the occasion. On the occasion, different units of the NA opened rifle and cannon salvoes in celebration. They also held march-past, including the salutation march-past. The different companies of the Nepalese Army commemorated the occasion with a parade and forming an outline of the National Flag.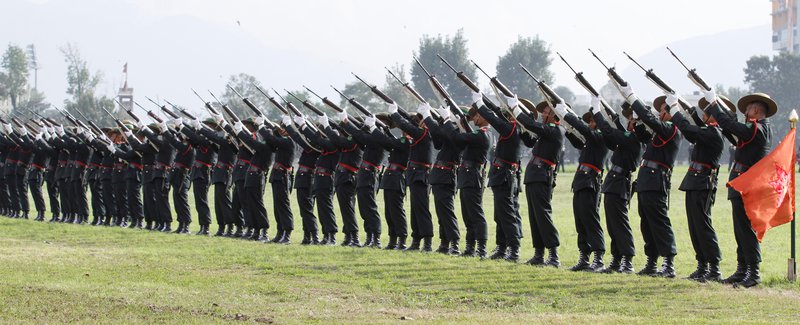 Present on the occasion was acting Prime Minister Bijay Kumar Gachchhadar, the Deputy Prime Ministers, the government ministers, high-ranking government officials, the heads and representatives of diplomatic missions based in Nepal, the chiefs of the security bodies and dignitaries from a cross-section of society.
Members of the general public were present in large numbers around Tundikhel army parade ground to observe the Fulpati celebration.
 Nepali Hindus are celebrating Asthami, the eighth day of Dashain festival, today.
All government offices remain closed for five days from Fulpati to Dwadashi (second day after Tika). According to Nepal Calendar Determination Committee, the auspicious hour of this Dashain tika is 11:45 am on Saturday (September 30), the 10th day of Dashain, which is also called Vijaya Dashami. However, one can offer and receive tika as per one's convenience although the most auspicious hour is 11:45 am.
President Bidya Devi Bhandari is also scheduled to offer tika and jamara from 2:00 to 3:00 pm to interested VIPs, deputy prime ministers and lawmakers and members of the general public from 3:00 pm at the gate number 1 of Shital Niwas on the day of Vijaya Dashami, read a press release issued by the Office of the President.
Hindus across the country are preparing for Dashain Tika ritual along with family reunion. The tika is a mixture of rice grains, curd and red vermilion powder formed into a paste and put on the forehead as a blessing from Goddess Durga on the 10th day of Dashain festival.