With the cooperation from Civil Aviation Authority Nepal, Bed Uprety Trust, trust of Captain Bed Uprety, the first Aviation Museum of Kathmandu opens for limited school children.
The museum will be operational next month for all when it will be officially opened. Captain Bed Uprety, who has personally invested his entire earning, revealed this to media at Museum.
With the total investment of Rs.70 million, the Trust opens a museum in a new Airbus 330-300, which had a runway excursion event while landing at Tribhuwan International Airport in March 2015.
Founded by captain Bed Uprety, whose only mission is to serve the nation, the Bed Uprety Trust, a non-profit making organization, has already set up an aviation museum in an abandoned Fokker 100 in Dhangadhi.
Funded by personal saving of captain Uprety, who is an instructor pilot in Indonesia, the museum also gets 20 million loans from Everest Bank.

Motivated by the words of American President John of Kennedy "Ask not what your country can do for you, ask what you can do for your country," Captain Uprety has clear mission and vision.   
"My aim is to inspire Nepalese to do something remarkable for the country. I have already spent my lifetime saving to establish aviation museum. I don't have any business motive here," said Uprety.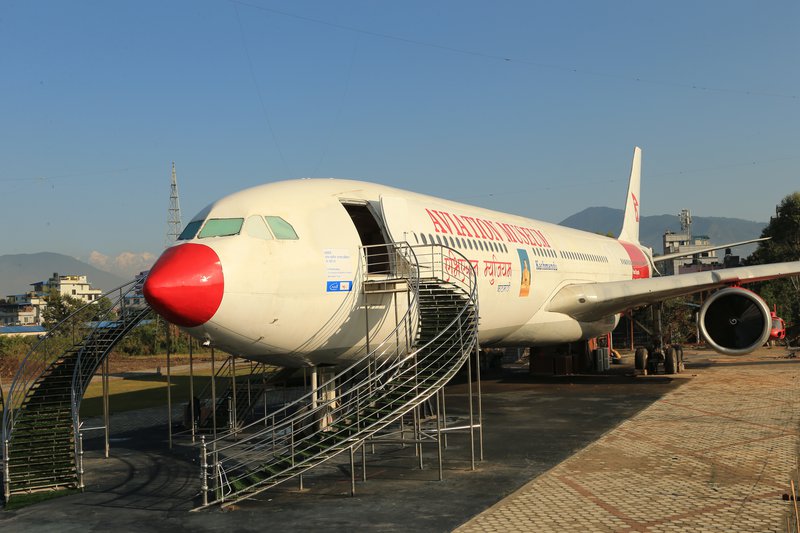 One the objective of Aviation Museum is educational and to attract and inspire young Nepali to join the aviation sector. According to the trust grade 9+12 students from all over Nepal can enter the museum free if they have letter endorsing the visit from their schools. All students with IDs get 50 percent off on tickets.
According to Uprety, there are more than 350 miniature models of aircraft inside the museum from the Wright Brother's first aircraft to fighter planes from World War I and WW II, the glass cockpit Airbus 330 and other commercial airliners. There is also a real-life Ecureil Helicopter in the museum grounds.
Deputy Director of Civil Aviation Authority Nepal Birendra Shrestha also highlighted the importance of museum in promoting the aviation professional in Nepal.
This museum also meets commitment made by Nepal in International Civil Aviation Organization to promote next generation aviation professional program.