As the election day for the first phase are approaching closer, candidates have started house to house campaigns. Workers of political parties are holding their election meetings at small and big scales.
There is no dearth of promises, for an inclusive and just society, social, religious, ethnic and regional harmony, political and social stability, economic prosperity, employment opportunity and government at the province.
However, the reality is likely to be different. Despite joining the elections, people in Madhesh are yet to forget the killing of sixty people and wounding of hundreds following the promulgation of the constitution. Social tensions are likely to continue and the people will challenge the present constitution, which they believe is unequal and imposes provisions against their will.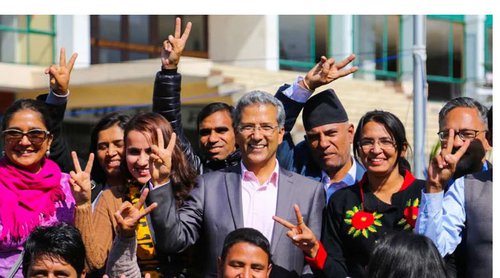 After the promulgation of new civil code act, the Christian community has already opposed some provisions, criticizing that they violate religious right. Majority Hindus are still against the three parties which declared Nepal secular. And they are still counting on Maoist government's assault on Pashupatinath Temple, intervening in the centuries old practice of appointment of priest from India.
Against all odds, the current electoral law, drafted with the support from Norwegian experts, cannot permit one or two parties to combine and have the majority for a stable government. Given the present electoral law, unstable governments in provinces and center are starkly likely.
Nepal's traditional balance of power will suffer. Although the communist alliance led by CPN-UML and Maoist-Center maintains good relations with India, ideologically, communist cadres consider themselves as closer to China. Their rise in power in Nepal is likely to press the leaders to shift Nepal's centuries old stand. Communist alliance candidates are saying publicly that their victory is to end Indian hegemony.
After the provincial elections, another tire of internal security institutions will be added with police in the provinces, with separate chief, intelligence and home minister. As Nepal's internal security has direct impacts on Nepal's neighbors, it will complicate the security relations in the case of instability at the center and provinces.
With demands of more resources to build provincial institutions, the center is likely to allocate more budgets for administration, reducing its size in development.
Given the uncertain scenario, Nepal's political stability seems a long way off.  Although political parties and candidates are making efforts to lure the voters into the campaign, there is little enthusiasm among the common voters, who do not see any reliable leaders for the present context to guarantee political stability and economic prosperity. Announcing populist slogans, communist alliance candidates are trying to woo the voters.
"Only our government can stand for the interest of Nepal and fight against hegemony," said Oli. His statements indicate that they are likely to use anti-Indian card at the last stage.
Led by all the old and tested leaders, who have indulged in one or other kinds of corruption and scandal, people have little faith on them. Announcing party manifestos with full of contradictory and populist bundles of words, political leaders are making tall promises as ever.
With little revenues and resources, everyone is questioning the economy of the country once the federal structure with provinces comes into full functioning. At a time when the central parliament is unable to provide a stable government, a similar fate will be shared by the provinces as well.
As the leaders have failed to provide stability through the existing political system, they are proposing new models as alternatives. Communist alliance is promising to amend the constitution to introduce a directly elected executive.
Maoist leaders, who did not wait for a month to power, are proposing an executive system, which is rigid in power sharing. In the name of political stability and prosperity, political leaders have already changed three constitutions and two political systems.
However, all their provisions have been in vain. The bitter reality of on-going system is the dictatorship of three parties where their will prevails in the branches of the state.
Even before the elections, parties have started to speak the voices of instability. Political leaders, including K.P.Sharma Oli, who publicly opposed the amendment of constitution as undemocratic is now pursuing to amend it.
"Once the communist alliance secures the two thirds, we will amend the constitution to introduce an elected executive for five years," said UML leader Oli "It is not necessary for communists to believe in parliamentary democracy."
Since the election is also complex as the people have to vote in two different categories,  including two under First-The Past-Post System,  each for province and national parliament and one each for proportional representatives for provincial legislature and national parliament. 
Institutions with No Credibility
As all appointees of constitutional bodies, including the Election Commission, are filled by political nominees, people do have little trust on them. As all the state institutions are losing the credibility, there will be more questions about the election process than answers.
Former home minister and Nepali Congress leader Govinda Raj Joshi, whose candidacy was canceled by the Elections Commission on a complaint filed by NC vice president Ram Chandra Poudel, openly questioned the impartially of the commission.
With a complaint filed by Paudel in Tanahu Constituency 1, EC issued the notice from Kathmandu. Paudel demanded cancellation of the nomination of Joshi, who filed nomination as an independent rebel candidate, on the ground of a pending corruption case.
Not only the Election Commission, other state institutions have also landed in controversies. Social activist Dr. Govinda K.C has even threatened to go for indefinite strike against the recent act of President Vidya Devi Bhandari and Supreme Court.
With so many flashpoints for chaos and uncertainty, the slogan of communist alliance to bring strong executive will find support. Despite wide coverage of national media on election, people are yet to be lured to voting. Media reports of the ground situation are contradictory to one another.
Given the current political scenario, there is no hope for political stability and economic prosperity. People's apathy towards the election process is understandable. With tainted and old bunch of leaders at helm and new institutions in provinces, Nepal will continue to see controlled political instability for more time to come. 
Nepal's current political leaders have been there for almost three decades. Although three constitutions have been replaced on the ground that they were unable to meet the needs of the people, political leaders continue to justify their presence and role in all the systems.
Thus, people are losing their faith and trust in the entire process. This will not be a good sign for stability.