Indian Cultural Centre Embassy of India (Kathmandu) showcased a musical event to cerebrate India's Republic Day-2018 and the 70 years of Diplomatic ties between India & Nepal at Nepal Army Officers Club Auditorium.
President Bidya Devi Bhandari graced the event as the Chief Guest where as K.P. Oli, Former Prime Minister and Chairman of CPN-UML graced the event as the Guest of Honor. The musical event was enjoyed by a full house audience representing all sections of the Nepali society and resident diplomatic corps.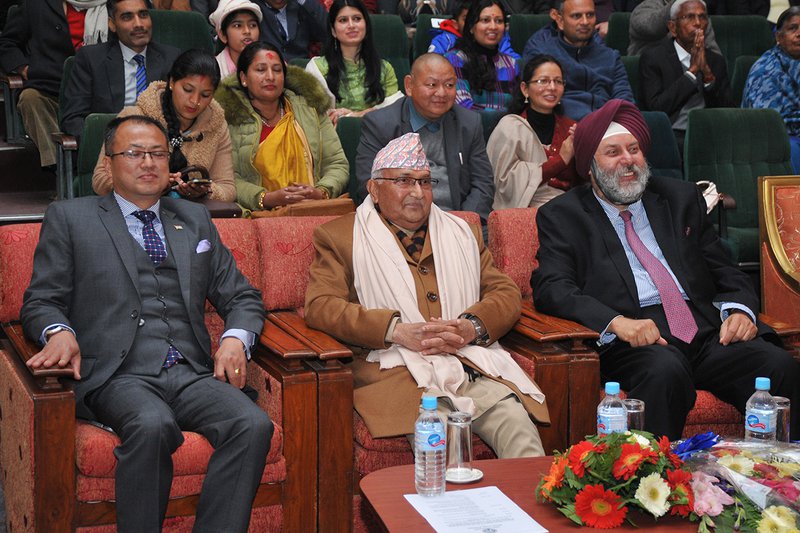 Former prime minister Oli (Center) at the program
The event featured a most versatile 7-member multi-genre Bollywood fusion band "Rishi Inc" led by renowned Bollywood musician Rishi Dutta, who has years of experience on Indian Folk music, contemporary and popular songs.
According to a press release issued by Indian Culture Center, as close neighbors, India and Nepal share a unique relationship of friendship and cooperation characterized by deeply rooted people-to- people contacts of kinship and culture. Indian culture and its performing art forms have enjoyed love and appreciation across Nepal over the centuries. The affection of Nepali people towards India are immensely treasured in India. 
The backbone of this special and privileged partnership is the friendship and understanding between peoples of the two countries. It is this cultural bondage that has built solid bridges of friendship and understanding between our two nations.
To this end, this musical performance by Rishi Inc is an effort of the Indian Cultural Centre, Embassy of India, Kathmandu aimed at further cementing our age-old bilateral relations, shared sensibilities, affinities and common cultural values. The troupe will also perform at Biratnagar, Birgunj and Bharatpur. This event would contribute in enhancing people to people contacts in days ahead. The visit of the Rishi Inc band was supported by the Indian Council for Cultural Relations, New Delhi.