After the meeting between K.P. Sharma Oli and Indian Foreign Minister Sushma Swaraj, it seems that misunderstanding between CPN-UML and India is over.
"We have a very cordial meeting with Indian minister and delegation. We discussed all the issues and misunderstanding," said CPN-UML leader Prdeep Gyawali to the reporter.
The minister also congratulated the UML for its resounding victory in the recently held parliamentary and provincial assembly polls, according to UML Secretary Pradip Gyawali, who was present at the meeting.
"Chairman Oli conveyed that he was in favor of working closely with neighbors including India for peace and prosperity in the country. He also said that he wanted to take everybody along to achieve these ends," Gyawali told media persons after the dinner meeting.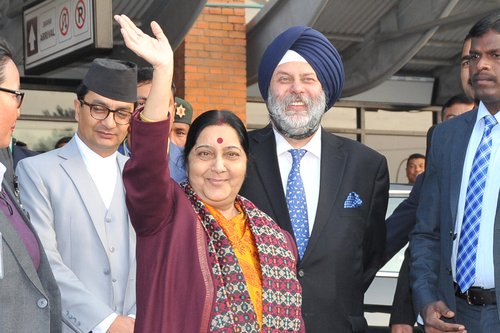 External affairs minister Sushma Swaraj met the Left alliance leader and CPN-UML chairman K P Sharma Oli, who is likely to be the next prime minister of Nepal.
Oli called on Swaraj at Hotel Soaltee.Visiting Indian External Affairs Minister Sushma Swaraj, who arrived in Kathmandu on a goodwill visit on Thursday, conveyed the message of Prime Minister Narendra Modi that he is eager to work closely with the CPN UML-led government.
During a one-on-one meeting with UML Chairman K P Sharma Oli and a group meeting held with senior UML leaders on Thursday evening, Minister Swaraj said that Prime Minister Modi was happy over the clear mandate received by the UML-led leftist alliance.
Minister Swaraj is accompanied by newly-appointed Foreign Secretary Vijay Gokhale, Joint Secretary (North) Sudhakar Dalela and other senior officials of the External Affairs Ministry. She was received by State Minister for Finance Udaya SJB Rana at the airport.
Minister Swaraj went directly to Hotel Soaltee Crown Plaza, where she had a one-on-one meeting with CPN-UML Chairman K P Sharma Oli for over 45 minutes and a 45-minute  group meeting with senior UML leaders.
Chairman Oli was accompanied by senior UML leaders including General Secretary Ishwar Pokharel, Secretary Pradip Gyawali, Subash Nembang, Rajan Bhattarai, Bishnu Rimal and Yubaraj Khatiwada.
 Minister Swaraj, who is staying at the Soaltee, held a group meeting with presidium members of the Rastriya Janata Party Nepal (RJPN) after the dinner reception. She is scheduled to hold a meeting with  CPN (Maoist Center) Chairman Pushpa Kamal Dahal and call on Prime Minister Sher Bahadur Deuba and President Bidya Devi Bhandari before flying back home  Friday afternoon.
The visit of Minister Swaraj without any specific agenda this time is widely seen as New Delhi's overtures to improve its difficult relations with the CPN-UML, which is set to form the new government, and to reset ties between the two countries. Relations between Nepal and India reached a new low during the premiership of UML Chairman Oli following the promulgation of the new constitution.
"The visit is in keeping with the tradition of regular high-level political exchanges between India and Nepal, and reflects the expanding bilateral partnership and the importance that the two countries attach to further strengthening it across diverse sectors," read a press statement issued by the Ministry of External Affairs of India.
The visit will provide an opportunity for the minister to hold discussions with political leaders of Nepal on issues of mutual interest, and to advance age-old, special ties of friendship between the two countries, the Indian ministry added.