As the opening and widening of Mailung-Syaphrubesi, one of the most difficult portions of Galchhi-Rasuwagadhi Road, is close to completion, Nepal Army has taken another feather in its cap to complete the most difficult part of the road in a strategically and economically important section.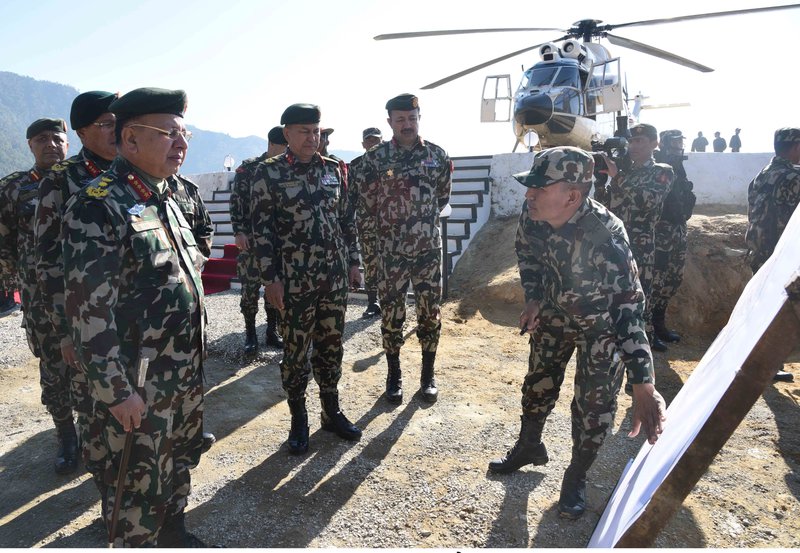 (Caption: COAS General Chhetri Inspecting Fast Track Construction Photo: Nepal Army)
After the completion of this portion of the road, the time to reach Rasuwagadhi will be shortened by almost half from present 7 hours. Nepal government has handed over this section of road construction to Nepal Army, considering the geologically difficult part involved in the work.
The Galchi-Betrawati-Mailung-Syafrubesi road, reaching up to Rasuwagadhi, is going to be 24 kilometers shorter than the currently operating Galchi-Betrawati-Dhunche-Syafrubesi road. The road through Dhunche has 35 difficult turns, but the road through Mailung will be free from such turns.
Director of the directorate and brigadier general Ramdhar Singh, along with his team, visited the Syafrubesi-Trishuli Dovan section of the site recently. The inspection team directed the construction team to complete the road within the stipulated time and hand it over to the Department of Transport.
This is not the first case. With a cabinet decision, the responsibility to construct the Kathmandu-Terai/Madhesh-Nijgadh Expressway has also been given to Nepal Army and it is has already established camps and started the most important task in building the expressway.
Although Nepal Army opened the track five years ago, the government handed over the project to Nepal Army following a delay on the decision due to various reasons. This task is now a challenge as well as an opportunity for Nepal Army as well.
"Nepal Army has taken the construction of country's project of National Pride Kathmandu-Terai/ Madhesh Express Way. This is the right time to show to the Nepali people the exemplary work of completing it in time. We have taken this as an opportunity. Nepal Army had not demanded this project, nor does it. This is the result of the trust and confidence of government and Nepali people towards Nepal Army. We expect that Ministry of Defense and other concerned offices will provide us appropriate support to complete this project in time," said CoAS General Rajendra Chhetri, in his message to Army personnel on Nepal Army Day, while directing them to complete the project in time with set standards.
These are not the only two roads. In the last few decades, Nepal Army has constructed a number of strategic and other roads in different parts of Nepal.  So far, Nepal Army has completed 22 roads of different lengths. Five roads are under construction.
Nepal Army has already constructed 1030 kilometers of road in different parts of the country, particularly linking north-south remote parts of Nepal to the rest of the country. Almost 600 kilometers more under construction. This figure shows Nepal Army's growing involvement in road construction.
These roads include Hile-Ldguwaghat 28km, Katari-Okhaldhunga 88km, Kanti Lokmarg 65km, Trishuli Somdang 105km, Gorkha Mankamana Sadak 36km, Gorkha-Arughat-Arighet Sadak 45km, Drabyashaha Marg 26.50km, Satdobato-Nibel-Baluwa 20km, Beshisahar-Chame 65km, Baglung-Beni-Jomsom 75km, Jomsom-Kagbeni 9km, Salyan-Muikot 74km, Musikot (Rukum) Bartibang 35km, Devisthal-Kaindada-Chaujhari 42km, Chinchu-Jajakot 45km, Karnali Rajmarg 88km, Nagma Gamgadhi 94km, Kathmandu-Terai Fast Track 90km. Similarly, Musikot-Salle 3km, Holeri-Chulawang 16km, Rayachaur-Pharula Chaur 9km and Bhadrakai-Maitighar 0.56km.
Similarly, the project under construction  are Mailug-Syaphrubesi 18km, Benighat-Arughat-Largkebhanjyang 120km, Kaligandaki Corridor 76km, Jajarkot-Dolpa-Dunai 118km and Karnali Corridor 196km.
"Road construction is one of the key areas where Nepal Army has been working under its infrastructures development program. Since construction of north-south road is a key for connectivity, Nepal Army wants to get involved in work in these difficult and remote areas," said Brigadier General Gokul Bhandari, spokesperson of Nepal Army.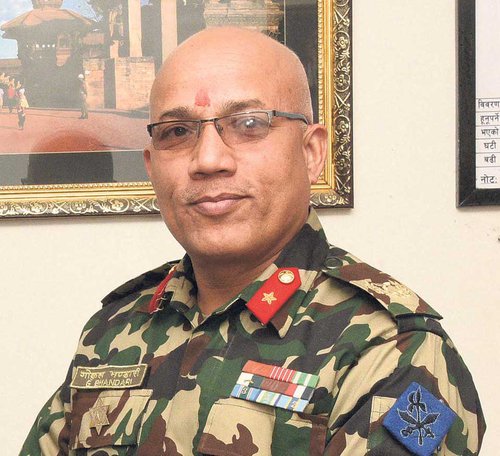 Changes of Connectivity
Nepal Army's involvement in the construction of road has a long history. Nepal Army used to construct roads of different sizes for mobilization of army from the time of its establishment. The army has more than sixty years of experience in constructing highways. The track of Kanti Lokmarg- the first motorable road linking Kathmandu to the plains, was constructed by Nepal Army in 1958 even  before Tribhuwan Highway, but the expansion of the project is yet to be completed by the Department by Roads.
As the road connects most of remote parts of Nepal, these connections not only transform the rural society but also help to uplift the local economy. In many areas, the road also helps in the construction of hydropower projects.
Thanks to the road connectivity made by Trishuli Somdang highway, Chilime Hydropower is materialized as many of its cascade projects. Similarly, other roads have also supported other development works.
After the construction of Sukhet-Jumla (Karnali Rajmarg) and Nagma-Gamgadhi Road, the life of people living in Nepal's remotest parts has suddenly changed. These two roads have helped open Rara, Nepal's remote lake, to tourists.
With road access, local products like apple, bean and potato are transported to other parts of Nepal and these remote parts of the country are getting the food products they need in a much cheaper way.
Isolated for centuries from the rest of the country, Surkhet saw its road opening the opportunity for its people to connect with the different parts of Nepal. This is not the first road connecting remote parts of Nepal to the rest of country.
Chhinju-Jajarkot, Salyan-Mucikot and Mucikot-Burtibang of mid-western region and Baglung-Jomsom-Kagbeni and Besishar-Manag Road are all constructed in remote and difficult areas. Along with these, Nepal Army also helped open the linking road of Upper Tamakosi Project and other such road projects as Nepal Army was called to cut one of the hardest cliff of the mountain.
"Nepal Army whose principal responsibility is to keep intact Nepal's sovereignty, freedom, territorial integrity and national unity, has been making significant contributions in managing the disasters that have befallen the country, in the conservation of the natural resources and fields of world peace and development and construction," said COAS General Chhetri. " I feel very proud to inform that the government has entrusted the construction of national pride project Kathmandu- Terai/ Madhesh Expressway to the army."
The confidence exuded by COAS Chhetri is understandable. With the expertise in the construction of roads mobilize under its high level technical and engineering directorate, Nepal Army has all the capability to take up any development work.
For the preparation and necessary coordination of construction of  Kathmandu-Terai-Madhesh Expressway, a high level committee under the leadership of Lieutenant General Purina Chandra Thapa has already undertaken a series of activities.
Civil Military Relations
Construction of development infrastructure, disaster management and preservation of nature are parts of the military work under civil-military relations. In other parts of the world also, such responsibilities are given to the army along with defending border and nation.
Prominent American political scientist late Samuel P. Huntington said that under a civilian military relations, one of the major tasks of any army is to carry out the work which physically connects countries and people. In his book, The Soldier and The State, late Huntington discussed in detail different aspects of national security and civil military relations.
As late Huntington pointed out, along with political connectivity, physical connectivity is a key to national security and civil–military relations is one of the major aspects of national security policy.
Even before the pronouncement by any scholar, builder of Nepal Prithvi Narayan Shah, in his Dibya Upadesh, describes the needs of harmonious roles between soldiers and civilians. The thrust of his entire unification lies in making citizens strong.
Groomed in the legacy of nation building Prithvi Narayan Shah, who wanted to protect his citizens and make them prosperous, Nepal Army continues to follow this motto. Its road building role, conservation of nature and disaster management are part of this.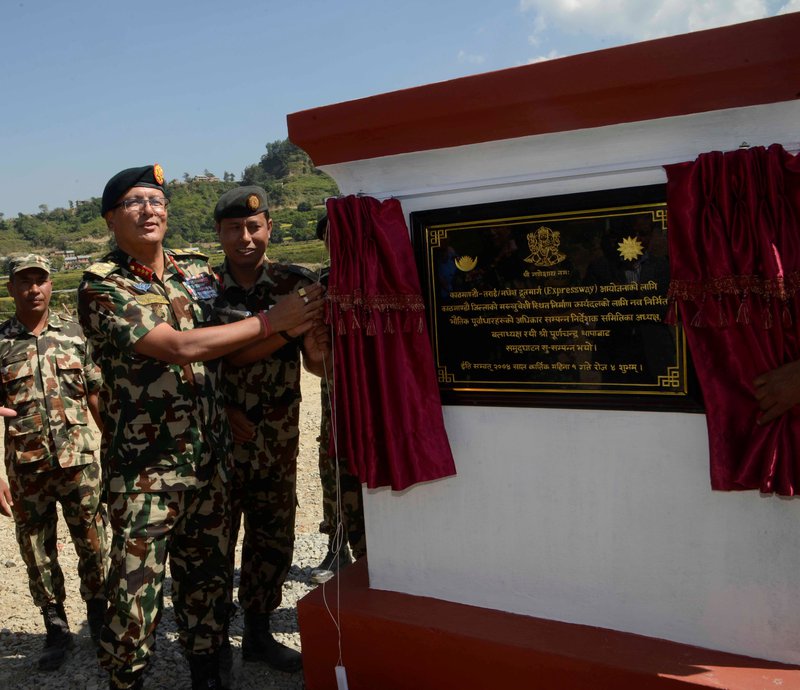 Lt.General Purna Chandra Thapa and chair of high level Committee inaugurating expressways infrastructures (Photo NRA)
As an institution directly linked with society, Nepal Army needs to maintain its harmonious relations with civilian population. The importance of involvement of soldiers in nation building, disaster management and protection natural resources cannot be overstated.

"The soldiers of Nepal Army have proved that they are capable to carry out all these activities. During the last earthquakes and floods, Nepal Army had shown its role in rescuing the people. Similarly, in protecting Nepal's national park and endangered wildlife and in working with the community, Nepal Army has proven its historical role," said former defense minister Bal Krishna Khand.
As in the past, Nepal Army is forever concerned with the wellbeing of the nation by responding to Nepal's quest for development. Given its role in the country, Nepal Army is considered one of Nepal's most efficient, cost effective and dedicated machineries for development. Nepal Army has been utilizing its trained manpower and resources in support of national progress for many decades.
The Nepal Army has been instrumental in opening up remote areas through rugged mountainous terrains with a large number of roads and bridging projects. The selfless sacrifices of Nepal Army personnel and its institutional drive and integrity have made it possible for national planners to aim for more than otherwise possible road projects for far less costs.
According to the Auditor General's annual report, the Army spent Rs 1.55 billion in fiscal year 2016/2017 constructing a 151-kilometer stretch. They are now opening 1,200 kilometers of road track under 22 different projects.   
Prime Minister Deuba inaugurated the project in the presence of Ambassador of People's Republic of China and Ambassador of Republic of Korea, showing the high priority given by Nepal's friends.
As Nepal Army celebrates 250 years of its establishment, it has made a great contribution to the country and people. At a time when the country's political system and constitution are unstable, Nepal's stable institution has continued to play its important role in the nation's development.