For a majority of earthquake victims of Sindhupalchwok district, living in a permanent shelter looked liked a dream. With the lack of masons and increase in the cost of construction materials, building houses was a mere dream.
As the pace of reconstruction had not made any progress, Japan International Cooperation Agency (JICA) came in with a new program. With the implementation of Community Mobilization Program (CMP), the reconstruction process has seen sudden changes.
After the implementation of CMP, along with the declining the cost of construction materials, the availability of masons has increased.
With the community's involvement through CMP, the cost of private housing reconstruction has gone down. Dhana Bahadur Shrestha, a local of Bhojhini tole in Chautara Sangamchowk Municipality 13 of Sindhupalchowk, has found a way to reconstruct a cheaper house.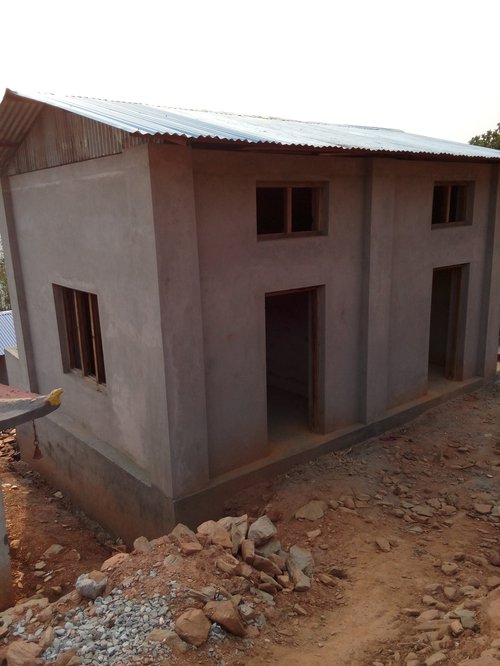 "We have adopted optimum ways to lower the cost. The construction materials iron, cement, bricks, boulders have been carried in trucks from the market jointly by some families. If we had ferried construction materials individually, the cost would have soared.
"The 47 families of Bauhinia ordered construction materials in bulk, which helped lower the transportation cost as well as the price of the building materials," said Shrestha.
With the increase in the cost of construction materials jumping to many folds and reconstruction of houses getting costly, many victims were unable to reconstruct the houses with the grant money provided by National Reconstruction Authority.
When the reconstruction process was not taking pace, Japan International Cooperation Agency (JICA) came up with a package to support the locals. As per their need, JICA provided mobile (trained) masons to help masons and laborers to rebuild by abiding by the safe building norms. According to JICA, it has mobilized 548 mobile masons to assist in constructing safe houses.
Masons are mobilized under the Community Mobilization Program of JICA, under which they provide orientation to the community-based reconstruction committee.
"The reconstruction committees are active in expediting the reconstruction works as they meet frequently and discuss the issues they are facing and sort them out," said Tomoki Miyano, team leader of Emergency Housing Reconstruction Project (EHRP).
Along with the availability of engineers and trained mobile masons, locals of Bojhini tole have started to construct similar houses and most of them will be completed by next month. The construction cost of one-and-a-half storied (wall raised from ground floor for roofing and store purpose in upper floor) concrete house costs around Rs 600,000.
During construction, the entire community came together, with families helping one another in the building process. Consequently, Bojhini tole — which is around five kilometers away from the highway that links district headquarter of Chautara and is connected with the highway by fair-weather road — will soon be able to boast of an integrated settlement of 47 similar-looking individual houses.
Under a reconstruction and recovery program, JICA pledged to contribute USD 240 million. According to JICA, fifty percent has already been disbursed.
Under the housing reconstruction, JICA provided USD 5.5 million technical cooperation targeting 47 Village Development Committees of Gorkha and Sindhupalchwok district with 54,443 beneficiaries.
The JICA introduced the Community Mobilization Program (CMP) sought to promote group-based reconstruction with masons assigned to the community.
Under this program, JICA provided training to 4400 masons, 900 engineers and 6500 house owners. JICA also supported 542 Community Based Reconstruction Committees and 548 mobile masons.
At a time when the earthquake reconstruction is not making a heady progress in other parts of the country, under JICA's CMP programs locals of Bhojhini tole in Chautara Sangamchowk Municipality 13 of Sindhupalchowk have done some exemplary work.
The earthquake damaged 1,788 houses in Bojhini tole which was a part of Thulo Sirubari Village Development Committee., before the introduction CMP, only 13 per cent of the houses were under construction. With the implementation of CMP 94.5 per cent or 827 houses are under construction and the families that have lived in temporary shelters for nearly three years now were excited about shifting to their new houses just in five months between November 2017 to April 2018.
Although reconstruction of houses gathered momentum in Sindhupalchowk after the NRA fixed the deadline of mid-July (later extended to mid-January, 2019) for grant distribution citing that the grant distribution to the quake victims could not go on for an indefinite period, CMP helped to accelerate the reconstruction.
Out of 14 districts, Sindhupalchowk was one of the districts worst affected by the devastating earthquake of April 25, 2015.  With their commitments, locals of Bojhini tole have done something exemplary. According to experts, this can be replicated in other places where reconstruction of private houses is yet to gather pace.