Japan is still reeling from one of its worst flooding disasters in decades, which has killed at least 179 people and left 70 missing. At least 20,000 remain stranded, while 225,000 households remain without water after deadly mudslides.
Torrential rains triggered landslides and floods in central and western areas. More than 8 million people have been ordered to evacuate their homes.
The rain has relented but the country is still struggling to deal with the extensive damage left in its wake.
Thousands of residents in western Japan continued to clear debris from the streets, as others searched for food and supplies in areas hit by deadly landslides and flooding.
On Wednesday, Prime Minister Shinzo Abe visited an evacuation centre in the city of Kurashiki in Okayama prefecture, where more than 40 of the 176 victims died.
As of Wednesday, an estimated 20,000 people remain stranded in several areas, as roads have been shut due to landslides after record rains, according to Japan's Yomiuri Shimbun publication.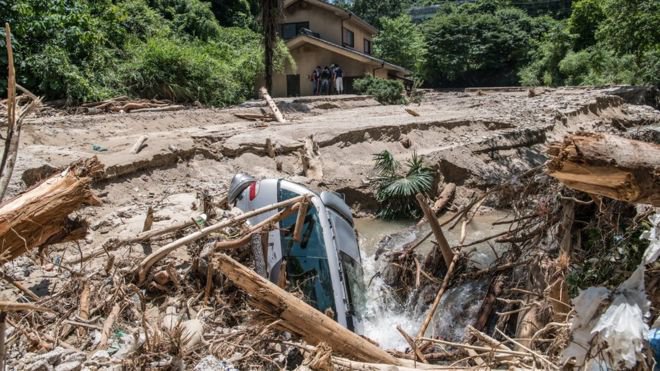 At least 448 mudslides were recorded as of Wednesday, according to the country's land ministry.
Tens of thousands of rescue workers and volunteers also continued to search for people still missing.
In areas where search-and-rescue operations had ended, construction workers and residents worked in neighbourhoods to clear mud and debris and restore vehicle access to get supplies and food.
In Hiroshima's Asakita ward, resident Nobuaki Hyuga walked to a neighbourhood shop but could only find ice cream and juices, so he had to go further to find bread and other foods.
"We are cut off from the road and we can't go anywhere by car," Hyuga told AP news agency.
Construction worker Fukuyoshi Doi volunteering to get that done, and supervised other volunteers who gathered to help.
"Mud and dirt is still blocking our local bus route, so we are trying to get that out of the way, so the road can be reopened for buses and cars," he told AP.
"Once we get the mud out, I believe the rest of the work would pick up."
'Hiroshima hardest-hit'
The government said 176 people have been confirmed dead after the record-setting rainfall last week caused severe flooding and landslides.
Most of the deaths were in Hiroshima and the surrounding area, but the damage was widespread. At least 67 people were reported dead in Hiroshima, according to the national broadcaster, NHK.
The government has mobilised 75,000 troops and emergency workers and some 80 helicopters for the search and rescue effort, Chief Cabinet Secretary Yoshihide Suga said.
Delivery companies and cargo services said some of their shipments to and from the flooded areas have been suspended or reduced. Supermarkets have closed stores or shortened hours due to delivery delays and supply shortages.
At least 255,000 households remain without water as of Tuesday evening, NHK said.
On Wednesday, residents lined up for water under a scorching sun as temperatures rose to 35 Celsius, raising the risk of heat stroke.
Suga, the Chief Cabinet Secretary, said earlier the government was spending $18m to hasten deliveries of supplies and other support for evacuation centres and residents.
Abe cancelled a planned trip to Europe and the Middle East this week to oversee the emergency response.
This is the highest death toll caused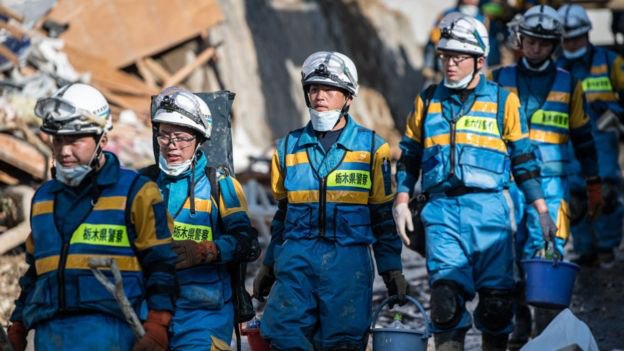 by rainfall in Japan since 1982.
'Our memories are all gone'
Some 270,000 households across the country have had their water supplies cut, and thousands of other homes remain without electricity.
The prefectures of Okayama, Hiroshima and Yamaguchi were the hardest hit, with pictures showing extensive damage especially in Okayama.
"People believe Okayama is very safe, nobody thought that [a disaster] would happen to this city," Yusuke Fujii, who lives in Osaka but travelled to Okayama to visit his grandmother, told the BBC.
"Food is in short supply. We have to eat instant ramen because the supermarkets don't have much food. We can't get much information about flooded roads, evacuation centre and where to get food," said the 24-year-old, who is still in Okayama.
Some 8.63m people across 23 prefectures have been ordered to evacuate. Thousands are currently living in temporary shelter in school halls and gymnasiums.
More than 70,000 emergency workers have been deployed
Japan's meteorological agency has warned that fresh landslides may still occur, urging people to remain on guard.
Courtesy: Al Jazeera